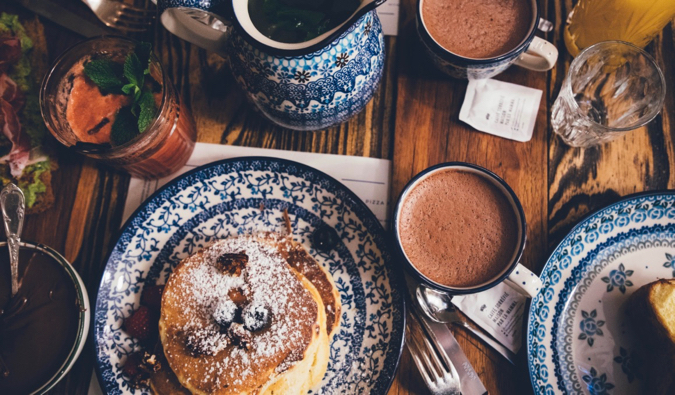 Last Updated: 01/13/20 | January 13th, 2020
Europe has just too many world-class places to eat, drink, and be merry! I've traveled across the continent regularly since 2006 and have gorged Nutella, cheese, sausage, beer, pasta, goulash, or whatever else is put in front of me!
I've eaten at a lot of restaurants in Europe.
Some of them have been good. Some great. Some just downright terrible.
But no stone goes unturned in my quest for a good meal!
Today, I want to share my comprehensive list of the best restaurants in Europe to help you make the most out of your next trip. In no particular order, here are my 41 best restaurants in Europe:
1. Moeders (Rozengracht 251, Amsterdam)
Meaning "mothers" in Dutch, this restaurant is famous for serving traditional Dutch cuisine. It's a small place (you'll want to make reservations) filled with portraits of people's mothers (feel free to add to their collection!) with outdoor seating in the summer.
The best value is the Dutch sampler for two, where you can sample a heaping of traditional Dutch food, including lots of potatoes, cabbage, and meat. The fish of the day is always a winner, as is their carpaccio, spare ribs, and hotchpotch (a thick stew with vegetables and meat). moeders.com.
2. Pancakes (Berenstraat 38, Amsterdam)
This spot serves traditional Dutch pancakes: large thin, crêpelike pancakes with tons of tasty toppings (I'm a big fan of the strawberries and whipped cream!). It's small, so try to avoid peak eating times as the wait can get quite long. Large portions make this place worth your time and money. pancakes.amsterdam.
3. Café de Jaren (Nieuwe Doelenstraat 20-22, Amsterdam)
Serving typical café food (soups, salads, sandwiches), this place is located on the main Amstel canal, with an incredible view of the city. It has an awesome outdoor area, serves beer, and has Wi-Fi in case you want to work! I love coming here to sit, relax, and enjoy the view! cafedejaren.nl/nl/de-Jaren/Home.html.
4. Les Quinze Nits (Plaça Reial 6, Barcelona)
Delicious food at a great price in the famous Plaça Reial. It's a bit touristy, but even the locals come here for the value. It has a typical Spanish menu. Avoid the long lines at dinner by going for lunch instead. grupandilana.com/en/restaurantes/les-quinze-nits-restaurant.
5. La Fonda (Escudellers 10, Barcelona)
Good food with large portions, near Plaça Reial. Its set menu will give you more than you can eat, and it features beautiful décor and a robust wine selection. grupandilana.com/en/restaurantes/la-fonda-restaurant.
6. Pinotxo Bar (La Boquería, La Rambla 91, Barcelona)
Just inside the Boquería food market, this little stall is always packed and serves some of the most famous tapas in the area. I stopped there while on a food tour, and it was delicious. Try the chickpea salad! pinotxobar.com.
7. The Four Cats (Carrer de Montsió 3, Barcelona)
This was one of Picasso's favorite haunts and a popular hangout for artists in the early 1900s. Grab a drink and maybe some tapas (the patatas bravas are delicious!) and soak up the place's history.
8. Mustafa's (Mehringdamm 32, Berlin)
The world's best kebabs and durums. I love the parsley and lemon juice they use with their salad. The line can stretch around the block and you can wait for up to an hour, but it's worth it. mustafas.de/.
9. Thaipark (Berlin)
I've been a Thai food snob ever since living in Thailand. Even the best places in the world make me go "meh," but this weekend food market (though there are some weekday vendors) sees Thais setting up mini stalls and selling street stall–style food just like they do back home, unencumbered by German regulation.
It's the most authentic Thai food I've found outside Thailand (and it's super cheap at only a few euros per dish). Here you can gorge on pork noodle soup, som tam, Thai ice tea, and real street-style pad gra pow! Heaven!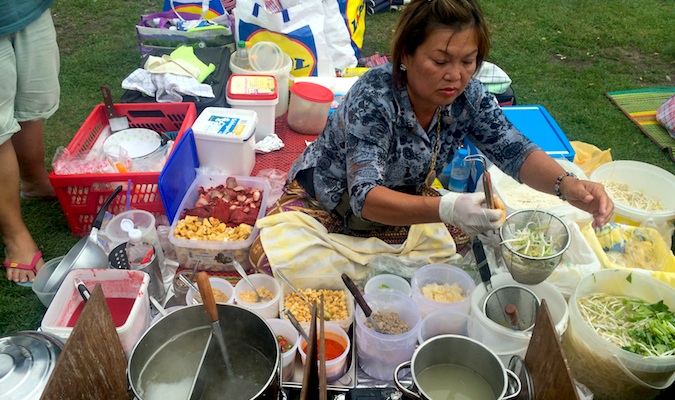 10. Le Petit Commerce (22 Rue Parlement Saint-Pierre, Bordeaux)
This restaurant is on my favorite street in France, with its cute cafes, musicians, and cobblestone streets. It's everything you envision a French street to be. I was shown this place by a local friend and eat here every time I'm in Bordeaux. They serve mostly seafood. Try the sea snails. Delicious!
11. Bratislava Flagship Restaurant (Nám. SNP 469/8, Bratislava)
Once a large theater, this beer hall/restaurant serves local cuisine at cheap prices and is a popular establishment with university students. Long tables, great for groups.
bratislavskarestauracia.sk.
12. Maison Antoine (Place Jourdan 1, Brussels)
The best frites (french fry) shop in the whole city! maisonantoine.be.
13. Caru' cu Bere (Strada Stavropoleos 5, Bucharest)
The oldest German beer hall in Bucharest, serving hearty German and Romanian food. Very meat heavy, strong beer, and cheap prices. They also have free Wi-Fi. carucubere.ro/en.
14. Central Market Hall (Vámház körút 1–3, Budapest)
The central market in the city has a lot of traditional places to eat. It's touristy (it's the central market after all!), but I still found the food tasty. My favorites are the shops on the second floor, on the right side, closest to the front. piaconline.hu.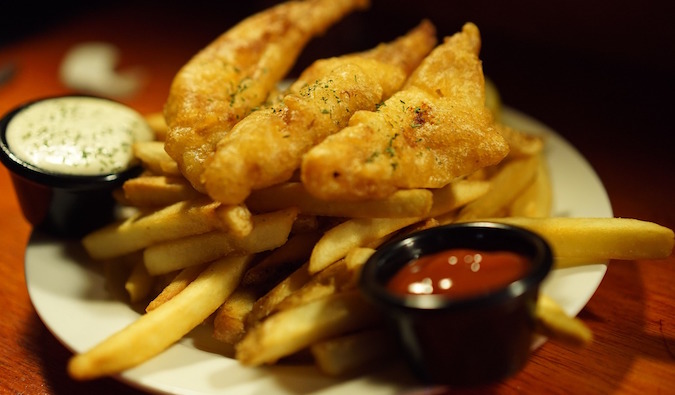 15. Leo Burdock (4 Crown Alley, Dublin)
This well-established restaurant (over 100 years old!) serves fantastic fish and chips. It's simple, easy, and delicious. Unlike a lot of other fish-and-chips shops, I didn't find the food here too oily; it was perfectly fried and crisp. They don't have an extensive menu, instead of focusing on making a few dishes incredibly well. It's a delicious and affordable place for a filling lunch. There are four Leo Burdock locations in and around Dublin. leoburdock.com.
16. Txalaka (Carrer Bonastruc de Porta, Girona)
Oddly located near a big car park and away from downtown, this restaurant serves buffet-style tapas: you just go and pick what you want. Most dishes are only a few euros and the selection is extraordinary — it's pretty much every tapa you can imagine (I especially liked the shrimp). Grab some food, sit outside with your friends, drink a glass of wine, and eat at one of the best spots in the city.
17. Ravintola Aino (Esplanadi 21, Helsinki)
Traditional Finnish food, a bit on the pricey side (30 euros for a meal), but tasty. Try the reindeer. Rudolph tastes delicious! ravintolaaino.fi.
18. The Nest (Chora Village, Ios)
Best Greek food on the island. Their soup is also the best hangover cure.
19. Dishoom (12 Upper St Martin's Lane, London)
This is an upscale Indian restaurant offering Bombay-style food and award-winning drinks. The service is top-notch and the food is mouth-wateringly delicious. Their Indian take on the traditional British breakfast is a must. Expect long lines — but it's going to be worth it! dishoom.com.
20. Flat Iron Steak (17 Beak Street, London)
Flat Iron started out as a pop-up restaurant but has now gone permanent. It's one of the most affordable places to enjoy a delicious steak in the entire city, which explains why it's incredibly popular too (you can get a steak for just 11 GBP!). They have multiple restaurants around the city though you should still expect to wait to be seated as they are all quite busy. flatironsteak.co.uk.
21. Vinograf Míšenská (Míšenská 8, Prague)
More of a wine bar (featuring hundreds of Czech vintners), they make the list because they do serve a yummy cheese and meat plate, too! The small, intimate setting with walls covered in wine bottles offers a quiet respite from the noise of the streets. vinograf.cz/vinograf-misenska.
22. U Medvídku (Na Perštýn 7, Prague)
This restaurant is one of the oldest in the city and somewhere I take my tour groups every year. Czech food is heavy on the meat and potatoes, and this spot is no exception. Here you can find a mouthwatering selection of home-brewed beer, heavy goulash, thick potato dumplings, duck, and perfectly cooked pork. Portions are huge (the pork knee is really for two). (Another excellent place that serves traditional food is Kravin (Námstí Míru 109/18, Prague), which is a popular after-work drinks destination). umedvidku.cz/restaurant/.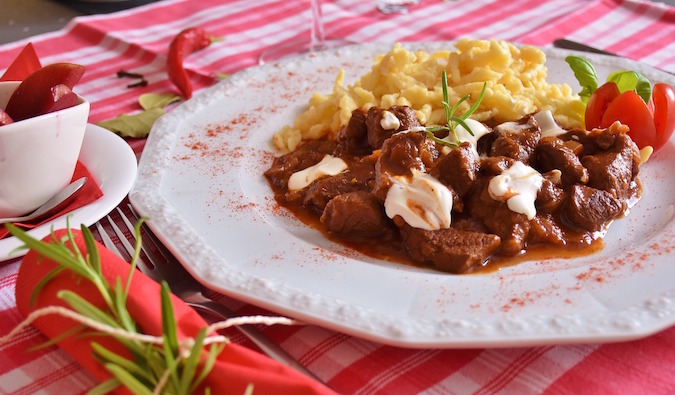 23. Puzata Khata (Baseina St 2, Kyiv)
A local cafeteria/buffet-style eatery where the food is cheap and authentic. You never spend more than a few dollars for a hearty meal. puzatahata.com.ua.
24. Augustiner Bräustuben (Landsberger Straße 19, Munich)
A German beer hall I stumbled across serving traditional and hearty meals. You're seated at long tables with other parties, so it's an easy way to make friends. Since it's so out of the way, most people are curious to know how you found it. braeustuben.de.
25. Di Matteo (Via dei Tribunali 94, Naples)
This pizza place was recommended to me by a friend as the "best pizza in Naples." I'm not sure if that's true, but it was so delicious I ended up eating here every day. Good selection of toppings too. pizzeriadimatteo.com.
26. La Rossettisserie (8 Rue Mascoïnat, Nice)
I also found this little rotisserie place randomly. They serve five dishes: chicken, beef, lamb, veal, and pork with potatoes and a few appetizers. It's a small restaurant with an intimate setting, candles, fresh bread, and lots of wine choices. larossettisserie.com.
27. La Crêperie des Arts (27 Rue Saint-André des Arts, Paris)
Located on the Left Bank near the Saint-Michel–Notre-Dame train station, this tiny to-go crêperie is the best one in all of Paris (in my opinion). The banana Nutella crêpe is my favorite. Cheap, savory, and with large portions — you can't go wrong here.
28. Le Dit Vin (68 Rue Blanche, Paris)
I stumbled across this restaurant while looking for a place to eat near my Airbnb. I spied lots of wine bottles on the wall and someone eating cheese and thought "PERFECT!" It was an incredible find. The prices are reasonable, there is a large wine selection (it's Paris, of course!), and the food is rich, savory, and delicious. The menu changes daily depending on what's fresh, so all I can really recommend as a constant is the cheese plate.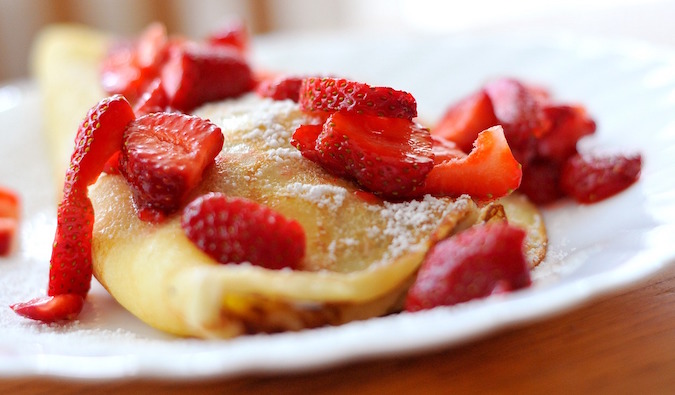 29. Jeanne A (42 Rue Jean-Pierre Timbaud, Paris)
This eat-in épicerie and wine shop offers delicious food (especially meats and cheeses) and is my favorite spot in Paris. The prix-fixe menu offers the best value at 30 euros for dinner with an appetizer and main dish. Be sure to try their lamb and duck — they are famous for it! <jeanne-a-comestibles.com.
30. Florence Kahn (24 Rue des Écouffes, Paris)
This perfect little shop has a blue mosaic shopfront and is located in the Le Marais district. You can pick up baked goods here, or grab lunch and sit out on the terrace. They make really delicious sandwiches — try the pastrami. florence-kahn.fr.
31. ISTR (41 Rue Notre Dame de Nazareth, Paris)
ISTR is extremely trendy and usually busy for dinner, but I highly recommend its happy hour, when the wine is cheap and there are 1 EUR oysters from 6pm to 8pm.
32. The Laundromat Café (Austurstræti 9, Reykjavík)
This cute café right on the main drag is famous and serves what I can only call American fare: burgers, pasta, sandwiches, and salads. While expensive (it's Iceland, yo!), it's also damn tasty. They offer excellent coffee and pastries, and you'll find lots of people reading and writing in their comfy chairs and at tables. thelaundromatcafe.com/en/about.
33. Sægreifinn – The Sea Baron (Geirsgata 8, Reykjavík)
Turns out one of my readers in Iceland happens to be a government official, and when she took me here, I knew it had to be good. This tiny, hole-in-the-wall seafood place serves thick lobster soup with huge chunks of lobster and nice creamy broth.
I've since heard it's pretty famous, but when we went, there were no crowds and only Icelanders there. Regardless of who frequents it now, it's delicious and shouldn't be skipped. saegreifinn.is.
34. Al Vero Girarrosto Toscano (Via Campania 29, Rome) — Very traditional Tuscan food, famous (and rightly so) for their antipasto. Endless rounds of food, good-sized portions, and excellent wine. Expensive. alverogirarrostotoscano.com.
35. Hermans (Sofia Fjällgatan 23B, Stockholm)
This is an all-you-can-eat vegetarian buffet overlooking the harbor in Stockholm. Even though meat isn't on the menu, the food is worth coming for. You have a wide selection of ever-changing options: healthy salads, home-cooked warm breads, hot dishes, a smorgasbord of fruits, and lots of desserts.
Their lunch buffet is extremely popular and fills up fast. Get there early. If you have a large group, you'll need to make reservations. During the summer months, there's outdoor seating. hermans.se/.
36. Omnipollos Hatt (Hökens gata 1A, Stockholm)
This is an award-winning brewery and bar that makes delicious wood-fired pizza. The options are sometimes experimental but always worth a try. The pizza here is one of the best in the city too. It fills up fast on the weekends so try to arrive early — especially if you want a table.
37. La Pepica (Paseo Neptuno, Valencia)
The best paella I've ever had was here. This place has been around since 1898 and is located right on the beach. lapepica.com.
38. The Naschmarkt Vienna (Vienna)
Centrally located near the main ring road of Vienna, this outdoor market is lined with restaurants, cafés, and wine bars and is popular with locals and — thanks to lots of mentions in guides and blogs — tourists alike (yes, I'm doing my part!). You'll be able to choose from a selection of kebab vendors, snack shops, and vegetarian restaurants. (You'll also find food stalls selling vegetables and deli goods, but prices are higher than other markets in town so I wouldn't recommend getting those things here.)
On a warm day, I love coming here and eating outside and having a glass of wine. naschmarkt-vienna.com/location.html.
39. Der Wiener Deewan (Liechtensteinstraße 10, Vienna)
This all-you-can-eat, pay-what-you-want Pakistani restaurant is popular with students. It's also insanely tasty, serving up daal, naan, salads, chicken, chutney, and at least a few other dishes (usually around six total) each night. Because it is so cheap and tasty, it is always crowded, so if you're a big group or going during peak eating hours, you'll most likely need to wait for a seat. I visit every time I'm in Vienna. deewan.at.
***
I'm no food writer, so my descriptions may not conjure up images worth salivating over, but trust me when I say these places are worth a visit. When I travel, I eat at a lot of random, suggested, and guidebook-listed restaurants. Not every one is a winner and, even if it's good, it may not knock my socks off.
These, though, knock both my socks off, put them back on, and knock them off again.
Have any others to add? Let me know in the comments!
Get Your In-Depth Budget Guide to Europe!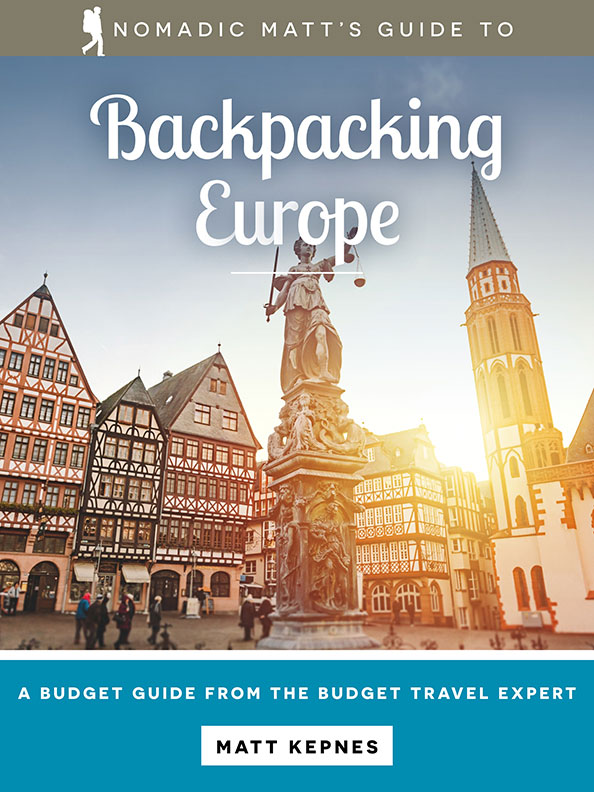 My detailed 200+ page guidebook is made for budget travelers like you! It cuts out the fluff found in other guides and gets straight to the practical information you need to travel while in Europe. It has suggested itineraries, budgets, ways to save money, on and off the beaten path things to see and do, non-touristy restaurants, markets, bars, safety tips, and much more! Click here to learn more and get your copy today.
Book Your Trip to Europe: Logistical Tips and Tricks
Book Your Flight
Use Skyscanner or Momondo to find a cheap flight. They are my two favorite search engines because they search websites and airlines around the globe so you always know no stone is left unturned. Start with Skyscanner first though because they have the biggest reach!
Book Your Accommodation
You can book your hostel with Hostelworld as they have the biggest inventory and best deals. If you want to stay somewhere other than a hostel, use Booking.com as they consistently return the cheapest rates for guesthouses and cheap hotels.
For suggestions on where to stay during your trip, here are my favorite hostels in Europe!
Don't Forget Travel Insurance
Travel insurance will protect you against illness, injury, theft, and cancellations. It's comprehensive protection in case anything goes wrong. I never go on a trip without it as I've had to use it many times in the past. My favorite companies that offer the best service and value are:
Looking for the Best Companies to Save Money With?
Check out my resource page for the best companies to use when you travel. I list all the ones I use to save money when I'm on the road. They will save you money when you travel too.
Want More Information on Europe?
Be sure to visit our robust destination guide on Europe for even more planning tips!