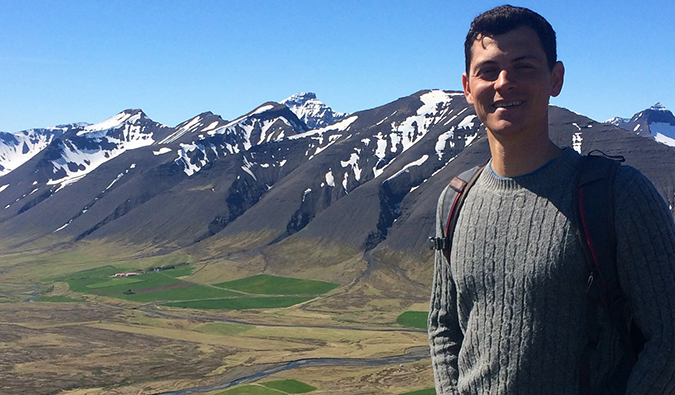 Posted: 08/18/2014 | August 18th, 2014
Three weeks ago, I celebrated my eight-year anniversary of being on the road. On the warm morning of July 26, 2006, I left home for a year-long trip around the world. I didn't return until 18 months later.
I thought I'd be happy going back to cubicle life when I returned. I'd put my MBA to good use, promote renewable energy, and head down the path toward the American dream (job, wife, house, retirement, etc.). But the moment I sat back down in that cubicle, I realized office work wasn't for me, and a few months later, I was back on the road facing an uncertain future.
Now, eight years later, my life is one I never would have imagined when I waved good-bye to my parents. I never even dreamed that I'd be a published author, blogger, and life-long traveler.
As I move into my ninth year of being a nomad, I wanted to share some of the defining moments I've experienced on the road:
Living on an island in Thailand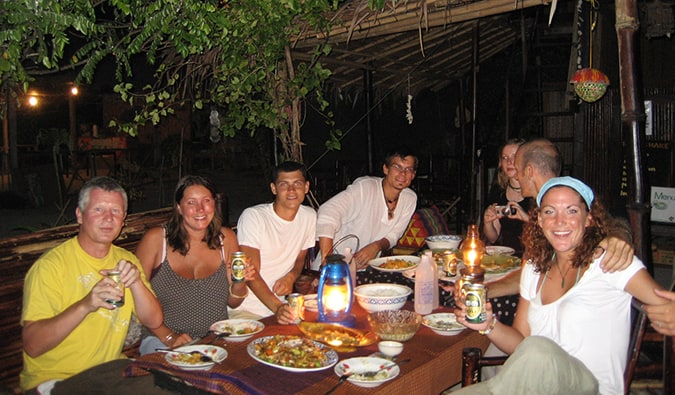 When I was first in Thailand in 2006, my friend told me to join her in Ko Lipe, a hidden paradise way more beautiful than the touristy Ko Phi Phi I was on. So I made the then-long journey (now you can take a speedboat) and stepped onto an island that I'd come to call home. On the way over, I met a cranky Irishman, an English couple, and a German couple. I expected to stay on the island three days. A month later, I was tearfully waving my group good-bye as I boarded the boat back to the mainland. We had all become wrapped up in our own version of The Beach, never wanting to leave an island devoid of paved roads and tourists, where our days were full of eating Thai food, learning the language, befriending the locals, reading, relaxing, and snorkeling every corner of the island.
While I've since grown apart from most of the people whose company I enjoyed on the island (though the English couple and I remain incredibly close), the month I spent on Ko Lipe remains my greatest memory from all my travels.
Teaching in Bangkok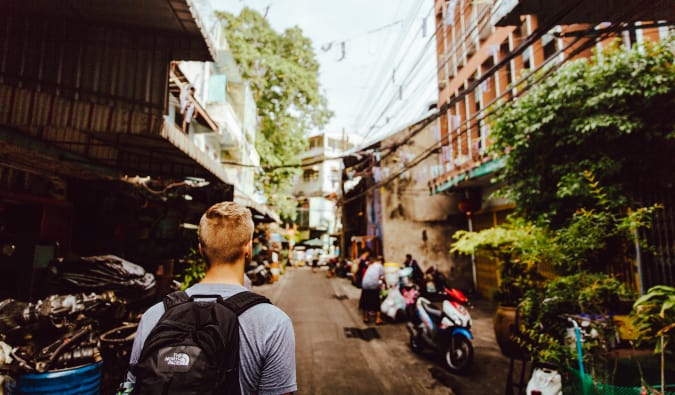 Wanting to stay in Asia longer and needing money to extend my trip, in early 2007 I decided I'd move to Bangkok, learn Thai, and teach English. I didn't know anyone. I had no idea how to get a job. I had never moved somewhere before. I spent my first week in the city playing Warcraft by myself in between interviews. I remember being bored a lot, wondering if I could really make it in this new environment.
But as they say, it's always darkest before the dawn, and just as I was thinking I'd made the wrong decision, a friend from home gave me the name of someone living in the city. My friend's friend and I met for drinks, and he introduced me to the expat social scene in the city. Shortly after, I got a job and a girlfriend and began to build a life in Bangkok. I learned to take care of myself and live on my own.
The months I spent there helped me become independent and showed me I could start a life anywhere.
Moving to Taipei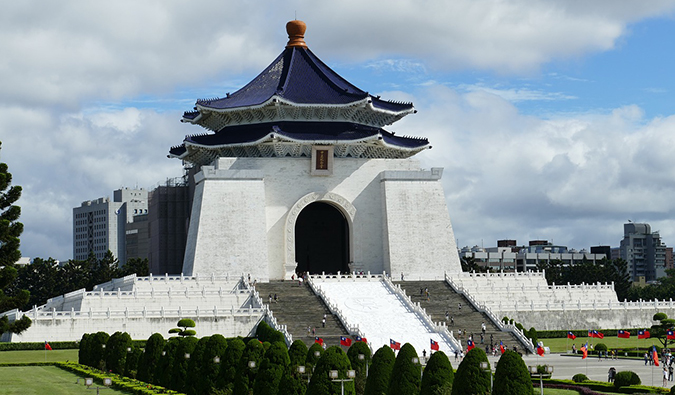 In many ways, moving to Taipei in 2009 was a failure: I met a girl who dumped me right after I decided to get a long-term visa to stay with her, I got the flu that never went away and lost about 15 pounds, I had a job I hated, and I never thrived the way I did in Bangkok. But it was also a huge success because it was during that time that I decided to make my blog more than just a hobby and focus on making it a resource for travelers. Those were the months that I started turning my year-old blog, whose original purpose was to keep my friends updated on what I was doing, into the travel resource it is today.
I might not have thrived in Taipei, but I'm also not sure, had I not moved there, that this blog would even exist. I'd probably still be an English teacher in Bangkok.
Playing poker in Amsterdam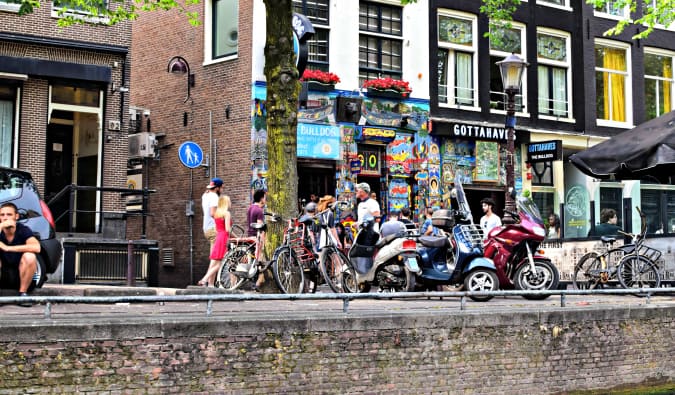 During my first trip to Amsterdam in 2006, I walked into a casino to play poker. I befriended some other players, and, after heading to Barcelona a few days later, decided to fly back to Amsterdam — I missed it too much to stay away. For the next three months, I played poker every day with these guys. They showed me the city, introduced me to Dutch culture, and became my first international friends. It was the first time I really connected with locals, and, when I finally had to leave, I thanked them for opening me up to new experiences and told them I'd see them the next year. A few months later, I learned our friend Greg was shot while people tried to rob his house. Greg was the one who first invited me into the group. I never got to really thank him, but I'll always remember his influence on my life.
Visiting Africa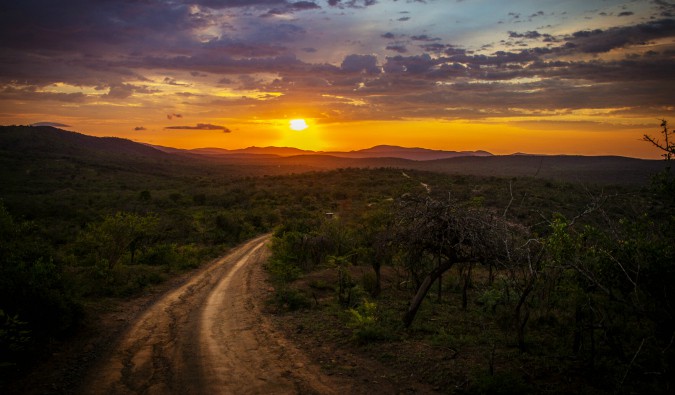 Going on safari in Africa had been a life-long goal of mine, and the weeks I spent exploring the southern part of the continent in 2012 were everything I had hoped they would be: wildlife all around me, stars lighting up the night sky, fiery savannah sunsets, and raw and beautiful nature. The sights, the can-do attitude of the locals, the wildlife, the food — Africa was better than I had imagined. It was raw, unfiltered, and is burned into my soul.
That continent truly is magic.
Hiking the Tongariro Crossing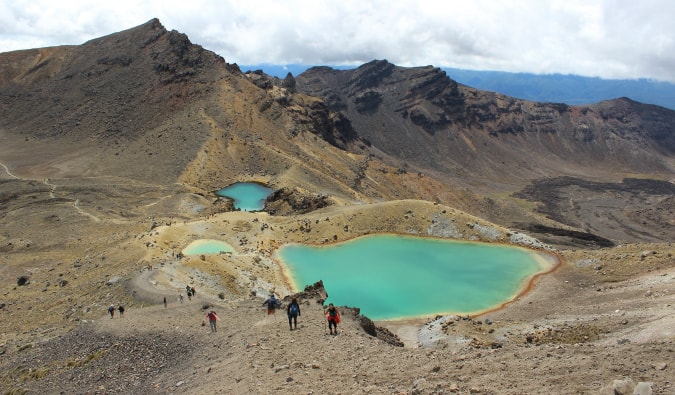 One of the most famous hikes in the world, New Zealand's Tongariro Crossing might be recognizable to those who love The Lord of the Rings as the location of Mount Doom. Tackling this 22km hike was going to be a challenge, as I'm not a fast hiker and I was out of shape at the time. I started early in the morning, befriended a fellow hiker along the way, and together we barely made it as the last of the buses back into town pulled away. It was harder than I expected at parts, but I made it, and that day in 2010 was the most rewarding I had in New Zealand.
Learning to scuba dive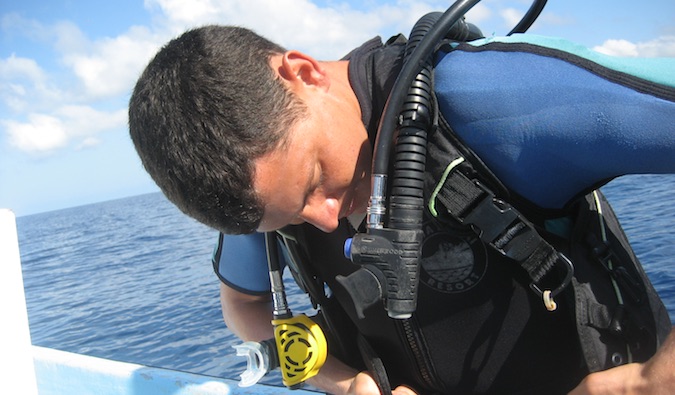 Learning to dive in Fiji was one of the scariest moments of my life — I almost died doing it. During my third dive, my partner kicked the regulator out of my mouth while we were below the surface looking at coral. I acted quickly and breathed out, grabbing the second regulator in a panic as my dive instructor leapt (or bolted like a fish) towards me. I stayed there, breathing heavily while I tried to calm down and managed to swim for a few more minutes before ascending to the surface.
It was a scary moment (and my dive partner never did say she was sorry!), but it didn't ruin my love of the ocean. I got to see a whole new side to life on this planet, and I've been hooked ever since.
Throwing tomatoes at La Tomatina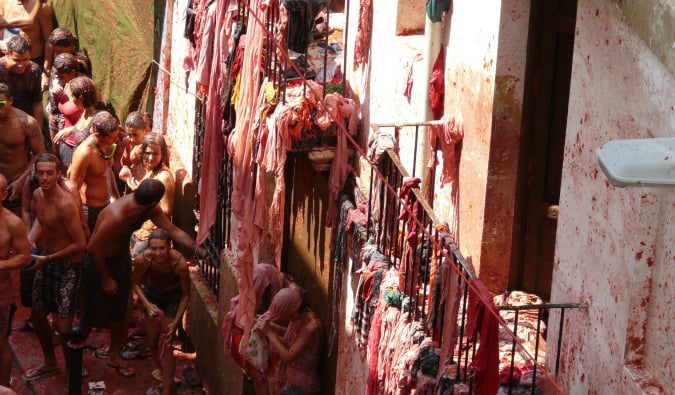 Throwing tomatoes in Spain was exactly as fun as it sounds. Waking up early, riding the train, drinking sangria, and pegging people for an hour with tomatoes was a once-in-a-lifetime experience (as in, after doing it once, I'm OK not doing it again). But I owe everything to the Nest Hostel in Valencia. Their policy during the festival stated that you needed to stay for at least a week, and our little group of hostel guests became like a family. Surrounded by the same people in the hostel, you got to know everyone in a way that usually doesn't happen. But that family became even tighter as the five others in my dorm room and I bonded throughout the week. We hit it off like we had known each other for years (which many people assumed since we were so close). After the festival, we kept traveling together, and, five years later after that fateful week in 2009, we all remain incredibly close and connected.
Surviving Oktoberfest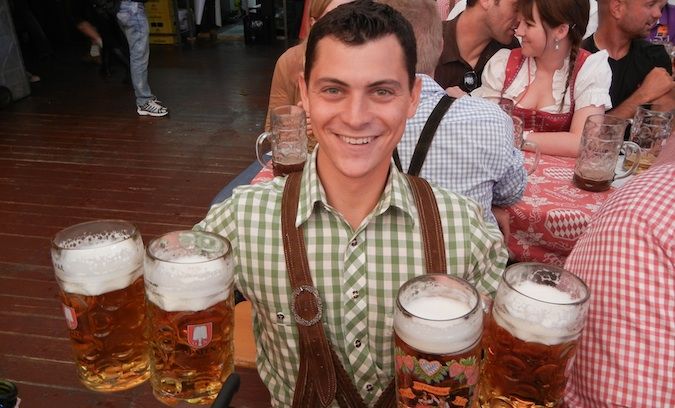 When we were planning our trip in 2011, my friend Matt and I decided five days should be long enough to experience Oktoberfest. We were seriously mistaken — a couple of days is enough, and by day 3, we were waving the white flag. We somehow managed to power on, and, dressed in lederhosen, we ticked a life-long goal off of both of our lists. It was incredibly fun, and I met some wonderful Germans, ran into friends I already knew, and learned that after four steins in a row, I will pass out at a table.
Discovering Eastern Europe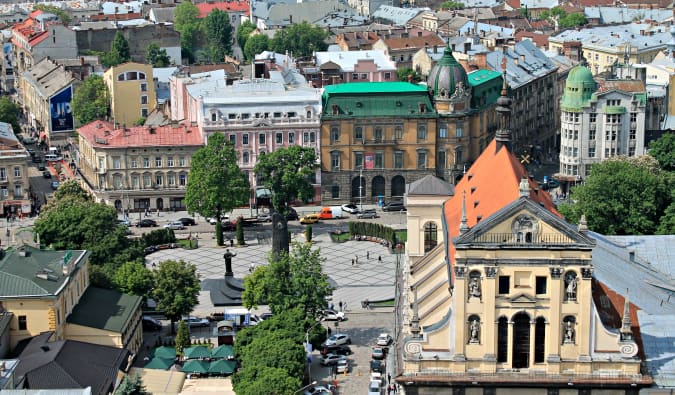 When people ask me where they should go in Europe that's a bit out of the way, I recommend three countries: Bulgaria, Romania, and Ukraine. A few years ago, I backpacked through these countries and fell deeply in love with all of them (especially Ukraine). They were a new experience: more rustic, less touristy, seemingly still 20 years in the past, and overall, a completely different feeling than Western Europe. They were challenging to navigate — I had to pantomime in Ukraine to get around. They were super cheap. The people were friendly and welcoming. One of my best memories is drinking with some Ukrainians who only knew the word "cheers." We couldn't communicate, but we bonded over many shots of vodka.
Connecting on the island of Ios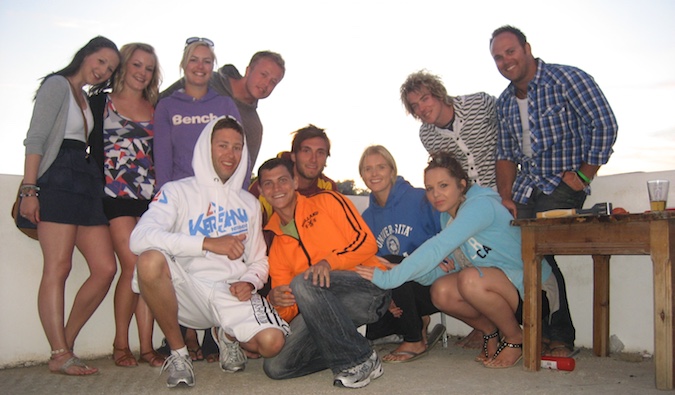 Continuing the theme that people make places, in 2010, I decided to visit the island of Ios in Greece. At this point, I don't remember why I initially decided to go, but I somehow found myself there. And, as with Ko Lipe, I ended up staying longer than planned. A group of us on the island bonded instantly. They had come early in the season to find work (they all did), and I had nowhere in particular to go, so I stayed. We were like a family, meeting up for nightly dinners and outings around the island. The following year, we all came back and picked up right where we left off. Even though we are now spread out around the world, I'm still in contact with most of them on a regular basis. Time and distance don't destroy deep friendships.
Discovering Coral Bay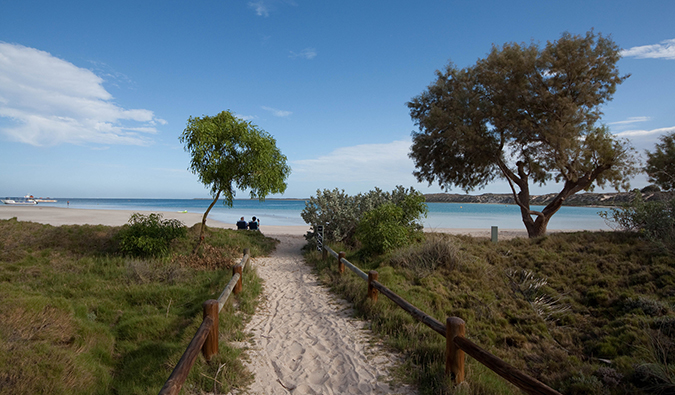 Driving up the west coast of Australia, I pulled into a tiny beach town called Coral Bay. It's a one-street town with one hotel, one bar, and one supermarket. Most people come here via camper van and stay in the RV park. This place is heaven; it's my beach paradise. The Ningaloo Reef is so close to the shore you can swim to it, the water is crystal clear, and marine life swims near the shore. I've found my way to this out-of-the-way destination twice, and it's my favorite place in all of Australia.
Visiting the Galápagos Islands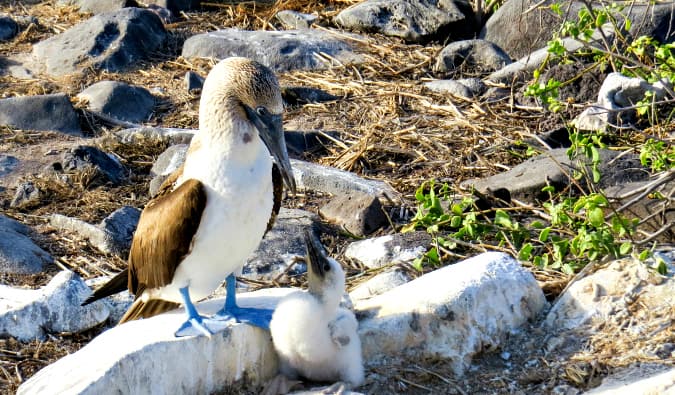 I knew the Galápagos were beautiful, but everything I had heard about them underestimated their beauty. The land, the sea, the sunsets — words can't describe them. Pictures can. (Lots of pictures.) My time spent on the islands can be summed up by my last night: the boat was moored while we ate dinner with the spotlight on the back. Fish attracted to light swam in the area and then suddenly, seals began to dart back and forth. Later, as we made our way back to Santa Cruz to leave in the morning, dolphins rode our boat's wake for over 20 minutes, playing and jumping in the sea. It was breathtaking. Just like the islands.
Hiking the Grand Canyon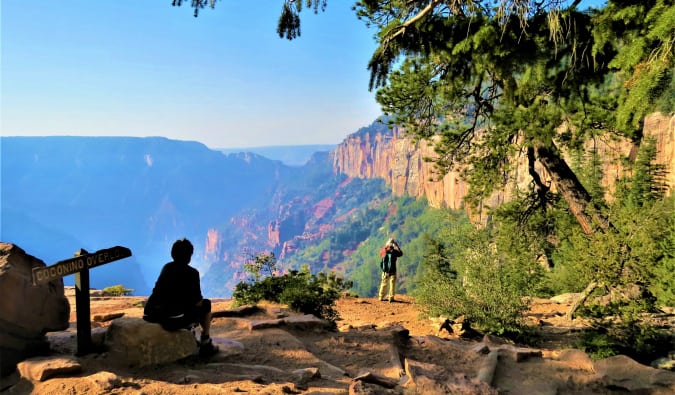 During my cross-country road trip in 2006, I fancied myself a hiker (I wasn't) and was determined to hike to the bottom of the Grand Canyon. Rising early one morning, I drove with my hostel dorm mate to the park, stopping to watch elk graze nearby. After pulling into the parking lot and marveling at the view, we escaped the coming tourist crush and became part of the small cadre of visitors that go beyond the canyon ridge. We hiked down to the base and spent a night before hiking back up. Along the way, we stopped in a stream to cool off, and we made it to the top of the canyon just in time for one of the most beautiful sunsets I've seen. I distinctly remember the sense of victory that rushed through me as we reached the summit.
YOU!
As a Gemini, I'm fickle. I don't often stick with things long. But six and a half years later, here I am, still sharing my stories on this site and helping others travel more. And it's all because of you. This website, more than any trip, has changed my life. I've met some of my best friends because of it, and hosting meet-ups and reading your emails inspires me to be better at everything I do. I wake up thankful every day that I get the chances I have, and it's all because of you.
The last eight years have left me with more happy memories than I could ever write down in one blog post, and while every memory is important, these moments have defined the last eight years and led me to where I am today.
To quote my favorite movie, American Beauty:
…but it's hard to stay mad when there's so much beauty in the world. Sometimes I feel like I'm seeing it all at once, and it's too much, my heart fills up like a balloon that's about to burst…And then I remember to relax and stop trying to hold on to it, and then it flows through me like rain and I can't feel anything but gratitude for every single moment of my stupid little life.
Book Your Trip: Logistical Tips and Tricks
Book Your Flight
Find a cheap flight by using Skyscanner. It's my favorite search engine because it searches websites and airlines around the globe so you always know no stone is being left unturned.
Book Your Accommodation
You can book your hostel with Hostelworld. If you want to stay somewhere other than a hostel, use Booking.com as it consistently returns the cheapest rates for guesthouses and hotels.
Don't Forget Travel Insurance
Travel insurance will protect you against illness, injury, theft, and cancellations. It's comprehensive protection in case anything goes wrong. I never go on a trip without it as I've had to use it many times in the past. My favorite companies that offer the best service and value are:
Want to Travel for Free?
Travel credit cards allow you to earn points that can be redeemed for free flights and accommodation — all without any extra spending. Check out my guide to picking the right card and my current favorites to get started and see the latest best deals.
Need Help Finding Activities for Your Trip?
Get Your Guide is a huge online marketplace where you can find cool walking tours, fun excursions, skip-the-line tickets, private guides, and more.
Ready to Book Your Trip?
Check out my resource page for the best companies to use when you travel. I list all the ones I use when I travel. They are the best in class and you can't go wrong using them on your trip.