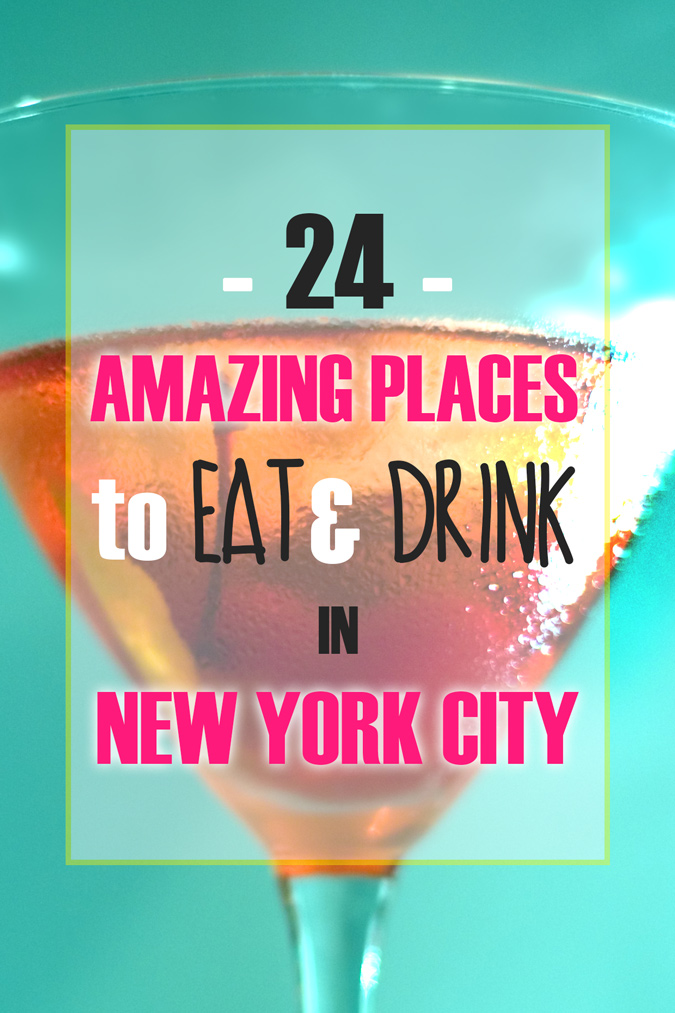 I love living here. New York City is a microcosm of the world, where you stumble upon four different ethnic food shops right next to each other and people speaking a dozen other languages all on the same street. I feel like I can escape back to other areas of the world without ever leaving the city.
I've been living in New York since January, and the more I'm here, the more I fall in love with New York. I've gotten reacquainted with the places I loved when I lived here in 2010 as well as discovered some amazing new places.
It's easy to get caught up in Times Square, Central Park, and all the big-name celebrity chef restaurants. It's easy to get lost in the thousands of food and drink options in the city. Today, I want to share some known and not-so-well-known places to eat and drink in the Big Apple. This is where I go and enjoy myself when I'm not on the road.
Restaurants
Hot Kitchen (104 2nd Ave & 251 E 53rd St) – Delicious and fiery Szechuan food at a great price. Try the tripe (it's better than I thought it would be)! Be warned, though: the food here is really spicy! Since I'm a wimp when it comes to spicy food, my stomach was still suffering the next day.
Yuba (105 E 9th St) – My favorite sushi place in the city, this little restaurant is easily missed. I visit here too often — so often they gave me cake on my birthday and call me up when they have special offers. Don't miss the uni or the tuna.
Sao Mai (203 1st Ave) – A great Vietnamese place located near my apartment, this place serves pho that rocks my world. The portions are huge here and, according to my friend Jodi, who is an expert in all food Vietnamese, this place is authentic.
S'MAC (345 E 12th St) – A mac-and-cheese shop that takes the traditional dish and makes it even better. It's heavenly, cheesy goodness. Their 4-Cheese and Cheeseburger are my two favorites. The fact that this place is around the block from my house has become a problem, though — I'm eating there too often and may be getting a S'MAC belly!
Bare Burger (153 8th Ave) – Home of the best gourmet burgers in the city. They use all-natural and organic ingredients, and the number of toppings you can put on the burger is amazing. Not only do they serve great burgers but they have really good organic and healthy salads, sides, and sandwiches. You can get beef, chicken, bison, ostrich, elk, or a veggie burger. My favorite is the country bacon, because what's a burger without bacon?
Shake Shack (Madison Ave & E.23rd St) – An institution in NYC, with multiple locations around the city, the Shake Shack is a must-visit, with all-around delicious burgers, fries, and, of course, milkshakes. The original location in Madison Square Park usually has a long line, so be prepared to wait (though you can look at the Shake Cam on their website to see).
Wonder Siam (792 9th Ave) – Living in Thailand ruined me for Thai food. It's never as good outside the country as it was while I was there. (I mean, if anyone can tell me where I can find pork noodle soup, let me know, because I'll be on the next plane there.) But Wondee is the closest thing I've found to authentic Thai food (and it's no surprise I found out about it from some local Thais).
Masala Times (194 Bleecker St) – I was only recently turned on to this place near the NYU campus. Serving Bombay-style street food, this place serves some really good Indian meals. I couldn't get enough of it. The plates are sharable, and you get rice and bread, too. Try the Fish Tikka — it's delicious.
Vanessa's Dumpling (220 E 14th St) – I stumbled upon this place in the East Village while walking home one day; it was only later that I found out it's actually quite famous. After eating their dumplings, it's easy to see why. They were delicious — the pork dumplings had intense flavor to them. And at 10 for $2, the price is just right.
SriPraPhai Thai Restaurant (64-13 39th Ave) — The best Thai restaurant in New York. As someone who has lived in Thailand, I have very high standards and this exceeds them all. If you only eat at one Thai place, make it this place.
Prosperity Dumplings (46 Eldridge St) – Located in Chinatown, this is another amazing dumpling place. The pork dumplings come fried or steamed, and there's a nearby park where you can sit if this tiny place is full. And if you want more for later? You can buy 50 frozen dumplings for $8!
John's on Bleecker (278 Bleecker St) – Pizza in New York is an institution, and I admit I'm no pizza guru. To me, it's either bad, good, or really good. I can't make those fine pizza distinctions like some New Yorkers can. I qualify John's as really good. The thin-style pizza comes in huge portions big enough to serve three. Service is quick, but expect to wait for a table during dinner.
Chelsea Market (75 9th Ave) – Chelsea Market is more a collection of food places than a single restaurant. It's extremely popular and a great place to pop into when you need some groceries, a meal, or snacks. You'll find good Thai food here, and Amy's Bread has amazing bread. The Lobster Place has decent sushi (and great lobster), but I really enjoy their clam chowder. If you want a meal with local and organic food, try the Green Table.
Smorgasbord (90 Kent Ave) – Smorgasburg is an outdoor food market that occurs every weekend starting in May until the end of November. There are two locations: Saturdays at East River State Park and Sundays on the DUMBO waterfront. Close to 100 vendors serve food and drinks, and on a warm day in the summer, you'll find the place swarming with locals.
Rosemary's (18 Greenwich Ave) – This West Village Italian restaurant boasts a rooftop farm with fresh produce and herbs that goes directly into the food you eat. Their handmade pastas are a must-eat and they have a good Rosé selection. It's one of the best weekend brunch locations in the city too. Come early because it fills up really quickly, especially on nice warm day.
Bars/Lounges

Sake Bar Decibel (240 E 9th St) – This sake bar in a basement serves hundreds of different kinds of sake (and some basic Japanese appetizers). It's tiny, cozy, and a little too warm, but you know the large Japanese clientele means it's good. Some of the best sake I've had has been served here.
The Back Room (102 Norfolk St) – Located down an alley and literally through a back entrance, this Prohibition-style bar features drinks served in teacups (they were used back in the '20s to deceive cops — a nice touch!) in a library-style room. It's a popular late-night spot on the weekends.
Death & Company (433 E 6th St) – My favorite cocktail bar in the city, this Prohibition-style bar is for serious cocktail lovers. They make the best martinis I've ever had — so smooth, it's like drinking water. If you're looking for high-quality cocktails, there's no other place to visit. It gets very crowded here, and the wait to get in can be up to an hour, but luckily, there are nearby bars to hang out at while you wait.
Rye House (11 West 17th St) – One of my favorite cocktail bars in the city, this bar is affordable, a popular after work spot, has a decent food menu (try the fried pickles), and makes some of the best drinks in the city. Even better is their gigantic whisky list featuring hundreds of whiskys from around the world. If you like spirits, come here.
Triona's on Third (192 3rd Ave) – A sports bar with good drink specials and darts. It's a great, laid-back place to go to with friends for after-work drinks. Watch out for game nights as the place gets packed, though once the game is over, people leave pretty quickly (and you get the dart board all to yourself).
The Thirteenth Step (149 2nd Ave) – This is your typical college bar with dollar beer on Tuesday nights. If you want to get drunk on cheap beer, this is the place to do it. Dollar beers are a rarity here in NYC, and while I have no desire to party with kids using fake IDs, I'll stop in for some cheap drinks on my way to another bar.
The Frying Pan (207 12th Ave) – An old boat on the Hudson river, this bar is an after-work and happy hour staple of New Yorkers, especially during the summer when the boat teems with locals who come out for drinks, sun, and socializing — all reasons why this is one of my favorite places in the summer, too.
The Standard Biergarten (848 Washington St) – Famous, celebrity-prone, and not like anything you'll ever find in Germany, the Standard's beer garden is still a great place for drinks. The picnic tables allow you to talk to your friends or make some new ones, there are ping-pong tables, and the casual, after-work environment makes it a great place to hang out with your friends.
Museums
Finally, besides food and drink, here are two museums that don't get enough love:
Federal Hall (26 Wall St) – This national memorial has served as NYC's City Hall and the US Custom House, as well as the site of the first Congress of the United States and George Washington's presidential inauguration. Visitors are welcome on weekdays, free of charge.
Lower East Side Tenement Museum (103 Orchard St) – Visit to immerse yourself in the immigrant experience and learn about how the waves of people lived in the early 20th century. Advance reservations are required for the tours.
New York is full of a million different places to eat, drink, and explore. This post just scratches the surface (so expect a follow-up in the future), but it'll get you started on discovering some off-the-beaten-path treasures and local places you won't find in a guidebook.
Get the In-Depth Budget Guide to New York City!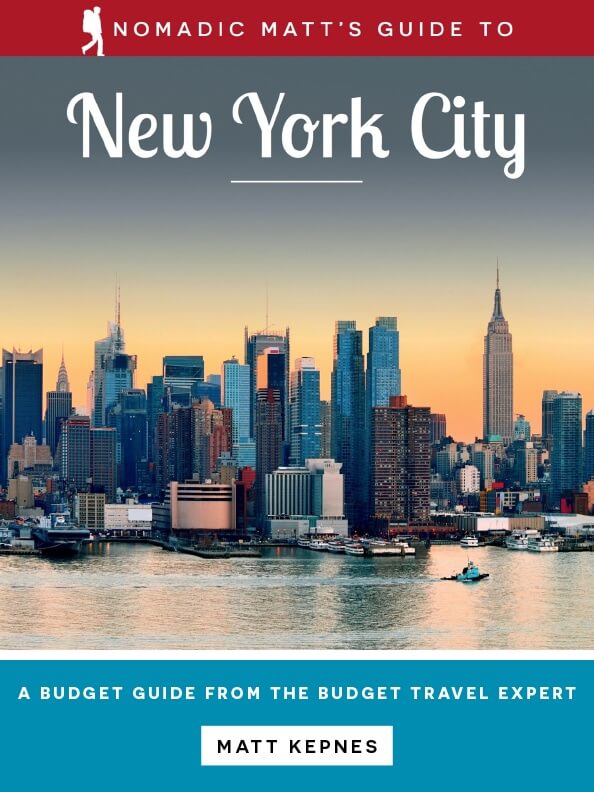 For more in-depth information and tips on NYC, check out my 100+ page guidebook written for budget travelers like yourself! It cuts out the fluff found in other guides and gets straight to the practical information you need to travel and save money the city that never sleeps. You'll find suggested itineraries, budgets, ways to save money, on and off the beaten path things to see and do, non-touristy restaurants, markets, and bars, and much more!! Click here to learn more and get started.