Posted: 05/05/2010 | May 5th, 2010
I'm currently back in Amsterdam. Yes, I know I was just here a few months ago, but it was Queen's Day (Dutch national party day) and I love this city. It's my seventh time in Amsterdam since I started traveling in 2006. After seven visits to Amsterdam, I know this place pretty well. I've spent months in this city. I've walked everywhere. I've been to all the attractions. I know good places to eat, things to see, and parks to visit. I wouldn't consider myself a local, but it's nice to be in a city that feels like home, where you aren't lost or clueless. (Though that's a lot of the fun in travel, once in awhile, I enjoy a break.)
That's what I like so much about Amsterdam. I've been here so many times, I've lived here, I feel at home here. I've been here a week and a half already. I'm here catching up on work and visiting friends. It's been good to sit down in one place and start to make head way on my site after months of slacking off. But it's even better to be back in a place that I know so well. I don't have to find my way around streets nor feel the need to rush off to some tourist site. I can just relax and enjoy the city and catch up with old friends.
People often try to chase passport stamps, but I'd rather see fewer places and know them well than just have little understanding, some photos, and a passport full of stamps. To me, travel is about getting to know places and the people who live in them. In the last three and a half years of travel, I've seen about 41 countries. I've been to the same places many times, either on purpose or because it worked out that way. I like it that way. Every time I come back to a city, I learn new things and discover something I missed the last time I was there. I can always go someplace for a few days and say I've been, but I'd rather say I know the place. To do that you need to stay in places longer or visit multiple times.
Plus, since I now usually stay in either the Flying Pig or the Winston when I'm here, the long-term staff in both places remember me (I visit Amsterdam a lot). It's nice to stay at a place where you feel at home too.
You can see a lot of places, but you can only know a few. And I think that's the biggest advantage of long-term travel—being able to get into the groove of a place and melt right in. So I have no problem coming back to the same destinations over and over again. The more you visit a place, the more you know it. I'd rather have deep knowledge of a few places then little knowledge of a lot. I think it's important to travel often, and I visit lots of places in between trips to frequented destinations. But in my travels, I've found places I want to get to know deeper, and I'll keep coming back to these places, learning more about them, and meeting new friends. Amsterdam's one of my favorite cities to do just that.
Get the In-Depth Budget Guide to Amsterdam!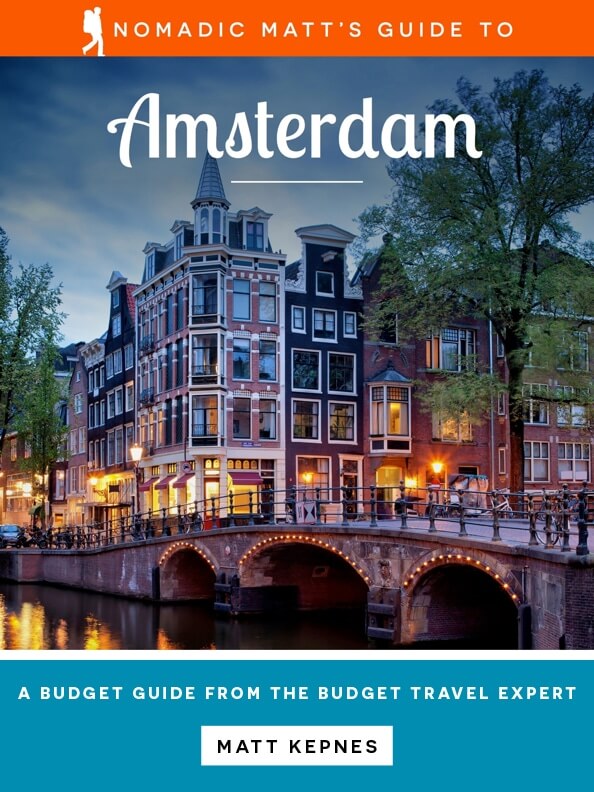 Want to plan the perfect trip to Amsterdam? Check out my comprehensive guide to Amsterdam written for budget travelers like yourself! It cuts out the fluff found in other guides and gets straight to the practical information you need to travel and save money in one of the most beautiful and romantic cities in the world. You'll find suggested itineraries tips budgets, ways to save money, on and off the beaten path things to see and do, and my favorite non-touristy restaurants, markets, and bars, and much more!! Click here to learn more and get started.
Book Your Trip to Amsterdam: Logistical Tips and Tricks
Book Your Flight
Find a cheap flight to Amsterdam by using Skyscanner or Momondo. They are my two favorite search engines. Start with Momondo.
Book Your Accommodation
You can book your hostel in Amsterdam with Hostelworld. If you want to stay elsewhere, use Booking.com as they consistently return the cheapest rates. (Here's the proof.)
Don't Forget Travel Insurance
Travel insurance will protect you against illness, injury, theft, and cancellations. I never ever go on a trip without it. I've been using World Nomads for ten years. You should too.
Need Some Gear?
Check out our resource page for the best companies to use!
Want More Information on Amsterdam?
Be sure to visit our robust destination guide on Amsterdam for even more planning tips!