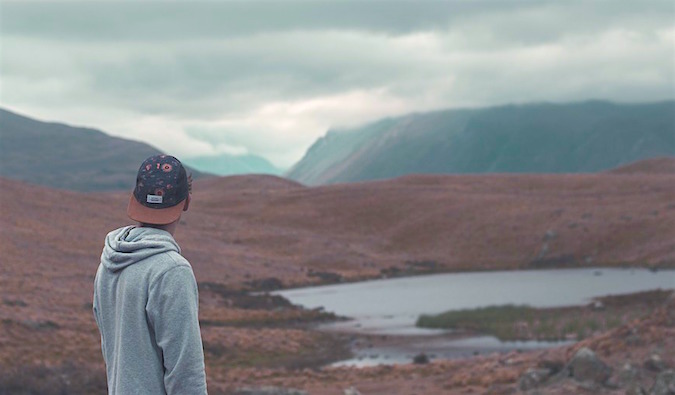 Posted: 04/06/2009 | April 6th, 2009
I was talking to my friend Nicole from More is Better a few days ago about life plans. I was pushing her to travel the world like I push everyone to travel the world. While talking to her, I realized that I didn't know what I would do if I stopped traveling. What is life without travel? How else would I exist? I've been moving so long that I can't picture life any other way.
Travel has become a lifestyle for me.
Always moving, always on the road, always somewhere different.
I have so many different destinations I want to visit before I become "Semi-Nomadic Matt" that I think I'd be 50 before that actually happened! Eventually, I'll slow down. It's inevitable. Nothing last forever. Gravity and age eventually take hold. But that scares me. I've forgotten what it's like to live in one place for more than 6 months.
All of which makes me wonder — can you travel for too long? When travel becomes a lifestyle, are you really better off? Most travelers who take a long-term trip do it as a career break or take the infamous gap year that lasts for a year to a year and a half. Then it's back home and to the real world. (Not fully, of course, because most people come back from trips like this with a new set of work/life priorities. But they still go back.) There are the digital nomads out there who work from the road and move from place to place slowly. Then there are the real long-term travelers like myself who have been going for many years, with no end in sight.
That's when travel becomes a lifestyle. And, like any lifestyle, it's hard and scary to give up.
As much courage as it takes to step away from the cubicle and head out on the road, it takes just as much courage to step away from the road and go back to a more routine lifestyle. Travel eventually becomes all you know. It's all I know. After about 4-5 months in one spot, I get anxious and antsy and I need to move again. I think of all the destinations worth seeing and think about how I should get there soon. I formulate plans with friends and plan holidays to far-off places. I am constantly changing where I am going and making new plans. This summer, I'm off to Europe, then Australia and New Zealand. I want to see Africa and South America. All of that means I still have years on the road ahead of me, and that I'll be even more entrenched in this lifestyle of constant motion.
But eventually, we all need a fixed address. We can take multi-month trips to far-flung destinations, but everyone needs a place to call home. You can't spend your whole life moving from one place to the next — it's unrealistic. It becomes a lonely lifestyle always saying goodbye to friends, never being in one place long enough to form a real relationship, never getting to know a place. Everyone needs roots at some point. Even the long, long-term travelers I know eventually get a home base.
Our conversation made me wistful and melancholy and made ask: can you travel for too long?
The answer for me? Yes, yes, I think you can.
When travel becomes a lifestyle, I think it's a sign you have been on the road too long. At that point, travel is your life — it's what you do, and there is nothing else. You have no home or fixed location, and friendships are always ephemeral because, in about 5 months, you'll be gone again. It's a great way to live but not a great way to live forever. It's fun to do for a period of time but you can't be peter pan forever.
Trees only grow because they have roots not because they are blowing in the wind.
Sometimes I think I've been on the road too long. That, after three years, I've become too old a hand at this. But am I ready to give up this lifestyle yet? No. Not all. I'm still young. I've only had this blog for a year. I still haven't climbed Kilimanjaro, dived in the South Pacific, or sailed down the Amazon yet, and then I realize that I still have a bit more to go with this life I lead right now.
And so, while I may be wistful and might look towards the future, there's still miles to go…..and I'm ok with that (for now).
Related articles:
Book Your Trip: Logistical Tips and Tricks
Book Your Flight
Find a cheap flight by using Skyscanner or Momondo. They are my two favorite search engines. Start with Momondo.
Book Your Acommodation
You can book your hostel with Hostelworld. If you want to stay elsewhere, use Booking.com as they consistently return the cheapest rates. (Here's the proof.)
Don't Forget Travel Insurance
Travel insurance will protect you against illness, injury, theft, and cancellations. I never ever go on a trip without it. I've been using World Nomads for ten years. You should too.
Need Some Gear?
Check out our resource page for the best companies to use!