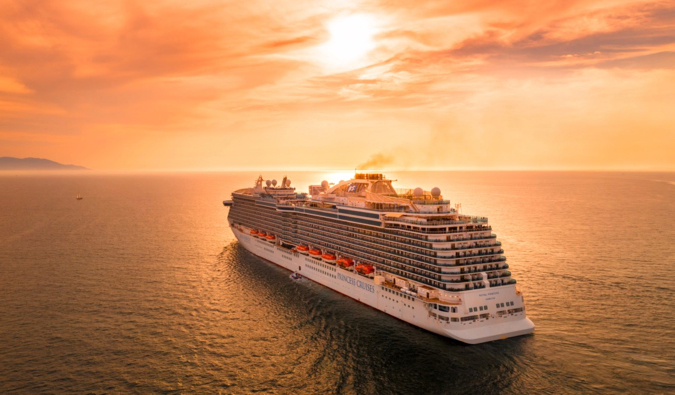 Last Updated: 7/25/23 | July 25th, 2023
Travel insurance is one of the most important things you can get for your trip.
As I've come to learn — and as any traveler will tell you — things don't always go as planned when you travel.
You just never know what will happen.
Sure, nine times out of ten you'll be completely fine. But every now and then you'll stumble into an unfortunate situation.
Maybe it's just a missed flight or a delayed connection. Maybe your wallet disappears while riding a crowded bus. Maybe, like me, you burst an eardrum while scuba diving in Thailand.
Bad things, unfortunately, do happen when you travel. And they can get really expensive if you're injured or fall sick abroad and are not insured.
But what about if you're taking a cruise — how does travel insurance work then?
Well, of course, you still need travel insurance if you're on a cruise, but there are some extra things you'll want to be aware of.
These include delays and cancellations (such as a flight delay that causes you to miss the ship), getting sick while onboard (we all saw how quickly illness spreads on cruise ships during the height of the COVID-19 pandemic), and getting injured (on an excursion or on the ship itself). Whichever travel insurance policy you choose, make sure you double-check that it's valid for any of these emergencies and problems that might arise on a cruise.
Also, purchase insurance as soon as you make the initial deposit for your cruise. Some insurance policies must be purchased within a certain time frame (such as within 14 days of paying your deposit), plus, you can only be covered for incidents that happen after your coverage begins. If a hurricane ruins your trip, your travel insurance would only cover you if you bought it before the hurricane formed. Don't wait to get insurance. I've seen it happen too often!
All that being said, here's everything you need to know about buying travel insurance for cruises!
7 Things to Look for in a Cruise Travel Insurance Policy
1. Both international and domestic coverage – Even if you're cruising close to home, you may still run into unforeseen issues. For example, in the United States, medical insurance stops covering you when your ship is more than six hours away from a US port; in Australia, it stops as soon as your ship leaves port. For that reason, you'll want to get a policy that covers you even if you're in/around your home country.
2. Medical coverage – Be aware that the treatment for less serious medical conditions — the kinds that don't require you to leave the trip — are more expensive on a cruise ship than on land. Make sure your policy has a sufficient amount of medical coverage (at least $100,000 USD).
3. Emergency evacuation – Remember, if you fall seriously ill when you're at sea and you need to be evacuated to a hospital, it's more expensive than if you're already on land. Evacuation by helicopter to the nearest treatment facility can be in the tens of thousands of dollars. Make sure your policy has sufficient evacuation coverage (at least $250,000 USD).
If you don't want to get stuck in that "nearest" hospital, consider getting Medjet. They are the premier membership program that then gets you all the way to a hospital at home (read more in my Medjet review).
4. Cancellation, delay, or trip interruption coverage – If you have a flight delay that means you'll miss the start of the cruise, it's a lot more difficult to deal with than just arriving late for a land-based trip. Hurricanes or other severe weather events also affect cruises significantly, and you'll want your insurance policy to take that into account.
5. Activity coverage – Take a look at the shore activities you might participate in during the cruise and check if any need to be mentioned to your insurer, like certain adventure activities or water sports.
6. Theft or loss of personal property – Unlike other kinds of travel, you might be more likely to take valuable jewelry and expensive clothing for some of the fancy dinners and events cruise ships hold. Often a regular travel insurance policy will only cover these items up to a certain value, so check that your belongings are covered against possible loss or theft.
7. Option for Cancel for Any Reason (CFAR) coverage – This add-on is not something that everyone will want to pay for (it increases the cost of policies quite a bit). But if you want the ultimate peace of mind knowing that you'll be able to get reimbursed no matter the reason for cancelling your trip, you might want to upgrade to CFAR coverage.

What is the Best Cruise Travel Insurance?
With so much to consider, it can be hard to decide which cruise travel insurance to choose.
Be aware that while many cruise companies offer their own insurance, the conditions are often stricter, they don't cover any part of your trip that's not on the cruise (such as airfare and/or hotels while you're traveling to the departure port), and you might find it hard to make a claim.
They also rarely pay out in cash (and instead simply provide vouchers for future cruises), tend to have a short list of acceptable cancellation reasons, and rarely cover pre-existing medical conditions. You're always better off using a third-party insurer.
Whichever policy you decide on, it's vital that you read the policy details carefully so you know exactly what you are covered for.
The insurers below are some I recommend that have specific cruise insurance policies and offer a decent amount of coverage for a lot of potential mishaps:
Travel Guard
Travel Guard has specific cruise insurance policies, which makes it simpler than trying to find an add-on. If you're getting a quote online, they'll ask you to specify if you're taking a plane, a cruise, or both. They cover any emergency travel assistance, trip interruption, delay, and cancellation.
Medical expenses and emergency evacuation are covered, but the maximum amount varies between the essential, preferred, and deluxe plans: the essential plan includes a $150,000 limit on emergency evacuation, which might not be quite enough from some parts of the world, but you can get up to $1,000,000 of coverage on the deluxe plan.
Insure My Trip
Insure My Trip is an unbiased aggregator site that you can use to look at many different insurance policies to find the one that best fits your needs. It's also the best place to find travel insurance for travelers over 65.
VisitorsCoverage
VisitorsCoverage is another insurance marketplace with a specific cruise section that compares different plans, including the popular SafeCruise plan by IMG. This plan is designed for cruise travelers and includes everything you might need, including the add-on for cancel for any reason coverage. Additionally, as long as you purchase insurance by the time you make your final trip payment, there's a waiver for most pre-existing conditions, too.
***
Don't go on a cruise without proper travel insurance. That means being aware and paying a bit more attention than usual to the conditions of your policy. Make sure that any policy you choose covers you sufficiently for medical evacuation, medical treatment onboard, and other mishaps like missed connections, stolen luggage, delays, and cancellations.
And be sure to purchase cruise insurance as soon as you book your cruise so that you can take advantage of cancellation benefits should the need arise.
If you can't afford to add cruise travel insurance to the costs of your trip, you probably can't afford to travel. It's just not worth the risk of coming home with a bill in the tens of thousands of dollars or more if something unexpected goes wrong.
In my experience, it's always better to be safe than sorry. The peace of mind is worth the extra cost.


Book Your Trip: Logistical Tips and Tricks
Book Your Flight
Find a cheap flight by using Skyscanner. It's my favorite search engine because it searches websites and airlines around the globe so you always know no stone is being left unturned.
Book Your Accommodation
You can book your hostel with Hostelworld. If you want to stay somewhere other than a hostel, use Booking.com as it consistently returns the cheapest rates for guesthouses and hotels.
Don't Forget Travel Insurance
Travel insurance will protect you against illness, injury, theft, and cancellations. It's comprehensive protection in case anything goes wrong. I never go on a trip without it as I've had to use it many times in the past. My favorite companies that offer the best service and value are:
Want to Travel for Free?
Travel credit cards allow you to earn points that can be redeemed for free flights and accommodation — all without any extra spending. Check out my guide to picking the right card and my current favorites to get started and see the latest best deals.
Need Help Finding Activities for Your Trip?
Get Your Guide is a huge online marketplace where you can find cool walking tours, fun excursions, skip-the-line tickets, private guides, and more.
Ready to Book Your Trip?
Check out my resource page for the best companies to use when you travel. I list all the ones I use when I travel. They are the best in class and you can't go wrong using them on your trip.