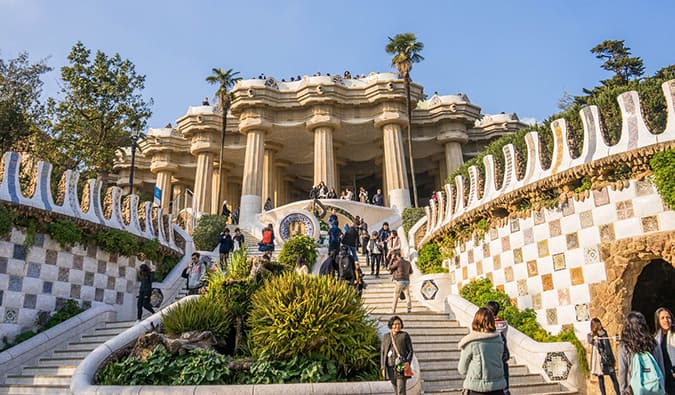 Last Updated: 2/15/23 | February 15th, 2023
Barcelona is one of the most popular destinations in Europe. It's a lively city bursting at the seams with world-class food, wild clubs and bars, and tourists galore.
While its roots stretch back to the Roman Empire, it was during the Middle Ages that Barcelona really grew into the economic and political center of the Western Mediterranean.
As part of Catalonia (locals consider themselves Catalonian rather than Spanish), you'll see signs written in Catalan and in Castilian Spanish, and most locals in the city speak both languages. The combination of Spanish and Catalan cultures and traditions here is part of what makes Barcelona the unique city that it is.
In recent years, the city has had to clamp down on "overtourism" as over 30 million people visit each year, putting significant strain on the locals and the environment. If you can, try to avoid the hectic summer months and book accommodation outside the city center.
But with so much to see and do in and around Barcelona, where do you begin? How many days do you need to visit?
I think to really get a feel for Barcelona you should plan for at least four or five days. While you could see the highlights in less, you'll do yourself a disservice if you hurry your visit. This is a city of late-night dinners and afternoon siestas.
Life isn't rushed here and your visit shouldn't be either.
This Barcelona itinerary highlights all the best things to see and do and can help you organize your visit so you can see it all!
Table of Contents
Day 1: Barri Gotic, Barcelona History Museum, La Boqueria, & more
Day 2: Park Güell, La Sagrada Familia, La Rambla, & more
Day 3: Montjuïc Hill, Cooking Class, Harbor Cable Car, & more
Day 4: Day Trip to Girona
Other Things to See and Do: Montserrat, Football, Bike Tour, & more
Barcelona Itinerary: Day 1
Take a free walking tour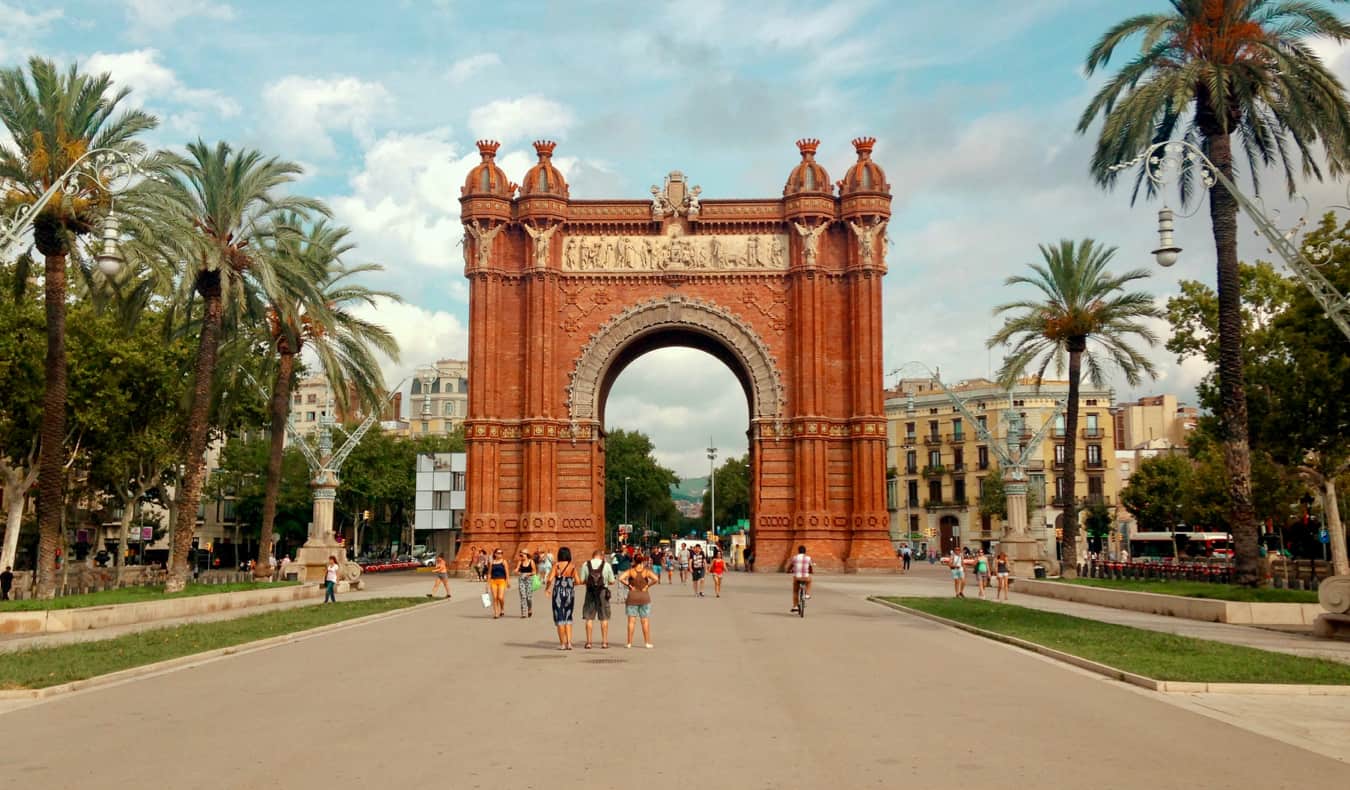 I love free walking tours. I think they are a wonderful way to get to know a new city, see the main sights, connect with a local guide, and learn some history in the process. (And, since they are filled with travelers too, they can also be a good way to meet other people.) Just be sure to tip your guide at the end!
My recommended walking tour companies in Barcelona are:
For paid tour options, check out Get Your Guide. They have tons of tours for every interest and budget!
Get lost in the Barri Gotic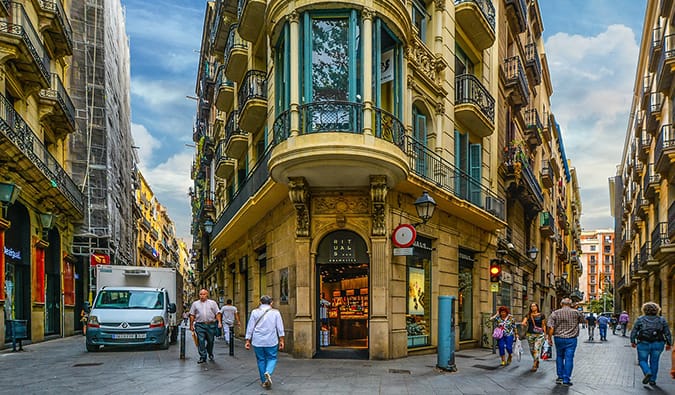 Barcelona's old Gothic Quarter is my favorite part of town. It's where you'll find the oldest parts of the city — including ancient Roman walls and medieval buildings all connected by narrow, winding streets. Today, the neighborhood is filled with bars, clubs, and restaurants. You can easily spend a few hours getting lost in this district.
The area also has numerous attractions worth seeing:
Barcelona History Museum – Barcelona has one of the best city history museums I've ever visited. It includes 4,000 square meters (43,000 square feet) of Roman ruins beneath the museum that you can walk through. There is a free, detailed audio guide and meticulous explanations of the exhibits. If you do one thing in the city, make it this. I visit every time I'm in Barcelona. The ruins are just stunning. Admission is 7 EUR per person but free on Sundays after 3pm.
The Grand Royal Palace – The Palau Reial Major (near the history museum) is almost 700 years old and was the home of Barcelona's counts and later the kings of Aragon. The palace offers visitors a very detailed history of the city and region through the centuries. Admission is 7 EUR (shared with the history museum above). It's free on the first Sunday of the month and every Sunday after 3pm.
Chapel of Santa Àgata – This royal chapel was built in 1302 and is part of the Museum of the History of Barcelona. The most interesting thing inside is the beautiful altarpiece, made by Jaume Huguet, that was added in the 15th century. It contains beautiful paintings of religious symbols in the style of the Middle Ages. Admission is 7 EUR.
Barcelona Cathedral – Built between the late 13th to early 15th centuries, this is a classic Gothic cathedral with huge spires standing over 53 meters (174 feet) tall, colorful stained glass, and incredible wood carvings. Make sure you visit the upper terraces where you'll get an incredible view of Barcelona. Admission is 9 EUR for tourists (free for worshippers).
Barcelona Museum of Contemporary Art (MACBA)
This museum has over 5,000 works, including an extensive collection of pieces by Spanish artists such as Joan Miró and Pablo Picasso. There are also works by Americans Andy Warhol and Alexander Calder (the latter being known for his innovative mobiles). While it's not really my favorite style of art, if you love modern art, be sure to add this to your itinerary.
Plaça dels Àngels 1, +34 934 120 810, macba.cat/en. Open Wednesday to Saturday from 10am-8pm and Sundays from 10am-3pm (closed on Tuesdays). Admission is 10.80 EUR if purchased online and 12 EUR at the door. Entry is free on Saturdays from 4pm-8pm.
La Boquería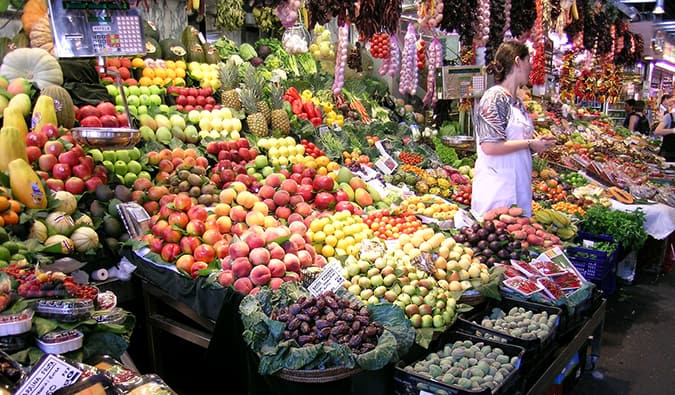 This public market has an amazing array of food stalls and restaurants. It's been at this location for hundreds of years, in a building with a beautiful iron entrance. It's right off La Rambla (a long, popular central thoroughfare, see below), so the market is typically very busy. But grab a snack or an inexpensive lunch of ham, bread, cheese, and fruit and enjoy the scene. There's a wide variety of seafood, including fish, shrimp, octopus, and oysters, as well as nuts, candy, wine, and tapas.
Rambla, 91, +34 934 132 303, boqueria.barcelona/home. Open Monday to Saturday from 8am-8:30pm.
Watch some flamenco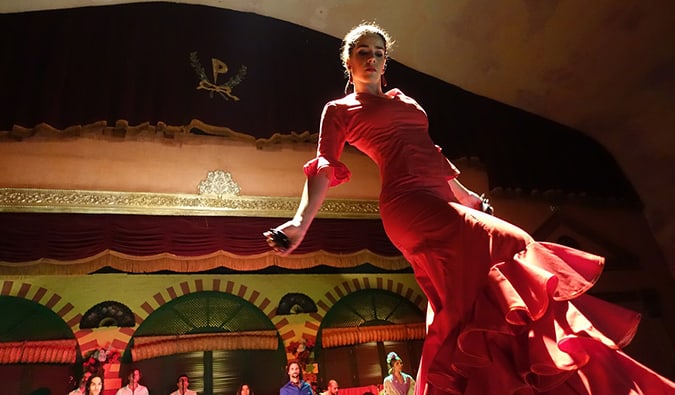 Spend your evening watching flamenco, a traditional style of Spanish music and dance that originated in Andalusia. The music is lively and expressive, while the dancing involves intricate footwork and hand movements. Some of the shows can get pricey but you can take in a performance at one of these more affordable venues:
Los Tarantos – This is Barcelona's oldest flamenco venue. It's a short show (just 30 minutes) so it's a good place for an introduction to the art and won't take up your entire night. Plaça Reial, 17, +34 933 041 210, tarantosbarcelona.com/en. Shows run at 7:30pm, 8:30pm, and 9:30pm. Tickets start at 17 EUR.
Tablao Flamenco Cordobes – This show is in a convenient location on Barcelona's main walkway, but it's pricey. La Rambla, 35, +34 933 175 711, ablaocordobes.es. Shows run twice each evening (check the website for times). Admission is 47 EUR (drink and show) or 83 EUR (dinner and show).
Barcelona Itinerary: Day 2
Explore Gaudí's architecture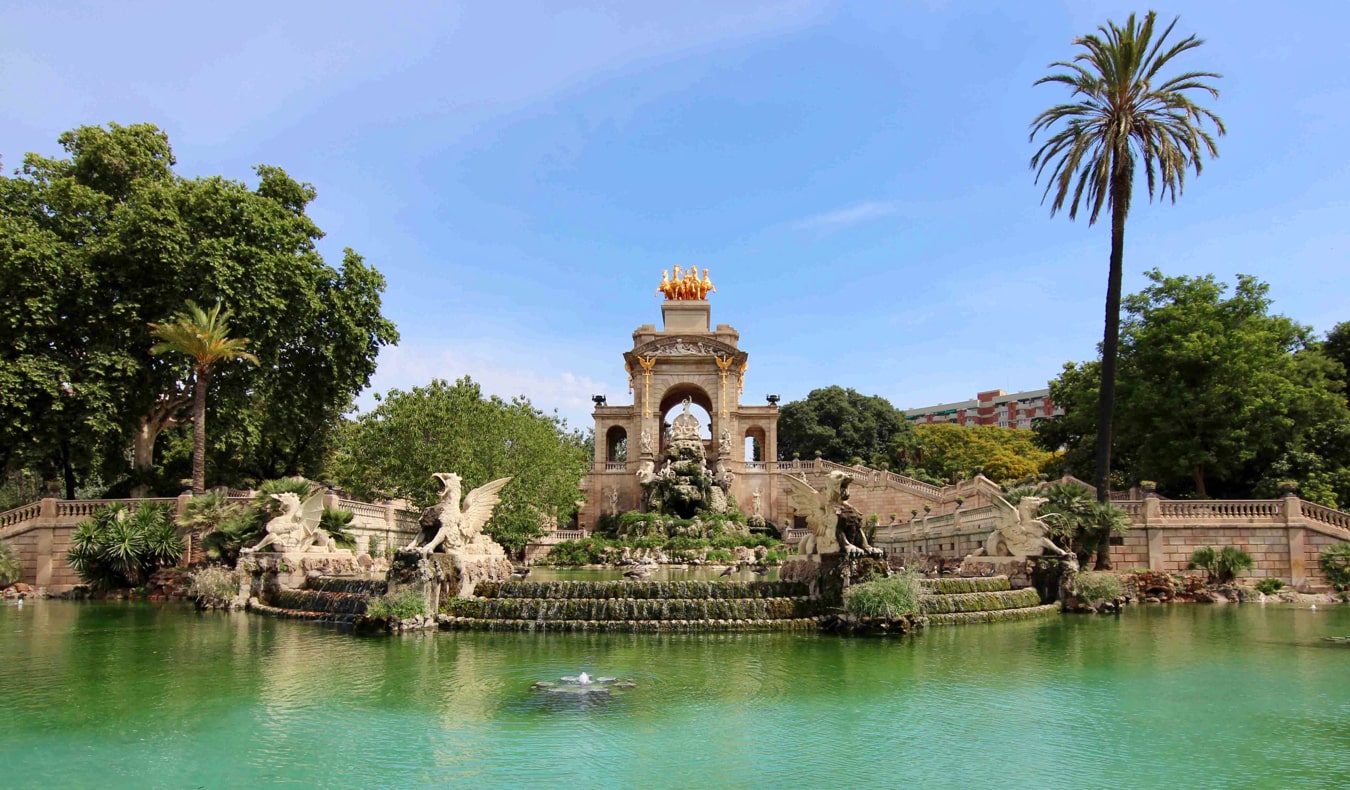 Gaudí is Barcelona's most famous and creative architect. His unique style, use of nature motifs, and catalog of work is legendary – and part of the reason so many people visit the city. No visit to the city is complete without a tour of Gaudí's works. You can find them everywhere — in addition to the buildings listed below, he even designed lampposts, monuments, and sculptures. Here are the best sights to see:
Park Güell – Park Güell is a 45-acre garden complex designed and built between 1900 and 1914. It's since been converted into a municipal garden and is now a UNESCO World Heritage Site. Tickets are 13 EUR.
La Sagrada Família – This is arguably the most famous of Gaudí's works (and one that seems to never be finished). The church has been under construction for over 100 years (the groundbreaking was in 1882 and is supposed to be done in 2030). Gaudí was a devout Catholic and spent the last 10 years of his life working on this project which is a combination of Gothic and Art Nouveau styles. Admission with an audio guide is 32.50 EUR — but it's worth it!
Casa Batlló – Casa Batlló is a building restored by Antoni Gaudí in the early 1900s. He spent two years on the project completely revamping the exterior, main floor, patio, and roof. Located in the Eixample district, it (like everything Gaudí designed) was heavily influenced by the Art Nouveau style. It's one of my favorite Gaudí buildings. Admission is 35 EUR and includes an audio guide.
Casa Milà – From 1906 to 1910, Gaudí worked on Casa Mila which is just a couple hundred meters away from Casa Batlló. It's also known as "La Pedrera" (the Stone Quarry) as the building has a facade of limestone. The goal with this design was to evoke the sense of a snowy mountain. Gaudí, himself a Catholic and a devotee of the Virgin Mary, also planned for the Casa Milà to be a spiritual symbol. Skip-the-line tickets are 25 EUR.
Palau Güell – Located off La Rambla, Palau Güell (Güell Palace) building doesn't jump out at you like other Gaudí structures. Built from 1886-1888, it was designed for one of Gaudí's patrons, Eusebi Güell. The home is centered around the main room used to entertain high-society guests.
For more information on Gaudí's works as well as entrance fees, locations, and operating hours, check out my guide to Gaudí's Barcelona.
Hit the beach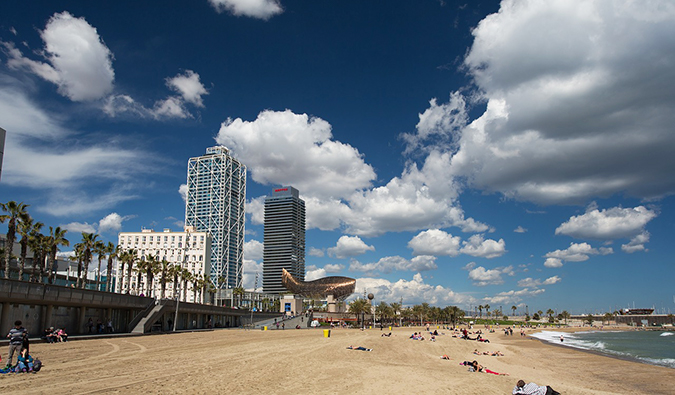 You've done a ton of walking so far, so take the afternoon to relax! Barcelona has a wide and long beach, Barceloneta, that is incredibly popular year-round. The water is good to swim in, the sand is golden, and there are a lot of good restaurants on the boardwalk. It's always busy with tourists and locals, however, so be sure to walk further from the center to reach some quieter and cleaner beaches, such as Sant Sebastià in the south and Somorrostro in the north (my two favorites).
Take a stroll on La Rambla
This popular boulevard, with a broad but crowded walkway in the center, has many beautiful buildings along it, including the Gran Teatre del Liceu, the city's opera house. Near the theater, you can also see a mosaic by famous artist Joan Miró. There are street performers galore here (they even have their own union), making it perfect for people-watching. While this street is ground zero for tourists in the city and gets swamped by crowds it's worth a stroll down at least once (don't eat at the restaurants here, they're overpriced). Just keep an eye out for pickpockets.
Barcelona Itinerary: Day 3
Visit the Picasso Museum
While I'm not a huge fan of most of Picasso's later work, it's still interesting to learn about the life and work of one of the most influential artists of the twentieth century. Opened in 1963 and home to over 4,000 pieces of art, it's the most comprehensive collection of Pablo Picasso's works in the world. In addition to his paintings, the museum also has drawings, ceramics, and engravings by Picasso.
Carrer Montcada 15-23, +34 932 563 000, museupicasso.bcn.cat/en. Open Tuesday-Sunday from 10am-7pm. Admission is 12 EUR, with free entry on the first Sunday of the month.
Ride the harbor cable car
The 1,450-meter-long (4,757-foot) harbor aerial tramway with red cars connects Barceloneta and Montjuïc Hill. The 10-minute trip offers incredible views of Barcelona. You'll see the port and sea on one side and the city on the other. Also, at the top of the 78-meter (255-foot) Sant Sebastià tower in Barceloneta, there's a restaurant accessible by an elevator. You can also hike one of the trails to the summit of Montjuïc Hill, which takes as little as 30 minutes.
Miramar station (Paseo Juan de Borbón) and San Sebastián Tower (Avda. de Miramar), +34 934 304 716, telefericodebarcelona.com/en. Open daily from 11am-5:30pm (10:30am-8pm in the summer). Round-trip tickets cost 16.50 EUR.
Explore Montjuïc Hill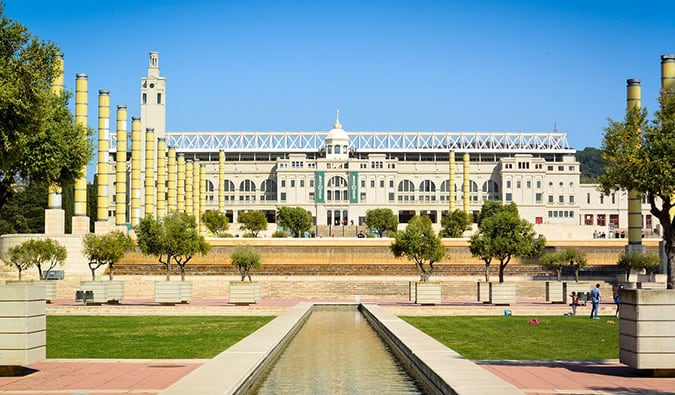 Here you can explore the Castell de Montjuïc (a large 18th-century fortress that's now a museum with roots that date back to the 17th century), as well as charming gardens, a Spanish village, and the Olympic Stadium. Be sure to also visit the Magic Fountain for the colorful water show. You'll be able to enjoy a sweeping view of the city; watching the sunset from here is amazing too.
Here are some highlights of Montjuïc:
Castell de Montjuïc – This old fortress features military displays and information on the history of the castle. Admission is 9 EUR (13 EUR including a guided tour). It's free on Sundays after 3pm as well as on the first Sunday of the month.
Joan Miró Foundation – Joan Miró was one of Catalonia's most famous artists. Many of the artist's surrealist works (over 14,000 of them) are on display in this museum. Most were donated by Miró himself. There is also a contemporary art collection that was put together as a tribute to the artist in the years after his death. Admission is 14 EUR.
Museu Nacional d'Art de Catalunya – This art museum houses Catalonian art, particularly Gothic, Renaissance, and Baroque works. The fountain out front has a spectacular free show that takes place on Thursday, Fridays, and Saturdays from 9pm-10pm (April 1-May 31 and September 1-October 31) and 8pm-9pm (November 1-March 31), and Wednesday-Sundays from 9:30pm-10:30pm (from June 1-August 30). Admission is 12 EUR (free on Saturdays from 3pm and on the first Sunday of the month).
Poble Espanyol (Spanish Village) – The Spanish Village was built in 1929 to resemble an actual traditional village with 117 buildings from different Spanish regions. There's an Andalusian quarter, a section of the Camino, a monastery, and more. It's a good family activity. Admission is 11.20 EUR in advance online (14 EUR same day online or from the ticket office).
The Olympic Ring – When Barcelona hosted the 1992 Olympic Games, all of the excitement centered around the Olympic Ring: the Olympic Stadium, Palau Sant Jordi, and the Olympic Esplanade. You can roam the entire space for free.
Take a food tour or cooking class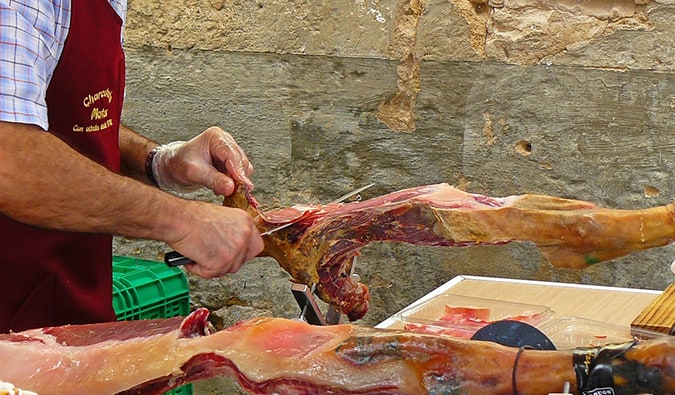 Barcelona is a very food-centric city (just like the rest of Spain), so I highly recommend a cooking class or a food tour. You'll learn about traditional Catalan cooking, select the freshest ingredients, and learn new recipes and techniques. You'll get to walk through local markets, prepare your own meal, and enjoy the fruits of your labor. Some companies to check out are:
Barcelona Itinerary: Day 4
Take a day trip to Girona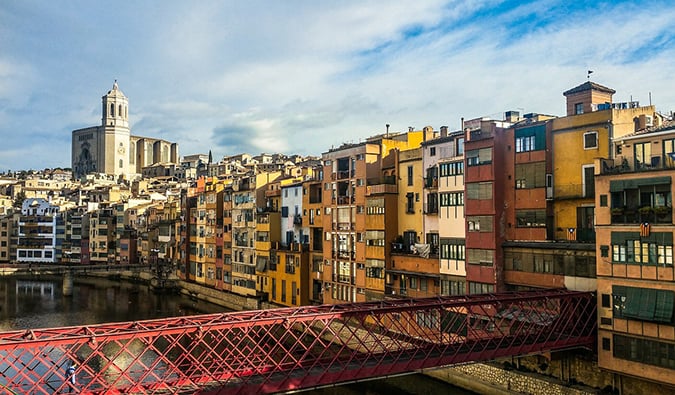 Girona is just 100 kilometers (62 miles) from Barcelona. It's one of my favorite destinations in Spain — and far too overlooked by travelers. Here you can climb atop the city walls, wander the narrow lanes of the Jewish Quarter, and soak up the ambiance at one of its many cafés. There's also the Cathedral of Girona and the Monastery of Saint Daniel to admire and you must stroll across the Eiffel bridge (a small bridge designed by Gustave Eiffel, the man who designed the Eiffel Tower in Paris).
They filmed Game of Thrones here too and Game of Thrones walking tours are available for those interested.
Overall, there's a lot of history and delicious food in the city. The train ride is about 80 minutes on the normal train while the high-speed train gets there in 38 minutes. Return tickets start at 20 EUR.

Other Things to See and Do in Barcelona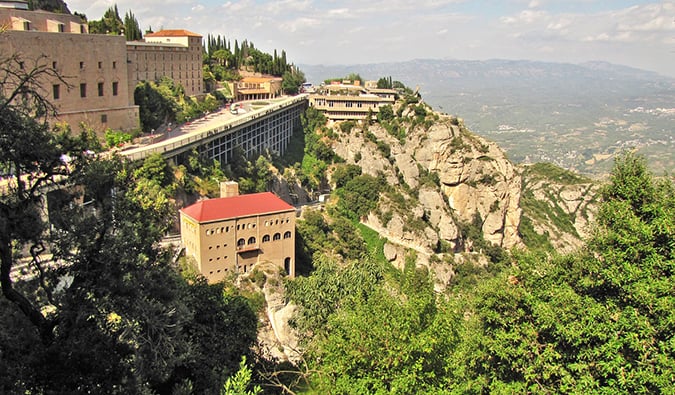 If you have more than four days in Barcelona, there are plenty of other activities to fill your time:
Head to Montserrat – The Montserrat mountain range is just an hour outside of the city by train and makes for a great getaway from Barcelona's urban atmosphere. Once there, pay a visit to the famous shrine of the Black Madonna at the Santa Maria de Montserrat monastery. This Benedictine monastery is built into the mountain and it is claimed that the Black Madonna here was carved in Jerusalem during the early years of Christianity, (it most likely actually dates to the 12th century). The Benedictine monastery and the valley of unique, rocky pillars make for some really awesome photography.
Monserrat also has an Art Museum with works by Monet, Dali, Picasso, and many other famous artists. And don't miss the local market — it's the perfect place to buy local products like fresh produce, cheese, honey, and artisan crafts and it's easy to find (it's on the way to the monastery).
Guided day tours to Montserrat start around 65 EUR per person.
Visit an old-school amusement park – Tibidabo Barcelona, built in 1899, is one of the oldest amusement parks in the world. On a tall mountain in the Serra de Collserola, it also offers an incredible view of Barcelona and the coastline in addition to the rides, games, and restaurants there. It's open on the weekends, except in the winter. Tibidabo Square, +34 932 117 942, tibidabo.cat. Hours vary depending on the season. Check the website for details. Admission is 35 EUR.
Catch an outdoor film – If you're in Barcelona in July or August, consider going up to Montjuïc Castle to catch an outdoor film on the lawn of the castle's moat. Screenings take place everyday at 10:30pm and are preceded by live music. Tickets are 6.50 EUR.
If you can't make those screenings, try Sant Sebastià beach in Barceloneta (showing movies on Thursdays and Sundays) or Cosmonits at CosmoCaixa outside the Science Museum (Thursdays in July/first week of August). The Cine al Aire Libre–l'Illa Diagonal also has movies at the Gardens of San Juan De Dios on Thursday evenings in July as well.
Watch a soccer match – The first "football" game I ever saw was in Barcelona. It was Espanyol versus Valencia. I still have the shirt I bought that day. Barcelona's two teams are Espanyol and FC Barcelona and, if a match is going on, try to take in one. Locals are obsessed with the sport and you'll make a lot of good friends at the game! If you can't make a game, you can tour the stadium and the FCB (or Barça) Museum for 28 EUR.
Visit the aquarium – Perfect for a rainy day, the Barcelona Aquarium has more than 11,000 animals, showcasing species from a variety of underwater ecosystems. The walk-through tunnel is the best part. Moll d'Espanya del Port Vell, +34 932 217 474, aquariumbcn.com/en. Open daily from 10am-8pm, depending on the season. Admission is 25 EUR.
Gaze at Barcelona's free public art – Gaudí outdid himself with the huge fountain located in the Parc de la Ciutadella, a tribute to the god Neptune. I absolutely love the art and fountain here. Gaudí designed the famous fountain when he was an architecture student. There's also a zoo in the park and some short walking paths. Take a bottle of wine, grab some ham, and have a picnic.
Other offbeat Gaudí works include the lampposts in Plaça Reial and Pla de Palau and the Miralles gate and wall on Passeig de Manuel Girona.
Barcelona native Joan Miró's work is found throughout the town as well; you can see his famous "Woman and Bird" sculpture at Parc de Joan Miró. There are also Miró mosaics on La Rambla and at the airport.
Take a bike tour – Fat Tire Tours offers guided tours around the city — for as little as 30 EUR per person too! It's a great way to experience Barcelona from a new perspective while getting to learn about the city and its many amazing sights. There are several different tours to choose from as well, so there will definitely be something for everyone!

Where to Eat in Barcelona
For some excellent food, be sure to check out some of my favorite places to eat in Barcelona:
Les Quinze Nits – Delicious food at a great price. It's a bit touristy, but even the locals come here for the value. Avoid the long lines at dinner by going for lunch instead.
Quimet & Quimet – Tasty tapas and sandwiches in a cozy setting. There are over 500 types of wine on the menu too!
1881 per Sagardi – Upscale seafood restaurant in La Barceloneta with a view.
Paradiso – Chic cocktail bar with delicious small plates. They offer mixology classes too.
Pinotxo Bar – Just inside the Boquería food market, this little stall is always packed and serves some of the most famous tapas in the area.
Tapeo – Original dishes and an expansive wine menu in an intimate Gothic Quarter space.
La Fonda – Good food with large portions. Its set menu will give you more than you can eat, and it features beautiful décor and a robust wine selection.
Botafumeiro – One of the best seafood joints in the city. Expect high prices!
Dry Martini – Fancy cocktail bar with a classy wooden interior and strong Mad Men vibes (though there's no dress code so don't need to dress up).
Els 4Gats (The Four Cats) – This was one of Picasso's favorite haunts and a popular hangout for artists in the early 1900s. Grab a drink and maybe some tapas (the patatas bravas are delicious!) and soak up the place's history.
***
Barcelona has something for everyone. You could squeeze in the real highlights of Barcelona in two or three days, but taking four, five, or even six days for the above itinerary will give you enough time to gorge on Iberian ham, tapas, and sangria while not rushing around.
The city moves slowly. And so should you. Sleep late, take breaks, eat lots, and just enjoy Barcelona at a Spaniard's pace. You won't regret it!


Get Your In-Depth Budget Guide to Europe!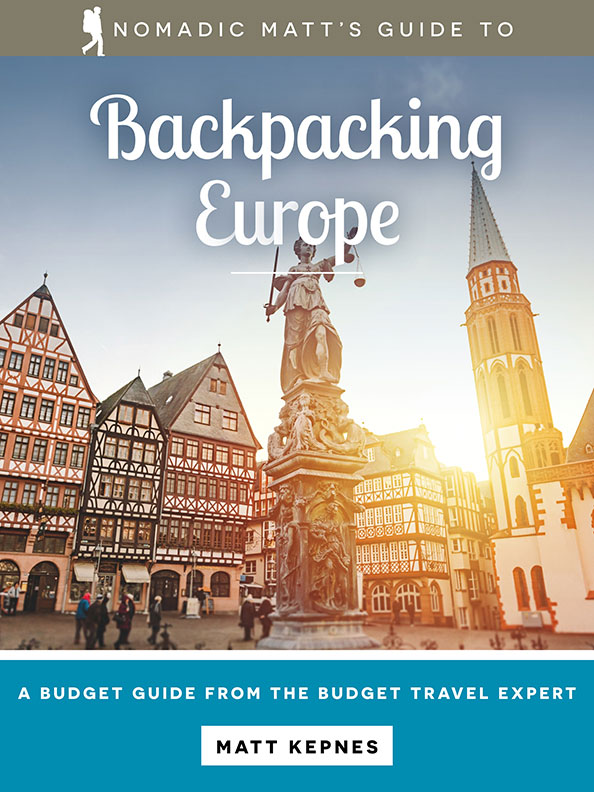 My detailed 200+ page guidebook is made for budget travelers like you! It cuts out the fluff found in other guides and gets straight to the practical information you need to travel while in Europe. It has suggested itineraries, budgets, ways to save money, on and off the beaten path things to see and do, non-touristy restaurants, markets, bars, safety tips, and much more! Click here to learn more and get your copy today.
Book Your Trip to Barcelona: Logistical Tips and Tricks
Book Your Flight
Use Skyscanner to find a cheap flight. They are my favorite search engine because they search websites and airlines around the globe so you always know no stone is left unturned.
Book Your Accommodation
You can book your hostel with Hostelworld as they have the biggest inventory and best deals. If you want to stay somewhere other than a hostel, use Booking.com as they consistently return the cheapest rates for guesthouses and cheap hotels. My favorite places to stay are:
Don't Forget Travel Insurance
Travel insurance will protect you against illness, injury, theft, and cancellations. It's comprehensive protection in case anything goes wrong. I never go on a trip without it as I've had to use it many times in the past. My favorite companies that offer the best service and value are:
Looking for the Best Companies to Save Money With?
Check out my resource page for the best companies to use when you travel. I list all the ones I use to save money when I'm on the road. They will save you money when you travel too.
Need a Guide?
Barcelona has some really interesting tours. My favorite company is Take Walks. This day tour company will give you inside access to attractions and places you can't get elsewhere. Their guides rock too!
If you want to do a bike tour, check out Fat Tire Tours. They offer tours that are fun and informative. They're my favorite company to go with. They even have some food-themed tours too.
Want More Information on Barcelona?
Be sure to visit our robust destination guide to Barcelona for even more planning tips!