Khao San Road is the infamous backpacker/tourist street in Bangkok. All travel roads lead in and out of there. However, it is more than just a transit hub for travelers:
Khao San Travel Tips:
The street food on Khao San isn't good. For better food, go to Soi Rambuttri. There is a little group of food stalls outside the 7-11 and the Pizza Company restaurant.
While Khao San closes at 2 am, Soi Rambuttri stays open all night long.
Never get a taxi or Tuk Tuk from Khao San, you WILL get ripped off.
If you need a taxi, head down to the side of the street with the Burger King, walk to the main road and get a cab there. You'll always get the meter.
Brick Bar is a great place to hear local Thai music. It's behind the McDonald's.
Shamrock plays great live rock music.
The outdoor drinking stalls and Center Khao San are the best places to meet other travelers.
D&D Inn offers really clean private rooms, air con, a decent breakfast, and a pool for 500 baht a night. It may be expensive but for what they offer, it is a good deal.
(Editor's Note: I'm still working out this video thing. This is only my third video but I'm getting better. I've moved to Adobe for editing, I have a mic, and I'm looking at the camera more. My biggest issue now is trying to get my videos to take up the whole Youtube screen. Any help on that would be great!)
Photo credit: 1
Get the In-Depth Budget Guide to Bangkok!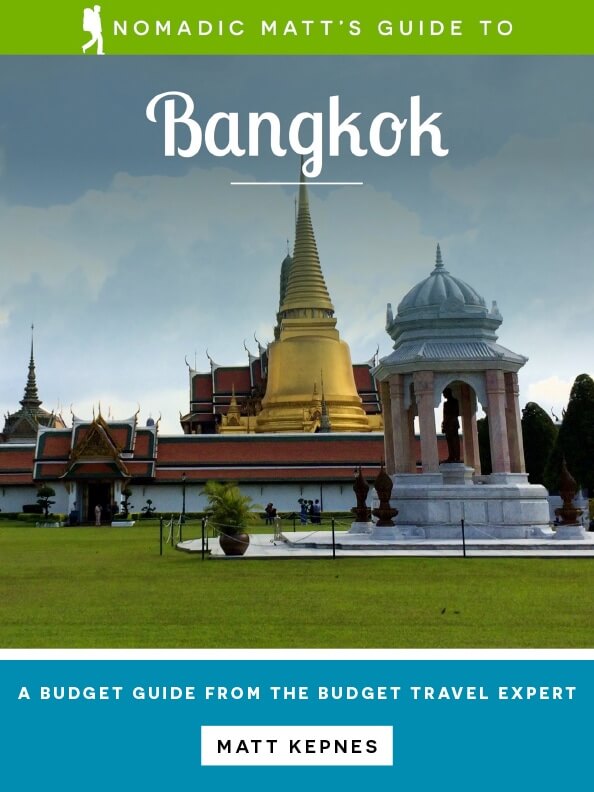 My detailed, 80 page guidebook is made for budget travelers like you! It cuts out the fluff found in other guidebooks and gets straight to the practical information you need to travel and save money while in Bangkok, a city I used to call home (so I know it really well!). You'll find suggested itineraries, budgets, ways to save money, on and off the beaten path things to see and do, non-touristy restaurants, markets, and bars, and much more!!
Click here to learn more and get started.