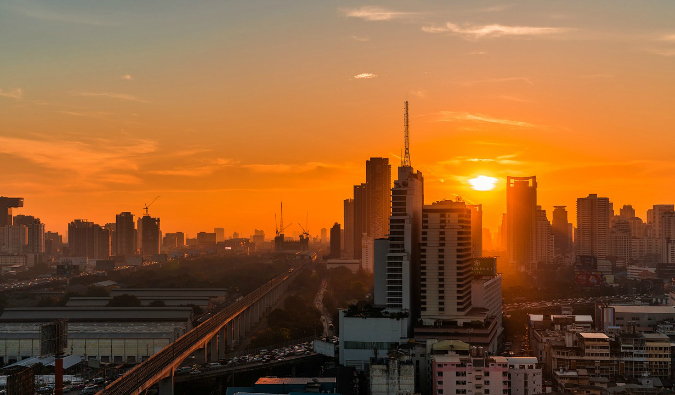 Posted: 05/08/2009 | May 8th, 2009
I'm back in Bangkok. I know. I know. Didn't I just leave? Wasn't I just living in Taipei? A lot of things can change really quickly. I've been here two weeks, and despite my desire to be productive, that hasn't happened yet. I made the mistake of staying right near the best and most popular hangout in Bangkok (at least for my friends) — Cheap Charlies. I've been staying at Suk 11 right across the street. If you're in Bangkok and looking for a hostel that's affordable, centrally located, and clean, this is the place to be. It's one of the nicest places I've stayed. It's made of teak wood and there are a lot of plants all around, creating a nice, natural feeling in a city that doesn't feel natural at all. (Update: Suk 11 is now closed.)
Since it's right near my favorite watering hole, I found myself coming home from dinner each night and being constantly dragged in for a drink by my friends. There have been three holidays in Thailand in the last two weeks, so a lot of people have been taking time off, and the bar's been bursting with people each night. Last night's going-away party only added to the madness. One drink easily turns into three or four, which usually lands me back in my bed around 4am.
Taiwan lacked a lot of things I like about places in Asia: a good nightlife, pirated movies, good, cheap street food, and lots of tropical islands to visit. I've gone through about 10 movies this week alone. I've been eating Thai street food every chance I get. I've really missed it, especially the pork noodle soup that can only be found in the street stalls of the country. It's succulent pork and fresh noodles are my mainstay for a quick, cheap, and filling meal. I've been visiting my favorite restaurants and catching up with old friends.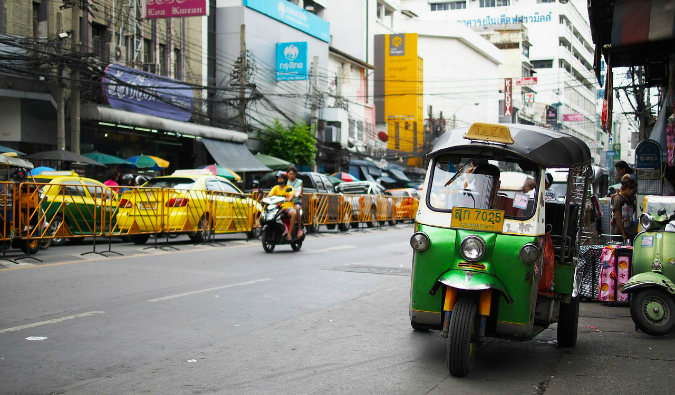 Being back in Bangkok has made me realize how much I love it and how I'll never be able to fully leave. From the second I stepped off the plane, I felt as though I was home. The craziness, the smells, the crowds, the traffic, the pollution, the street food – it was all so comforting and exciting.
Bangkok is like that for us all. It grips you and you can never fully leave. You can escape for short periods of time, but you'll always be back. There's something addictive about this city. Maybe it's the pollution in the air, but whatever it is, you can't leave. My friend Natalie left a year ago and has been back about seven times since. My friends tell me now they will no longer come to my going-away parties because they know I will come back in a few months.
Lots of cities you live in and love and return to visit, but I feel that with Bangkok, people return more often. I actually feel that way about Thailand in general. Everyone I meet who's been here can't wait to come back, and they usually do. This city just grabs you and sucks you in.
Bangkok is a vortex and if you stay here long enough, you can get sucked in and never leave. Everyone I know who's been here longer than two or three years says they'll never leave. They just can't cope with living anywhere else. The craziness of the city is unique, and once you're used to it, nowhere else compares.
In January, I closed the chapter on living in Bangkok long term. More than a few months here, and I feel lost and too sucked into that vortex. But being back here feels like coming home and like taking a hit of some powerful stuff. And like any good addict, I can't be away from my drug too long. Anything longer than a few months, and I go through serious withdrawal.
Coming back here, though usually bad for my liver, recharges my batteries. And with this visit, I realized that no matter how far I go, no matter where I go, no matter how much I try to escape, Bangkok will always have a hold on me. And I'll return to it to get my fix.
Some people live in cities and move on and never return. Not me. I'll never be free of this city.
But, then again, I never want to be.
Get the In-Depth Budget Guide to Bangkok!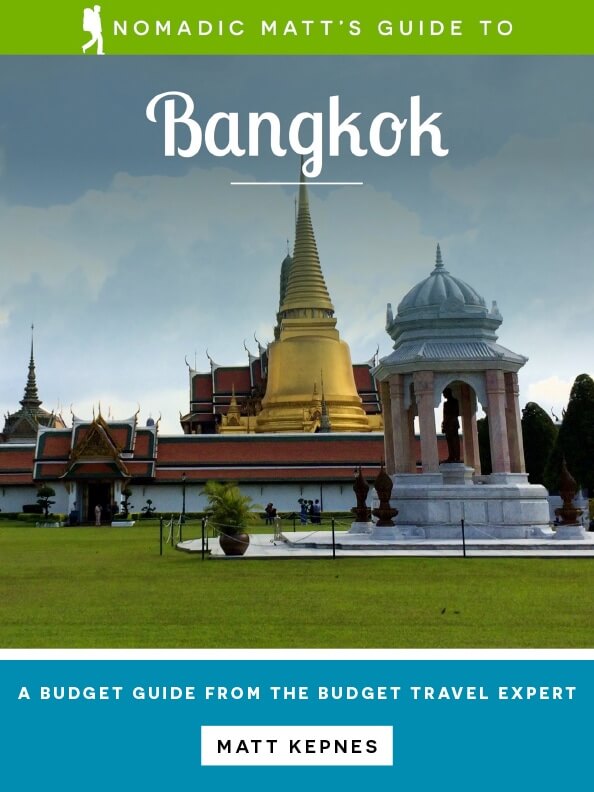 My detailed guidebook is made for budget travelers like you! It cuts out the fluff found in other guidebooks and gets straight to the practical information you need to travel and save money while in Bangkok, a city I used to call home (so I know it really well!). You'll find suggested itineraries, budgets, ways to save money, on and off the beaten path things to see and do, non-touristy restaurants, markets, and bars, and much more!!
Click here to learn more and get started!
Book Your Trip to Bangkok: Logistical Tips and Tricks
Get Your Guide
Check out my detailed guide to planning a visit to Bangkok with suggested itineraries and information on places to stay, things to do, where to eat, and how to get around. Just click here to get the guide and continue planning today!
Book Your Flight
Find a cheap flight by using Skyscanner or Momondo. They are my two favorite search engines, because they search websites and airlines around the globe, so you always know no stone is being left unturned.
Book Your Accommodation
You can book your hostel with Hostelworld. If you want to stay elsewhere, use Booking.com, as it consistently returns the cheapest rates for guesthouses and cheap hotels. I use it all the time. My favorite hostels in Bangkok are:
Lub d Bangkok Silom – Lub d Silom is more of a European-style hostel than a traditional Asian guesthouse. It's in a popular spot for backpackers looking to stay somewhere other than Khao San Road, is safe (they use electronic key locks), and the staff speaks fluent English.
Golden Mountain Hostel – This small, family-run hostel is one of the newest and nicest hostels in the city. The dorm beds are actually cubbies built into the wall for added privacy, and each room sleeps eight people. This is a great hostel if you want some peace and quiet.
Mad Monkey – Mad Monkey is a backpacker institution near Khao San Road. It's is probably the best hostel in Bangkok if you want to party. It has a restaurant, pool, and tour desk with some of the cheapest and most competitive prices in town. 
If you're looking for more places to stay, here are my favorite hostels in Bangkok. And if you're wondering what part of town to stay in, here's my neighborhood breakdown of Bangkok!
Don't Forget Travel Insurance
Travel insurance will protect you against illness, injury, theft, and cancellations. It's comprehensive protection in case anything goes wrong. I never go on a trip without it, as I've had to use it many times in the past. I've been using World Nomads for ten years. My favorite companies that offer the best service and value are:
Looking for the best companies to save money with?
Check out my resource page for the best companies to use when you travel! I list all the ones I use to save money — and I think they will help you too!