This is a guest post by Laura, our resident expert on female travel. Italy is a popular bucket-list item for most people, but it's a huge and diverse country to traverse. From non-stop vineyards to endless carbohydrates (and tons of sightseeing in between), here's a girl's guide to navigating Italy.
The reasons to travel to Italy are as varied as its gelato flavors. Some people go to get a taste of history, while others take part in outdoor activities. For me, Italy is all about indulgences…and overindulgences! From architecture to food to wine to life, Italians go all out. They know how to eat, they know how to dress, and they know how to party. Women should make a pilgrimage to Italy at one point or another to see and partake in Italy's pleasures, which include the following:
Italian men
Let's cut right to the chase: Italian men are beautiful. The phrase "tall, dark, and handsome" was probably coined in Italy. I think most straight women find Italian men to be easy on the eyes, so if people watching is your thing, then consider heading to Italy. The men here are very suave and make it easy to fall in love with them, which isn't a bad thing.
Sculptures
If Italian men don't do it for you, perhaps the perfectly sculpted ones do. They usually have a chiseled set of abs, they don't use bad pickup lines, and they wear very little, if any, clothing. Michelangelo's "David" is one of Italy's most popular sculptures. If you're visiting Florence, check out his contrapposto pose and see how it does wonders for showing off his figure. If you don't wish to pay to see David, there are two equally striking replicas in the city. You can also head over to the Uffizi Gallery to see a lot of Renaissance sculptures and art in one place.

Carbohydrates
It's a fact: women crave carbs more than men. So why not satisfy the craving with pizza, lasagna, pasta, and bread? I'm fairly certain Italy would give its middle finger to the Atkins diet if it could. Italians tend to eat bread with every meal, and though it's heavy food, Italian pasta and pizza are delectable. If the weather is nice, have an outdoor dinner by candlelight. And if you need to grab a quick bite to eat, you can always pick up a slice of pizza for just a couple euros. Julia Roberts in Eat, Pray, Love had a problem fitting into jeans after a few months in Italy for a reason!
Gelato
Gelaterias in Italy are like 7-11s in Bangkok: they're everywhere, so hopefully you've left room for dessert after a carb-heavy meal. It's a crime not to like Italian ice cream. It's difficult to smell the freshly made cones and see the wide assortment of flavors and not be tempted to step inside. There are so many delicious flavors that it can be hard to choose just one. If you can spare the room, make your decision easy and get a couple scoops (nutella, coconut, and chocolate are some of my favorites). And if the craving strikes, don't be afraid to have gelato in place of a meal. I tell myself, "When in Italy…" to excuse my gelato-eating habits there. [Nomadic Matt says: I love the apple flavor, and if you're hung over, nothing cures it like lemon gelato!]

Vino
I love a good glass of wine with dinner. Italy's wine regions are packed full of vineyards. There are 20 wine regions in Italy, so you're bound to be traveling near one of them. You can take an organized vineyard tour, which always includes a tasting. Buying wine at the grocery store in Italy is also ridiculously cheap, so having a nightly glass (or bottle) of wine is easy to do on any budget.
Architecture
You don't need a background in design to appreciate the striking architecture in Italy. The country is best known for its ancient Roman and Renaissance architecture. There are interesting structures everywhere you turn. Admire the Colosseum in Rome, the Duomo in Florence, the colorful houses on Burano, or any of Italy's amazing piazzas (public squares). With thousands of years of history, Italy offers so many breathtaking things to see.
Carnevale
I love costume parties, and I'm pretty sure Venice's Carnevale would be the ultimate one to attend. The period costumes and masks create a mysterious element in this already fascinating city. Carnevale begins around two weeks before Ash Wednesday and ends on Mardi Gras (the day before Ash Wednesday). As long as you can stand being in huge crowds, dressing up for Carnevale is a highlight on an Italian itinerary.
Shopping
While I'm on the subject of dress-up, the leather boots and purses in Florence, along with an emerging fashion scene, will satisfy any shopaholic's urge. There are great little boutiques with unique items and also plenty of street vendors to peruse. Gucci, Prada, and a thousand other designers make their home in Italy. You'll find everything you want. Make extra space in your bag for all the chic clothes you'll impress your friends with back home.
Italy is a little taste of heaven for female travelers. While I love the art and architecture in Italy, there's also the sexy men, comfort food and drink, and elaborate events that round out the reasons why every woman should indulge in a trip to Italy.
Laura Walker runs the website A Wandering Sole. She currently resides in Portland where she runs Amsha, an accessories and home goods brand produced in East Africa. In addition to running her business, Laura works as a job coach for newly arrived refugees in her city. She works with clients from all over the world, and uses her limited knowledge of Swahili to serve Congolese clients. She also serves clients from the Middle East, Asia, other countries in Africa, Central America, and Cuba.
Conquering Mountains: The Guide to Solo Female Travel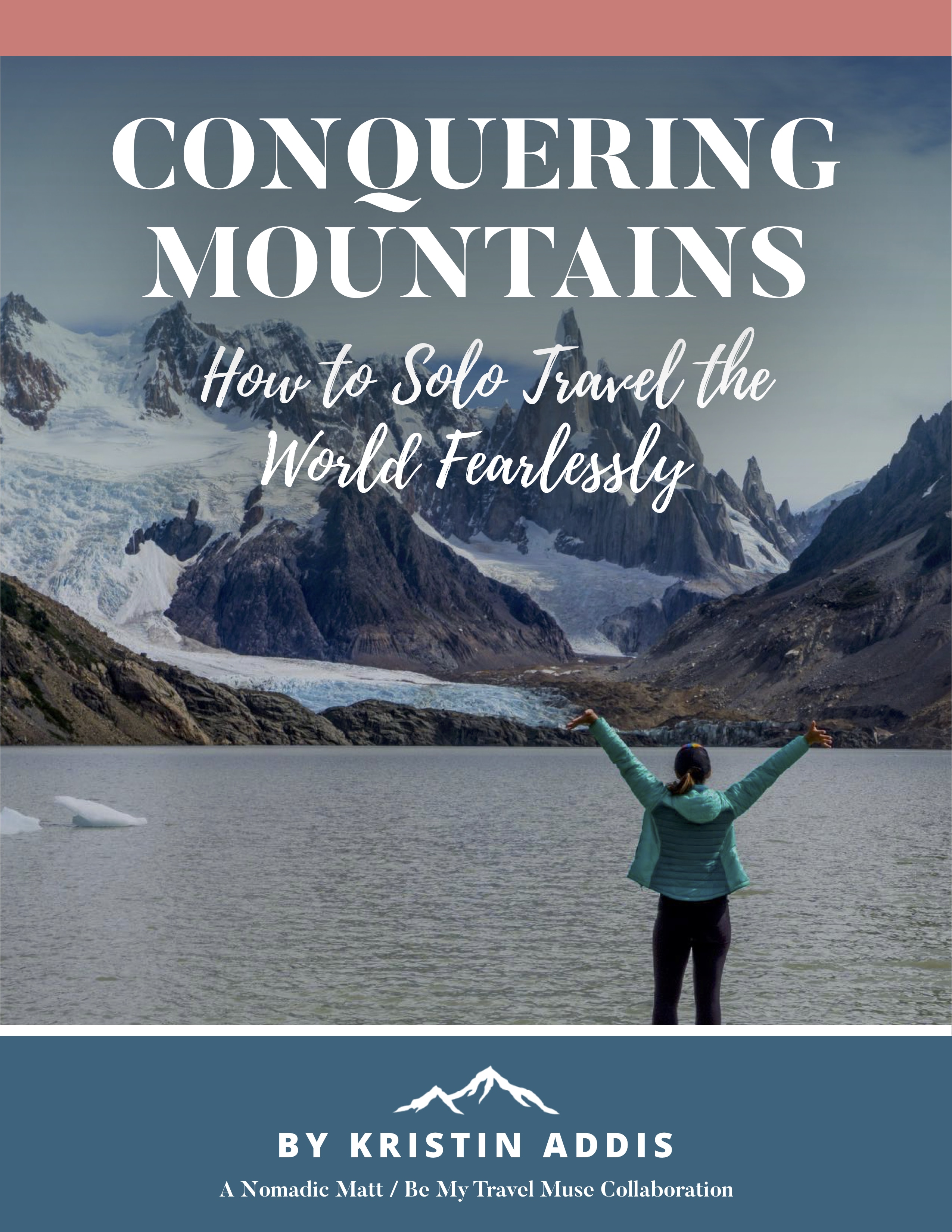 For a complete A-to-Z guide on solo female travel, check out Kristin's new book, Conquering Mountains. Besides discussing many of the practical tips of preparing and planning your trip, the book addresses fears, safety, and the emotional concerns women have about traveling alone. It features over twenty interviews with other female travel writers and travelers. Click here to learn more about the book and how it can help you, and you can start reading it today!