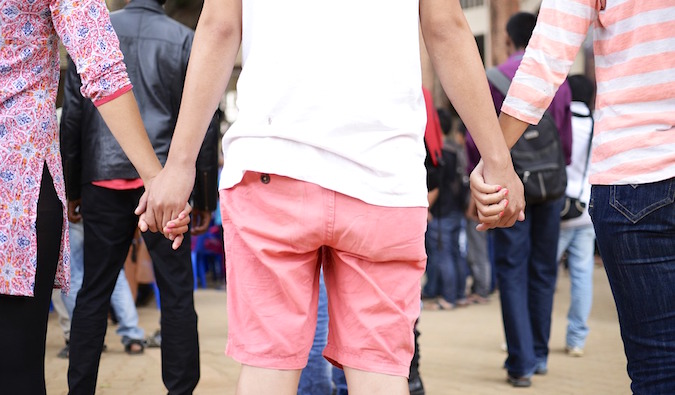 Moving around all the time is exciting, but after months of changing location several times a week, a traveler can long for a place to unpack their bags for awhile and try something different. Volunteering internationally is the way I choose to step off the backpacker trail, and it's enriched both my life and my travels. I'm giving my time and energy to people who need help, but I'm getting so much back in return that it almost feels as though I'm the one benefiting the most. Volunteering is a great way to give back and get back while you travel. Here are nine reasons to make volunteering a part of your next backpacking trip:
Get involved in the local community – As a volunteer, you'll often find yourself well off the tourist trail and immersed in a world that a traveler passing through would never experience. This will mean plenty of invites into people's homes, to weddings, trips to beautiful spots that aren't in the pages of your guidebook, and getting to participate in local events like pig hunts, voodoo festivals, fishing trips, local soccer matches, and all sorts of really cool events.
Make new friends – Spending a bit of time volunteering will allow you to meet all sorts of people you would never have otherwise crossed paths with, and working together towards a common goal makes it easy to make friends.
Become more socially conscious – Often volunteering will be done in parts of the world that are very poor, with people living on less than you might spend on a coffee back home. Living differently from your day-to-day life at home could help you to reassess your priorities and become more socially conscious.
Gain work experience – Volunteering of any kind looks great on your resume and international volunteering looks great for anyone interested in development work, disaster relief, teaching, social work, and many other careers. It's not paid work experience, but it will give you something to pad out your resume, which is especially helpful for students or recent graduates.
Learn a new language – Spending time immersed in a foreign community is a great opportunity to pick up the local language. If you're volunteering in a remote area, you'll have plenty of people who can't speak English to practice with.
Save money – If you're able to find a volunteering opportunity where living expenses are covered, you probably won't spend much money. Volunteering for weeks or months at a time could allow you to live more cheaply than you would at home.
Get fit – Not all volunteering opportunities involve physical work, but there are plenty out there for you if you're interested in getting sweaty. Disaster relief work and farm work are both great for getting fit and challenging yourself physically.
Have a base for more traveling – Volunteering isn't all hard work, and often you'll be given evenings and weekends off. This leaves plenty of time for exploring the area and meeting locals. It's a great way to get the local experience travelers so often talk about.
Help people – With all the other benefits you get from volunteering, it's easy to forget the biggest one of all: the satisfaction that comes from helping out, even if just a little bit. While people have varying motivations for volunteering, one thing they all have in common is that they're helping people in need, and that brings a great sense of satisfaction.
There are lots of people out there who need your help and plenty of local organizations to volunteer with. You don't need to pay thousands to volunteer, you just need to look a little harder to find placements that are free or charge a reasonable living cost. Make the effort to make volunteering a part of your next backpacking trip. You won't regret it!
Kirsty left Canada in 2001 and has been traveling, working, and volunteering abroad ever since. She has spent 11 months out of the past two years as a volunteer doing disaster relief work. She has written an ebook called The Underground Guide to International Volunteering that she hopes will inspire other travelers. You can follow her travels on her blog, Nerdy Nomad.