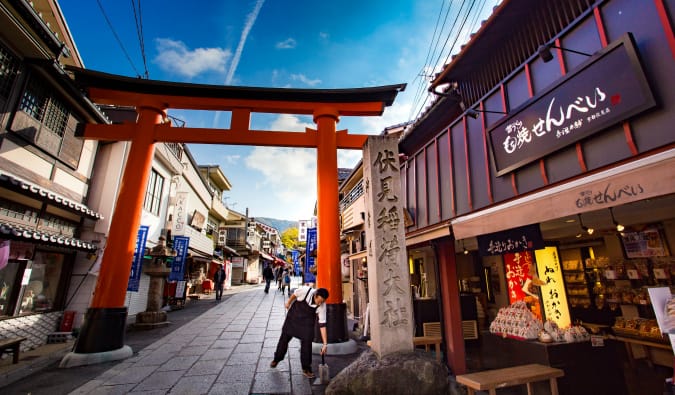 Updated: 8/5/2019 | August 5th, 2019 (Published 4/16/12 and updated with links and resources).
Next week, I'm going to Japan. I couldn't be more excited.
It's my first real visit there. I say "real visit" because back in 2004, on my way home from Thailand, my friend and I stopped in Tokyo for a long layover. After arriving at 6am, we left the airport, saw the imperial palace, realized Tokyo in January is a lot colder than Thailand in January, and camped out in a Starbucks until the sushi restaurants opened for lunch. After eating a luxurious sushi meal, we went back to the airport.
I've always wanted to go back, and luckily, now I am. Next week, I'll be heading on a two-week tour around Japan, and then I'll be spending some extra time in the country to visit all the places not included in the tour.
I'm a huge Japanophile. Despite never really having been there, I'm obsessed with Japan — the food, culture, temples, technology, architecture. I love it all. Whenever I get a house, Japanese art will play a predominant role in it. Out of all the trips I've taken in the last few years, I'm most excited about this one.
I'm giddy with excitement.
Why?
Let me count the ways:
1. Sushi – I love sushi so much, I would eat it for breakfast. Anyone who knows me knows about my sushi addiction. I suspect breakfast sushi will happen a few times. To go to the place that invented my favorite food is just so exciting!
2. Tokyo's Ginza District – I'm looking forward to the famous shopping/nightlife area of Ginza and the maddening crowds that go with it.
3. Mt. Fuji – I've always wanted to climb this mountain and see the sunrise. Now I get to do both!
4. Bullet trains – Let's see if they really are faster than a speeding bullet! Ha! But, really, as a lover of train travel, I can't wait to experience what is considered one of the most high-tech rides out there. (There are lots of cheaper ways to get around the country too, though!)
5. Kyoto – The town full of Zen gardens and temples looks to be one of the most picturesque in all of Japan. While I won't get to see all 2,000 this visit, I'm going to try my hardest.
6. Hiroshima – The atomic bomb memorial looms large here and as a history buff, how could I not see this city? I also want to see how different their perspective is on what happened. I'm sure we teach the event much different than they do and I really want to know what they think so I can expand my understanding of what happened.
7. Tokyo Fish Market – The vast majority of sushi in the world comes through this market. As a sushi lover, I can't wait to see one of the world's busiest and largest fish markets, even if it means waking up at 4am. The inner fish market recently moved to Toyosu and is now know as the Toyosu Fish Market, however, the outer market (where you can find food and shops) is still in place.
8. Tokyo subway – People always talk about surviving the London Tube, but the subway in Tokyo is the real labyrinth. Bring it on!
9. Osaka – Travelers mention this city a lot, and I want to find out why! They supposedly have a cool historic castle, fun nightlife, and a world-class food scene.
10. Sushi – Did I mention I like sushi?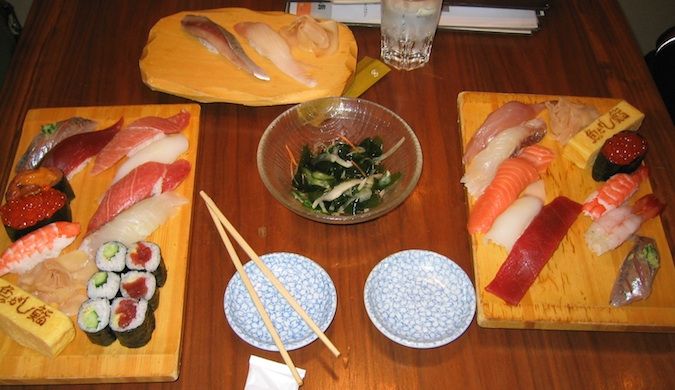 11. Zen Buddhism – When I was college, I got into Buddhism. I studied Tibetan Buddhism, but I'm looking forward to learning more about the Zen style.
12. The Emperor's Palace – I only got to see the outside of it last time. Time to see more!
13. Hokkaido – Just another name I keep hearing. It's supposed to be one of the most beautiful areas in Japan, and I like beautiful things. Plus, they are world-famous for their Uni (sea urchin) so I have to eat it all!
14. Sake – I love sake and want to really learn about the different varieties and purities. I plan on taking a class. Is a sake class similar to a wine class here in the States?
15. Samurais – Because swords and noble warriors are cool. Samurais might not be around anymore, but I bet there's a museum for them somewhere.
16. Karaoke – Because nothing says I'm turning Japanese more than belting out some Lady Gaga with drunk Japanese businessmen! I'm hoping our tour ends up at a lot of karaoke bars. If not, I'll go find some myself.
17. Pod hotels – Sleeping in a pod-sized hole? Sounds interesting and very Japanese. Count me in!
18. Japanese Whisky – Japan has some of the world's best whiskey and as someone who loves that stuff, I'm thrilled to be able to drink of the country's best stuff in the country!
19. Sumo wrestling – What could be more entertaining than watching two enormous guys try to push each other out of a circle? I'm not sure I'm visiting at the right time but I hope to see a show!
20. Castles – There are a lot of castles in Japan. After seeing so many castles in Europe, I'd like to see how another part of the world does it.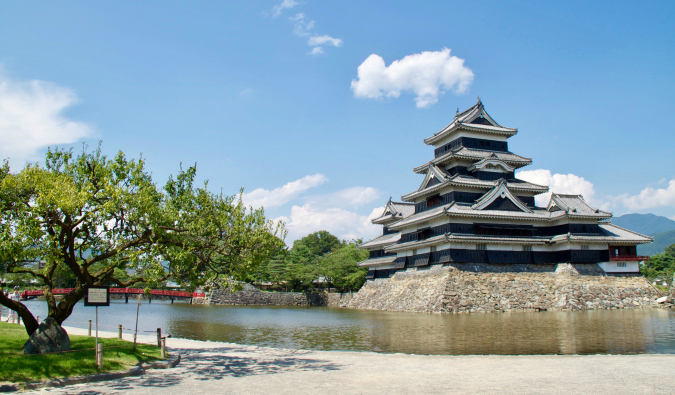 21. Technology – Japan is one of the most technologically advanced countries in the world and I'm looking forward to getting a sneak peek of the future.
22. Puppy cafés – Because space is so tight, few people have dogs at home. So they go to cafes where they can play with puppies. This I have to see! (There are lots of other animal cafes here, too!)
23. Cherry blossoms – I'll be catching the tail end of the cherry blossom festival, and there's nothing I'm more excited about.
24. Sushi – OK, that last item was a lie. I'm most excited about the sushi.
25. Nagasaki – Another place I've heard of and I want to know how they too teach about the atomic bomb dropping there.
26. Crowds – I've seen crowds in Southeast Asia, but Japan takes it to a whole new level so I'm really kind of oddly excited to be packed like a sardine.
27. Lake Ashi – Hot springs? Picturesque view of Mt. Fuji? Sold! It's a stop on my tour! I'm excited!
28. Hiking – Japan is supposed to have beautiful pine forests with scenic hiking trails. I hope that rumor isn't a lie, because I love a good hike.
29. Politeness – The Japanese are uber-polite, respectful, and don't take what isn't theirs. I'm going to test that theory out by leaving a wallet on the train and seeing if it gets returned to me.
30. Tai chi – I used to do this in college, and waking up early to practice in a park is on my list.
31. Hello Kitty – I'm sort of behind the times, so I have no idea if this is still a thing, but I'm hoping it is. If not, I'm sure some other quirky thing has replaced it.
32. Japanese fashion – The Japanese seem to dig everything retro and '80s and then combine it with a mix of hipsterism. Japanese fashion confuses the hell out of me, but I can't wait to see things like this: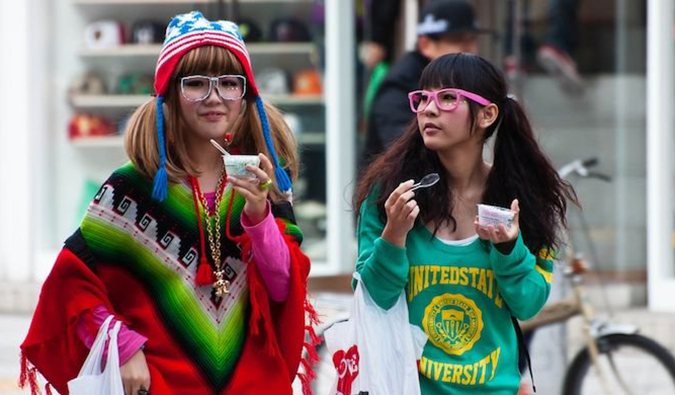 33. Kabuki theater – Traditional Japanese theater sounds like a great cultural activity. I don't know anything about it but I'm excited to learn more!
34. Ramen – I want to sit in some back-alley, 100-yen ramen shop with my face over a warm, steaming bowl of delicious ramen noodles.
35. Square watermelon – I'm sure it tastes like regular watermelon, but it's square. I got to have a piece for the kitsch factor.
36. Anime – I don't get the whole anime/manga cartoon culture. Maybe going over there will help me figure out why it's so big.
37. Japanese toilets – A toilet that warms my butt, cleans itself, sprays water, has perfume dispensers, and plays music? Going to the bathroom never sounded so fun.
38. Sushi – See a pattern here? I bet you can guess what food I'll be eating the most the next few weeks.
There's a lot I am looking forward to doing in Japan, and with only about 2.5 weeks there, if I hope to tick off all 38 things on this list, I'll be quite busy. But since this will probably be my only trip to Japan for a while, I'm OK with that. It will be a good kind of busy.
Now, is it Sunday yet? I want to fly now.
Looking for more travel tips for Japan? Well, since this first trip I've been back a few more times and have learned how to get around the country like a pro! Here's our in-depth guide to Japan and all the major cities in the country. We cover everything you need to know!
Book Your Trip: Logistical Tips and Tricks
Book Your Flight
Find a cheap flight by using Skyscanner or Momondo. They are my two favorite search engines because they search websites and airlines around the globe so you always know no stone is left unturned.
Book Your Accommodation
You can book your hostel with Hostelworld as they have the largest inventory. If you want to stay somewhere other than a hostel, use Booking.com as they consistently return the cheapest rates for guesthouses and cheap hotels. I use them all the time.
Don't Forget Travel Insurance
Travel insurance will protect you against illness, injury, theft, and cancellations. It's comprehensive protection in case anything goes wrong. I never go on a trip without it as I've had to use it many times in the past. I've been using World Nomads for ten years. My favorite companies that offer the best service and value are:
Looking for the best companies to save money with?
Check out my resource page for the best companies to use when you travel! I list all the ones I use to save money when I travel – and that will save you time and money too!