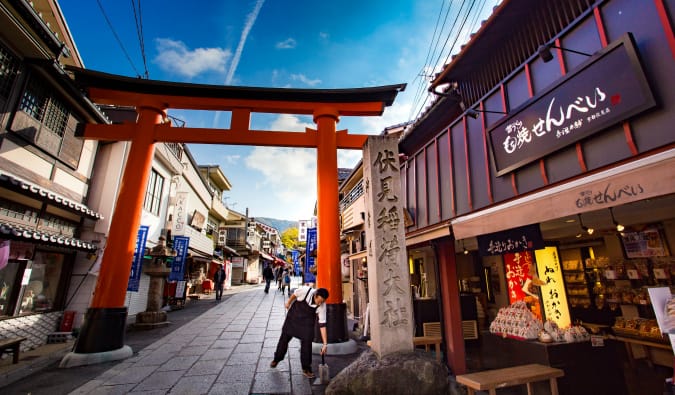 4/16/12 | April 16th, 2012
Last Updated: 3/17/22 | March 17th, 2022 (New resources added)
Next week, I'm going to Japan. I couldn't be more excited. (Note: Now that I've been, you can read about my experience here, here, here, here, and here.)
It's my first real visit there. I say "real visit" because back in 2004, on my way home from Thailand, my friend and I stopped in Tokyo for a long layover.
After arriving at 6am, we left the airport, saw the imperial palace, realized Tokyo in January is a lot colder than Thailand in January, and camped out in a Starbucks until the sushi restaurants opened for lunch.
After eating a luxurious sushi meal, we went back to the airport.
I've always wanted to go back, and luckily, now I am. Next week, I'll be heading on a two-week tour around Japan, and then I'll be spending some extra time in the country to visit all the places not included in the tour.
I'm a huge Japanophile. Despite never really having been there, I'm obsessed with Japan — the food, culture, temples, technology, architecture. I love it all.
Whenever I get a house, Japanese art will play a predominant role in it. Out of all the trips I've taken in the last few years, I'm most excited about this one.
I'm giddy with excitement.
Why?
Let me count the ways:
1. Sushi – I love sushi so much, I would eat it for breakfast. Anyone who knows me knows about my sushi addiction. I suspect breakfast sushi will happen a few times. To go to the place that invented my favorite food is just so exciting!
2. Tokyo's Ginza District – This is one of the city's most upscale areas, and in fact is considered one of the most expensive city districts in the world. Ginza District dates to the late 19th century, when the area was rebuilt after a fire razed the entire area.
Today, the elegant streets are lined with designer shops, coffeehouses, boutiques, art galleries, fine dining restaurants, and nightclubs. On the weekends between 12pm-5pm, Chuo Dori (the main street) becomes a pedestrian-only zone.
I'm looking forward to this famous shopping/nightlife area and the maddening crowds that go with it.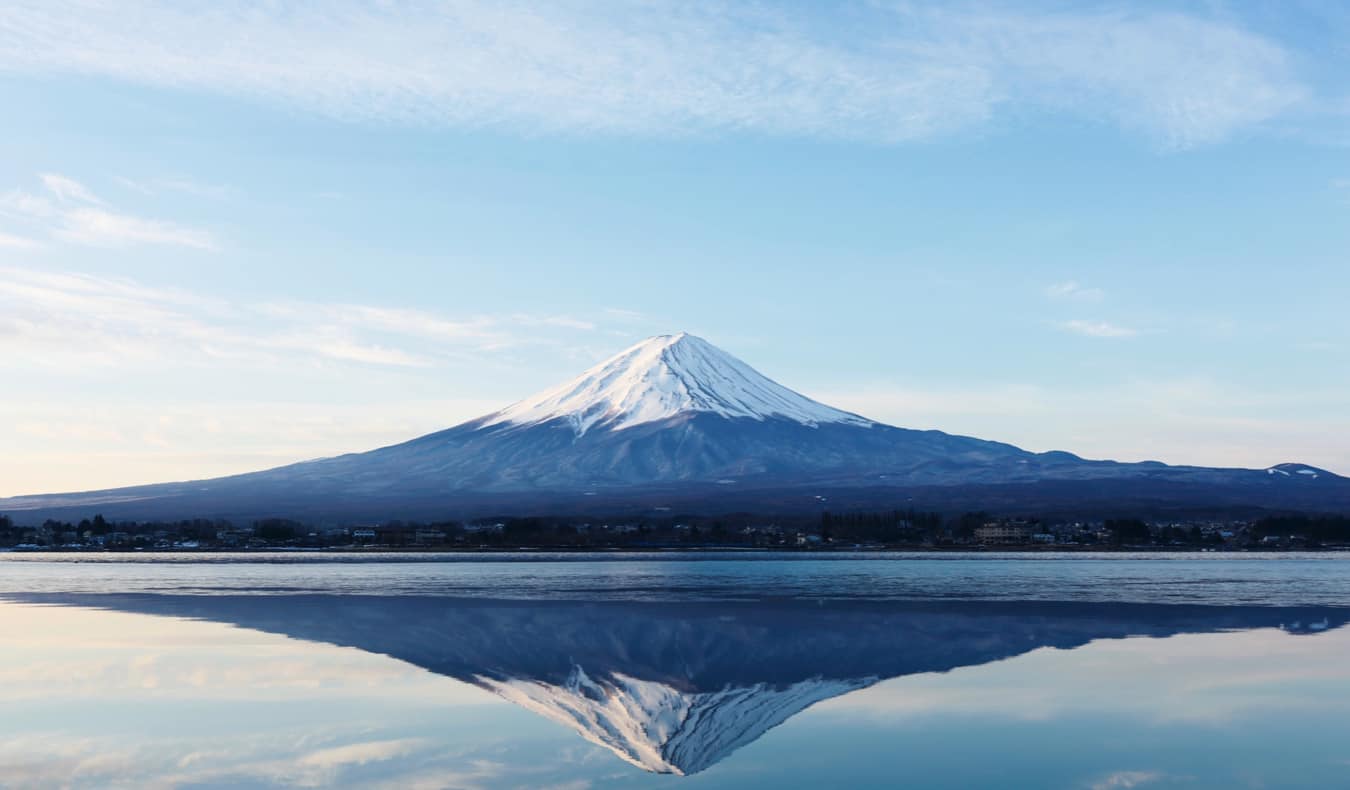 3. Mt. Fuji – This 3776m (12,389 ft) tall, active volcano near Tokyo is the tallest mountain in Japan, as well as one of Japan's Three Holy Mountains (along with Mount Tate and Mount Haku). It is one of Japan's most recognizable symbols, and the hike is fairly accessible, making it a popular activity for tourists and Japanese citizens alike.
I've always wanted to climb this mountain and see the sunrise (traditionally, climbers stay in a mountain hut overnight so that they can arrive at the summit at dawn). The mountain is covered in snow for about 5 months of the year, meaning that the climbing season is short, from early in July to mid-September. While I won't get to the climb the mountain this time, I'll at least get to see it!
4. Bullet trains – As a lover of train travel (they're much more eco-friendly than flying), I can't wait to experience one of the most high-tech rides out there. The Shinkansen high-speed trains can reach speeds of 320 kilometers (200 miles) per hour, earning these trains the nickname "bullet trains." The network has been growing since the first line opened in 1964, when it was the first passenger high-speed rail system. Now, the network has expanded to connect nearly the entire country from top to bottom.
The Japan Rail Pass is kind of pricey at about 32,000 JPY for a 7-day pass, but there are lots of cheaper ways to get around the country too.
5. Kyoto – Kyoto is full of Zen gardens and temples and looks to be one of the most picturesque places in all of Japan.
Kyoto was Japan's capital from 794 until 1868, and today is considered Japan's cultural capital. The city was spared bombing during World War II, meaning that Kyoto is one of the best preserved cities in the country, with 17 monuments designated as part of a collective UNESCO World Heritage Site. Some of the most famous sights include Fushimi Inari shrine, Nijo Castle, and Sento Palace.
While I won't get to see all 2,000 temples and shrines on this visit, I'm going to try my hardest.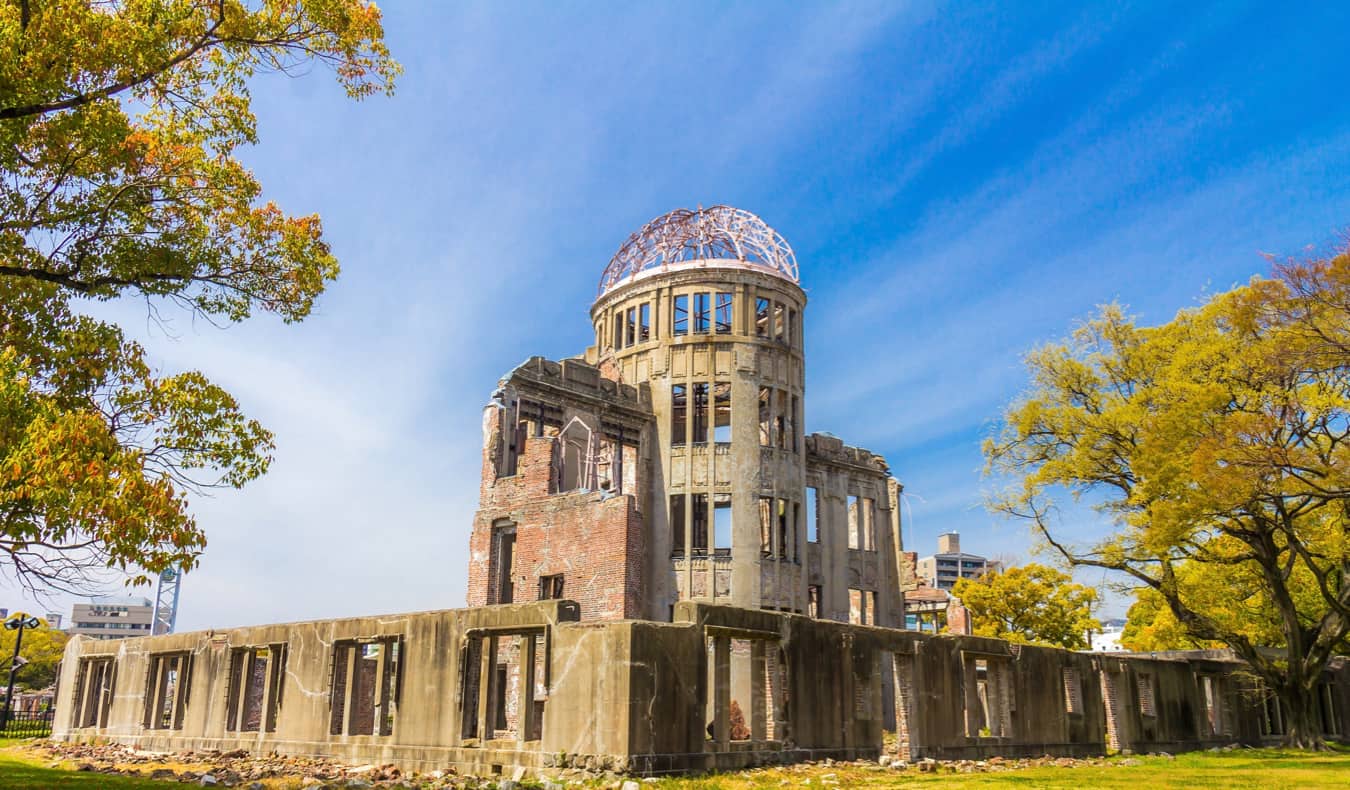 6. Hiroshima – In August 1945, US forces dropped an atomic bomb on < a href="https://www.nomadicmatt.com/travel-guides/japan-travel-tips/hiroshima/" target="_blank" rel="noopener noreferrer">Hiroshima. Around 80,000 people (30% of the city's population) were killed by the blast, another 70,000 were injured, and the entire city was more or less flattened. Understandably, this tragic event looms large here, and the Hiroshima Peace Park includes a museum, the Children's Peace Monument dedicated to children who lost their lives in the bombing, and the Atomic Bomb Dome, a ruined building preserved in its post-bombed state.
As a history buff, how could I not see this city and pay my respects? I also want to see how different their perspective is on what happened. Every country teaches history from its own perspective. I'm sure we in the United States teach the event much different than they do. I really want to know what they think so I can expand my understanding of what happened.
7. Toyosu Market – This Tokyo fish market is the largest wholesale fish market in the world, and one of the largest global wholesale food markets in general. Open since 1932, Tsukiji Market was the original inner fish market. In 2018, this location closed and moved to a larger location in Toyosu, though the original outer market (where you can find food and shops) is still in place.
At the newer Toyosu Fish Market, visitors can watch the auction market from an upstairs viewing deck. As a sushi lover, I can't wait to see one of the world's busiest and largest fish markets, even if it means waking up at 4am (the famous tuna auctions take place between 5:30am-6:30am).
8. Tokyo subway – People always talk about surviving the Tube in London, but the subway in Tokyo is the real labyrinth.
This is the third-busiest subway system in the world (after Seoul and Shanghai), with an almost 9 million daily ridership. It gets so busy on certain lines that there are even people whose job it is to safely pack passengers into trains (these white-gloved, uniformed employees are known as oshiya, or passenger pushers).
Bring it on!
9. Osaka – Travelers mention this city a lot, and I want to find out why! The third-largest city in Japan and the country's long-time financial center, Osaka has a cool 16th-century castle, fun nightlife, and a world-class food scene.
A mix of old and new, Osaka is home to national landmarks like Shitenno-ji, one of the oldest Buddhist temples in Japan (dating to the 6th century), as well as Abeno Harukas, the tallest skyscraper in the country (at 300 meters/984 feet tall). The Nishinomaru Gardens at Osaka Castle are also a popular place for viewing the stunning cherry blossoms in the spring.
10. Sushi – Did I mention I like sushi?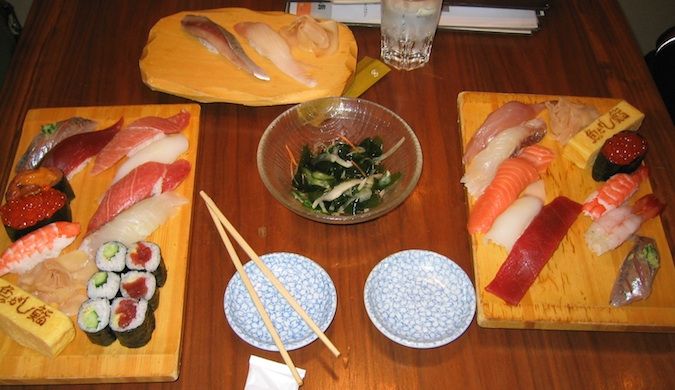 11. Zen Buddhism – When I was in college, I got into Buddhism. I studied Tibetan Buddhism, but I'm looking forward to learning more about the Zen tradition. This sect of Buddhism was introduced into Japan in the 11th century and appealed immediately to the Japanese samurai class. Zen Buddhism emphasizes a strong meditation practice, mindfulness, self-restraint, and reflecting on the nature of emptiness, attachment, and the interconnectedness of the world.
Today, around 67% of the Japanese population consider themselves Buddhists (though primarily practicing the Mahayana tradition, if practicing formally at all). The 13th-century Engaku-ji temple in Kamakura is one of the oldest and most important Zen Buddhist temple complexes in the country.
12. Tokyo Imperial Palace – This is the official residence of the Emperor of Japan. When the Emperor moved the capital from Kyoto to Tokyo in 1869, he took the 15th-century Edo Castle for his new palace and built the Imperial Palace on the castle grounds. Much of the castle and palace have been destroyed over the years, though the palace itself has been rebuilt in the same original style.
The public can only visit the inner palace grounds on a few days each year (on New Year's and the Emperor's Birthday), but I'm excited to wander the beautiful outer palace grounds and walk in the footsteps of Japanese royalty.
13. Hokkaido – Hokkaido is another name I keep hearing. It's supposed to be one of the most beautiful (and least busy) regions in Japan, with large swaths of untouched wilderness full of mountains, natural hot springs, and volcanic lakes. Although its the second-largest Japanese island, Hokkaido is home to 6 national parks, including Daisetsuzan, which covers 568,000 acres, making it the largest national park in Japan.
Hokkaido's largest city, Sapporo, is famous for its beer of the same name and the annual Sapporo Snow Festival, which attracts millions of visitors each year to see its hundreds of impressively carved snow and ice sculptures. Plus, the region is world-famous for its fresh seafood, including uni (sea urchin) so I have to eat it all!
14. Sake – Sake is Japan's traditional alcohol, made from fermenting rice. Technically, the word "sake" in Japanese refers to all alcoholic beverages, while nihonshu is the Japanese word for what most Westerners call sake. There are many different varieties of sake, varying based on how much the rice is milled to remove its outer layers, if more alcohol is added, and if the sake is pasteurized or not. Depending on the type of sake, its served chilled, at room temperature, or heated.
I absolutely love sake and really want to learn about the different varieties and purities. I plan on taking a class. Is a sake class similar to a wine class here in the States?
15. Samurai – The samurai were the hereditary military/nobility caste of medieval and early-modern Japan. They rose to prominence in the 12th century (though their origins date to the 8th century) and essentially ruled the country until their abolition in the 1870s. The samurai lived their lives by bushido code, or the "way of the warrior," which emphasized loyalty, integrity, self-discipline, and honor. They were not only very skilled warriors but highly educated and cultured, with high literacy rates.
Samurai might not be around anymore, but the Japanese are very proud of their warrior heritage, and there are many opportunities to learn about this unique aspect of their culture throughout the country. There is even a festival in the city of Kofu where over 1,500 people dress up in traditional samurai dress to have a parade and reenact one of the largest battles in Japanese history. There is also a samurai museum in Tokyo that I'll be sure to check out!
16. Karaoke – Because nothing says I'm turning Japanese more than belting out some Lady Gaga with drunk Japanese businessmen! Karaoke (a word which means "empty orchestra" in Japanese) originated in Japan in the 1970s with the development of the karaoke machine. While it's become incredibly popular around the world, there's no place like Japan for experiencing the full extent of the karaoke phenomenon.
Unlike in the United States where karaoke is typically sung in front of the entire bar or restaurant, karaoke establishments in Japan consist of private rooms that you rent out with a group of friends. The former type does still exist in Japan though, and I'm hoping our tour ends up at a lot of karaoke bars. If not, I'll go find some myself.
17. Pod hotels – First originating in 1979 as a response to the lack of space in dense Japanese cities, pod (or capsule) hotels offer guests a small sleeping pod instead of a full room. You just have enough room to lay down and that's about it (imagine sleeping in a cozy tube). Luxurious? Hardly! But they are cheap and very Japanese. Count me in!
18. Japanese whisky – Japan has some of the world's best whisky, and Japanese brands have earned the title "Best Whisky in the World" numerous times. Japanese whisky production started in 1870, with the country's first distillery opening in 1924. The country is the third-largest whisky producer in the world (after Scotland and the U.S.), and the style is most similar to Scotch whisky than other varieties.
As someone who loves that stuff, I'm thrilled to be able to drink my way through the country's best. All in the name of research, of course!
19. Sumo wrestling – Sumo has origins as far back as the 3rd century and is Japan's national sport. It's an incredibly popular pastime – I mean, what could be more entertaining than watching two enormous guys in thongs try to push each other out of a circle?
Sumo is believed to have its origins as a Shinto ritual dance, thanking the gods for a fruitful harvest. Between the 8th-12th centuries, sumo wrestlers began to perform for the Emperor, though the sport didn't take its modern form until the 17th-19th centuries. The sport is still deeply rooted in tradition, with elaborate rituals leading up to the actual match that looks fascinating.
One of the most famous areas in Japan when it comes to sumo is the Ryogoku district in Tokyo. This area has been the center of the sumo world for centuries and is home to the Kokugikan National Sumo Stadium (which can hold over 11,000 people) and its Sumo Museum.
I'm not sure I'm visiting at the right time (national tournaments take place at specific times of the year), but I hope to see a show or at least visit a training stable (where wrestlers live and train) to learn more!
20. Castles – There are over 100 castles in Japan, and after seeing so many castles in Europe, I'd like to see how another part of the world does it.
Most Japanese castles are made of both wood and stone, and most surviving examples were first built in the 15th-17th centuries. Today, the 14th-century Himeji Castle is the most visited castle in Japan. It's also the largest, with over 83 different buildings in the castle complex.
While many were destroyed in World War II, there is still plenty left to sate my curiosity. Other important castles include Matsumoto (known as the Crow Castle for its black exterior), Osaka, Tokyo, and Odawara!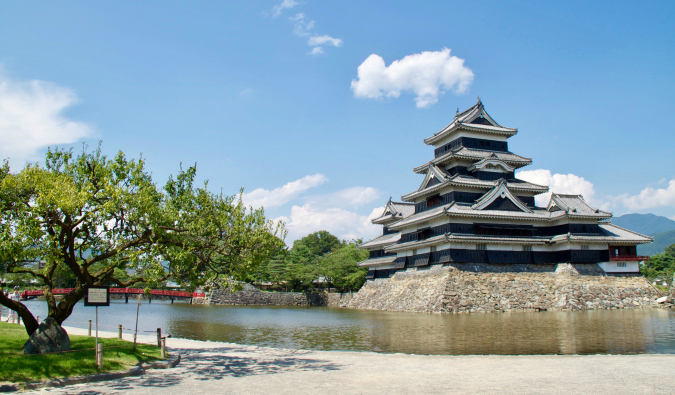 21. Technology – Japan is one of the most technologically advanced countries in the world and I'm looking forward to getting a sneak peek of the future. Along with the Shinkansen (bullet trains), the country has brought many other innovations into the world, including their famous high-tech toilets and robots of all kinds (there is even a hotel staffed entirely by robots).
That's not even to mention all the countless oddball, highly specific inventions, like air-conditioned shoes or chopstick-mounted fans for cooling off noodles. Tokyo's Akihabara District is the country's technology hub. You can buy absolutely any gadget that you can think of here!
22. Puppy cafés – Because space is so tight, few people have dogs at home. Naturally, Japan came up with a solution: cafes in which you can play with puppies. This I have to see! (There are lots of other animal cafes here too, such as cat, raccoon, and even owl and hedgehog cafes!)
Most cafes either have a cover charge or require a minimum drink/food order. Visits are usually timed and the best cafes have back rooms where animals can retreat when they've had enough playtime.
23. Cherry blossoms – I'll be catching the tail end of cherry blossom season (mid-March through early-May), and there's nothing I'm more excited about.
Cherry blossom season is so serious that there's even a word in Japanese just for this practice: hanami. Once the sakura (cherry blossoms) appear, they last for 1-2 weeks, with northern, colder regions blooming later than warmer, southern regions. Some of the most famous spots are Mount Yoshino (home to 30,000 cherry trees), the Kyoto Botanical Gardens, and Lake Kawaguchiko (for views of cherry blossoms in front of Mount Fuji).
Sure, it's the busiest time of year to visit, but from what I've heard, it's worth it!
24. Sushi – OK, that last item was a lie. I'm most excited about the sushi.
25. Nagasaki – This was the second city on which the United States dropped an atomic bomb in August of 1945. 75,000 people were killed immediately, not to mention the thousands more in the following weeks and months. I want to learn how they teach about the event here, how the city survived, and see how it's thriving today.
The Atomic Bomb Museum and Nagasaki Peace Park are both dedicated to telling the history of and memorializing the event. Nagasaki's other main draw is Gunkanjima or "Battleship Island," a unique and entirely abandoned mining island off the coast that's been uninhabited since 1974 when the mines shut down.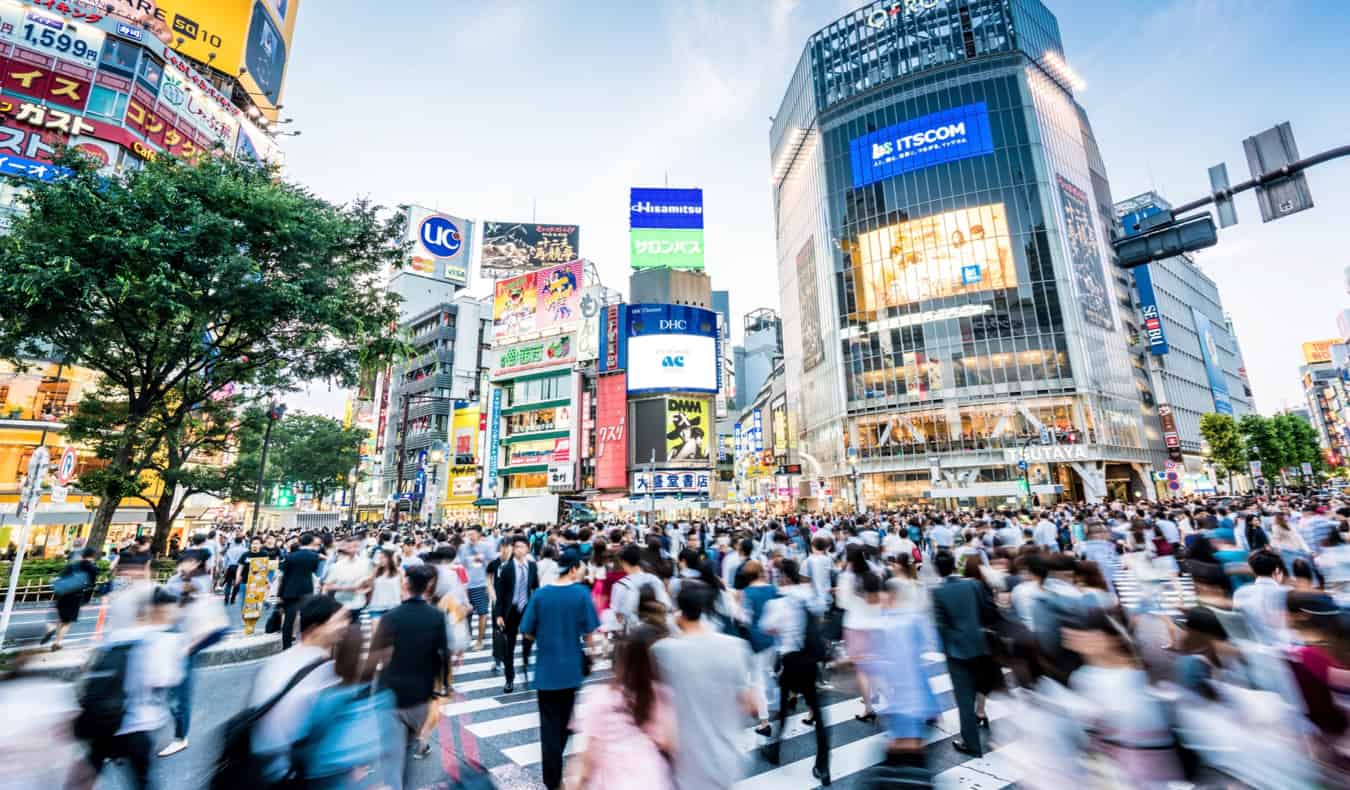 26. Crowds – I've seen crowds in Southeast Asia, but Japan takes it to a whole new level.
Japan is one of the most densely populated countries in the world, and Tokyo is the most densely populated city in the world, with 6,150 people per square kilometer. Railway lines regularly run at 140% capacity, and Shibuya Crossing in Tokyo, the busiest crosswalk in the world, sees an estimated 3,000 people crossing the street at every red light cycle.
I'm kind of oddly excited to be packed like a sardine.
27. Lake Ashi – Hot springs? Picturesque view of Mt. Fuji? Sold!
Ashinoko Lake, or Lake Ashi for short, formed in the crater left by the eruption of Mount Hakone over 3,000 years ago. The lake has many hiking trails, an aerial tramway, traditional Japanese inns, and the famous 8th-century Hakone Shrine, a Shinto shrine that was once popular with traveling samurai.
Lake Ashi is a stop on my tour, and I'm excited!
28. Hiking – Japan is supposed to have beautiful pine forests and scenic hiking trails (especially up north in Hokkaido).
While Mount Fuji and Mount Takao (right outside Tokyo) are the most well-known places for hiking, there are many other cool trails all over the country, like the Kawazu Seven Waterfalls with its 7 corresponding hot springs, or the many ancient pilgrimage routes connecting different shrines.
Yakushima Island, a UNESCO Biosphere Reserve, is one of the best-preserved temperate rainforests in the world, with trees that are thousands of years old. With so much to explore, I'm excited to escape the urban sprawl and stretch my legs!
29. Politeness – The Japanese are uber-polite, respectful, and don't take what isn't theirs. There is a strong group culture in Japan, with the group bearing more importance than the individual. Because of this, there are many etiquette rules on how to behave in public.
These include common ones like picking up after yourself and speaking at a low volume in quiet spaces, but others as well, like never blowing your nose in public nor pouring your own drink (you're supposed to pour others instead). There are also specific chopstick guidelines, like never pointing with your chopsticks and not leaving them straight up in your food.
I'm going to test out the politeness theory by leaving a wallet on the train and seeing if it gets returned to me.
30. Tai chi – I used to do Tai chi in college. This Chinese martial art was developed in the 20th century and is practiced for health and meditative benefits, rather than for combative purposes like other martial arts. Tai chi is intended to be practiced solo, and slowly, with a focus on the concept of yin and yang, or balance.
Waking up early to practice in a park is on my list of things to do in Japan. Sure, it's not strictly Japanese, but it's popular there and I'm sure I'll be able to find it somewhere!
31. Hello Kitty – Created by the Japanese company Sanrio in 1974, Hello Kitty is the second-highest-grossing franchise of all time (the 1st is Pokémon, another Japanese creation). Hello Kitty is everywhere in Japan, with a Hello Kitty Theme Park that attracts 1.5 million visitors a year, the Sanrio World Store with an entire floor of Hello Kitty merchandise, and the Sanrio Café which sells food shaped like Hello Kitty and friends.
I can't wait to experience some of this kitschy phenomenon in person.
32. Japanese fashion – The Japanese seem to dig everything retro and '80s and then combine it with a mix of hipsterism. Japanese street fashion is known for being avant-garde and loud, with mix-matched prints, bright colors, and contrasting fabrics. The Harajuku neighborhood in Tokyo is the center of it all, and usually where new trends are born.
Japanese fashion confuses the hell out of me, but I can't wait to see things like this: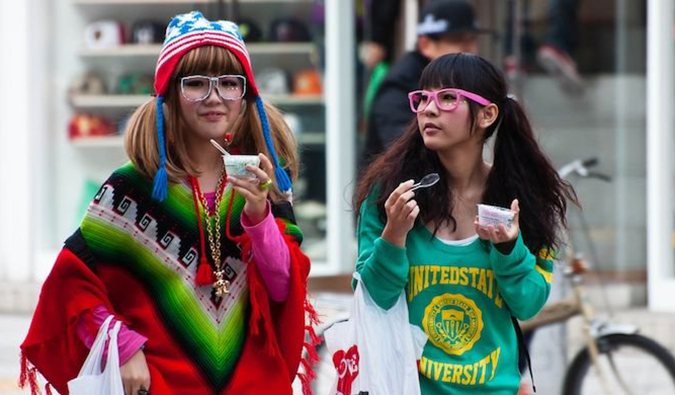 33. Kabuki theater – Traditional Japanese theater sounds like a great cultural activity. Kabuki originated in the Edo Period (17th-19th centuries), and has been designated a UNESCO Intangible Cultural Heritage for its cultural significance. The dance performance is characterized by heavy make-up, elaborate costumes, wigs, and dynamic sets. Traditional music accompanies the performers to set the mood.
I'm excited to take in a performance and learn more!
34. Ramen – I want to sit in some back-alley, 100-yen ramen shop with my face over a warm, steaming bowl of delicious ramen noodles. While ramen originated in China, it's become extremely popular in Japan. The Japanese have created an art form of ramen making, and there are countless varieties of noodle dish, with different toppings, types of noodles, and broths to choose from. Shoyu ramen, flavored with soy sauce, is the most popular and traditional style of ramen.
35. Square watermelon – This Japanese innovation was created in order to fit the large fruit more easily inside refrigerators without rolling around. The watermelons are grown inside transparent boxes, assuming this shape as they grow. Unfortunately, the square watermelons must be harvested while they're unripe, rendering them ornamental rather than edible.
Because of their elaborate growth process, they're also incredibly expensive Still, I've got to have a piece for the kitsch factor.
36. Anime – I don't get the whole anime/manga culture. (Anime is any animated work, while manga refers to comics or graphic novels). Miyazaki films (like Princess Mononoke and Spirited Away) are great, but the culture beyond that is a mystery to me.
The epicenter of anime culture in Japan is the Akihabara district in Tokyo. Its many manga and anime shops, as well as themed cafes, make it a popular place for otaku (obsessive anime/manga fans) to hang out.
There's also the Ghibli Museum dedicated to the works of famous Japanese animator Hayao Miyazaki, the Pokémon Center (and corresponding café), the Tokyo Anime Center, and huge statues of different popular anime characters all over the country.
Maybe going over there to some of these places will help me figure out why it's so big.
37. Japanese toilets – A toilet that warms my butt, cleans itself, sprays water, has perfume dispensers, and plays music? Going to the bathroom never sounded so fun. In fact, Japan even has a toilet museum! (It's in Tokyo)
These toilets (technically called "washlets"), the first model of which came out in 1980, have even earned a place in the Guinness World Record Book for the most sophisticated toilet in existence. The fanciest toilets cost thousands of dollars! And of course, since this is Japan, you can be sure that these toilets are getting new features added all the time.
38. Sushi – See a pattern here? I bet you can guess what food I'll be eating the most during the next few weeks.
***
There's a lot I am looking forward to doing in Japan, and with only about 2.5 weeks there, if I hope to tick off all 38 things on this list, I'll be quite busy.
But since this will probably be my only trip to Japan for a while, I'm OK with that. It will be a good kind of busy.
Now, is it Sunday yet? I want to fly now.
Book Your Trip to Japan: Logistical Tips and Tricks
Book Your Flight
Use Skyscanner to find a cheap flight. They are my favorite search engine because they search websites and airlines around the globe so you always know no stone is left unturned!
Book Your Accommodation
You can book your hostel with Hostelworld as they have the biggest inventory and best deals. If you want to stay somewhere other than a hostel, use Booking.com as they consistently return the cheapest rates for guesthouses and cheap hotels. Some of my favorite places to stay in Japan were:
Don't Forget Travel Insurance
Travel insurance will protect you against illness, injury, theft, and cancellations. It's comprehensive protection in case anything goes wrong. I never go on a trip without it as I've had to use it many times in the past. My favorite companies that offer the best service and value are:
Looking for the Best Companies to Save Money With?
Check out my resource page for the best companies to use when you travel. I list all the ones I use to save money when I'm on the road. They will save you money when you travel too.
Be sure to check out the Japan Rail Pass if you'll be traveling around the country. It comes in 7-, 14-, and 21-day passes and can save you a ton of money!
Looking for more travel tips for Japan
Be sure to visit out robust destination guide on Japan for even more planning tips!