Sale!
Nomadic Matt's Guide to the Virgin Islands
USD$14.99
Last Updated: January 2019
Return policy: No risk, 7 Day, 100% Money Back Guarantee
Details: 115 pages of expert budget travel advice with maps
---
Explore the laid-back Caribbean
The Virgin Islands are beautiful, rustic, and true Caribbean paradise. You can hike, swim in crystal blue water, dive, sail, and kick back with a refreshing rum drink while you watch the sunset.
And these beautiful islands don't have to be as expensive as they appear in magazines.
From couchsurfing and camping to budget hotels and meals to hitchhiking on boats and consuming more food and rum than I thought was humanly possible, this book is the product of in-depth research that takes you off the beaten path, away from the resorts, and to the heart of this wonderful place.
The Virgin Islands are one of the most gorgeous areas in the world, and regular guidebooks to them are often out of date and geared towards the mass market and people who want to stay in resorts and eat fancy meals.
This guide includes information about all the British and U.S. Virgin Islands so that you never miss a place.
I focus on activities that give you insight into the land, people, and culture. You'll get to off the beaten path, away from crowds, and see the local side of the Virgin Islands visiting my favorite sights, restaurants, bars, and attractions!
How This Guidebook Will Help You
Budget advice – Get suggested budgets for various spending levels as well as money-saving tips that will help you have the best experience without breaking the bank.
The best things to see and do – Get the scoop on all the unique, beautiful, inexpensive, and overlooked sights to make your trip unforgettable.
Suggested itineraries – You'll get one-week, two-week, one-month, and two-month suggested itineraries to help you plan your trip.
Nightlife tips – Drinking and partying abroad is often expensive, but it doesn't have to be. Learn where the locals drinks and the best happy hour deals are so you can relax with your rum and not an empty wallet.
Restaurant suggestions – The islands are full of delicious, cheap food. I'll tell you where my favorite restaurants are so you can enjoy mouthwatering local cuisine you unique to this area.
A history of the Virgin Islands – Start off with a historical overview of how the islands got to where they are today for a deeper understanding of the people and place.
Accommodation suggestions – Get a list of the best lodgings for your wallet.
Transportation advice – Learn all the cheapest routes and options to get around.
Practical information – No matter how prepared you think you are, things can go wrong and local customs can get overlooked. You'll always be prepared with this extensive list of important information for travelers.
Related books and movies – Get inspired for your trip by watching some the best movies and reading the most useful and inspiring books about the Virgin Islands that I've ever watched and read.
Get the Definitive Travel Guide to the Virgin Islands!!
This book cuts out the fluff found in other guidebooks and gets straight to the practical information you need. You can get this guide for your phone, Kindle, iPad, or computer so can access it on the road. Learn everything you need to know about the Virgin Islands for only $9.99 — and save hundreds on your dream trip.
eBook PDF
Instant Download
$14.99 $9.99
Kindle
Buy from Amazon
$14.99 $9.99
---
Details: 115 pages of expert budget travel advice with maps
Last Updated: January 2019
Return policy: No risk, 7 Day, 100% Money Back Guarantee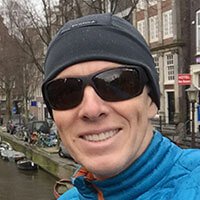 "I spent some time researching where to go and what to do on the internet before my trips, but didn't find anything as specific as the Nomadic Matt guides. I really appreciated all of the free information on his website, and found the guides to be a great value. Not too expensive, and a good amount of knowledge to digest while traveling. I'll buy another guide in the future when I'm traveling again!" — Jonathan
Frequently Asked Questions
What makes your guide different?
It caters to budget travelers and helps those previously discouraged by financial budgets to make their travel dreams come true. In addition, all of the information included in this guide is from first-hand experience by a professional nomad and best-selling author.
What's the difference between this guide and the information on this site?
While the website has a lot of good information on the Virgin Islands, it doesn't offer specific accommodation, restaurant, or bar recommendations; neighborhood information; itineraries; or extensive money-saving tips. It doesn't give any sort of background on the history of Virgin Islands, tell you anything about the culture there, or go over important information like customs, laws, visas, and emergency contacts.
How will this save me money?
This guide was written for budget travelers by a budget traveler. It includes cheaper options for food, activities, and accommodation, as well as tips to save money while still having a high-quality travel experience.
Is this guide available in print?
No, it is only available as an eBook or for
Kindle.
Are there special coupons inside?
Unfortunately, there are not. However, there are plenty of tips included to help you save money!
If I have any questions or concerns, can I contact you?
Of course! You can contact me via email anytime: matt@nomadicmatt.com.
How frequently is this guide updated?
This guide receives a complete front to back update twice a year. However, when we receive updates from readers, we push them live immediately so information is always as up to date as possible.
MORE TRAVEL GUIDES
My advice has been featured in:

| | |
| --- | --- |
| Select Book Format | eBook, Kindle |