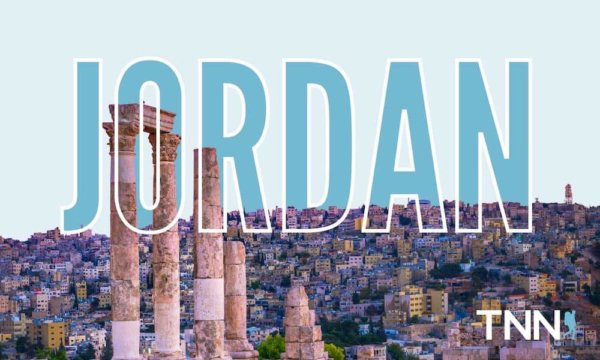 The Nomadic Network Jordan Tour
One of the most unique, vibrant, and photogenic destinations in the world, Jordan is sure to impress any traveler that dares to venture off the beaten path. Situated between Asia, Africa, and Europe, this country has a storied history that enthralls travelers who make the journey to this incredible part of the globe.
An Arab nation of around 10 million people, Jordan is defined by stunning ancient structures, sweeping desert vistas, and laid-back seaside resorts. It's also home to the famed archaeological site of Petra, a UNESCO World Heritage Site and one of the Wonders of the World!
This itinerary is packed with traditional experiences and local interactions, making it ideal for travelers who wish to dig deep and truly explore the fascinating history, culture, and landscapes of Jordan. The country also has a delectable food scene that we'll explore in detail too!
On this tour, you'll wander through Petra, spend two nights under the stars in the dramatic Wadi Rum desert, swim in the Dead Sea, dine with local Bedouins, hike the underrated and expansive northern part of the country, and eat some of the best meals in the world. Known for its beauty, you're sure to come home from Jordan with loads of beautiful photos and life-changing memories.
Our social media manager, Avagail, will be on this tour leading you around!
EARLY BIRD DISCOUNT: If you book your spot before June 1st, you'll get $500 off with the code TNNTOUR as well as one free night of accommodation before or after the tour.
| | |
| --- | --- |
| Options | Twin Share Room, Single Room |
Book Your Spot Now
12 spots left
Tour Itinerary
Upon arrival in Amman, you'll be picked up by a private driver and taken to our excellent hotel in the heart of Jordan's capital. Once the entire group has arrived, we'll get together to officially kick off the tour with a quick orientation and a traditional Jordanian dinner.
Today, we'll take a guided cultural tour that highlights some of the most fascinating parts of Amman. We'll visit impressive mosques and citadels, stop to sample traditional Jordanian delicacies and desserts, and spend time perusing the many souks/market stalls examining the colorful displays of fresh produce, spices, and local handiwork. We'll also visit some of the city's most impressive historical sights. In the evening, we'll go for another great meal while taking in the lively atmosphere of one of Amman's most vibrant neighborhoods.
Today, you'll have a free day to explore this intriguing city at your own pace. Whether you want to dive deeper into history, Roman ruins, art, museums, markets, food, religion or the hip cafe scene, our guides will help you plan your time and ensure you get the most out of your Amman experience. We'll meet back later in the evening for an optional group dinner.
Today, we'll travel to the ruins of the former Roman city of Jerash, the largest Roman city located outside of Rome itself. As one of the best preserved archaeological sites in Jordan, we'll admire the stonework as we take a guided walk through the ruins.
Afterward, we'll make a short drive to the nearby, peaceful city of Ajloun, located in the untouristy northern highlands. We'll go on a beautiful forest hike before having a sunset dinner overlooking the iconic Muslim castle that hovers over the town.
Leaving the north, today will be a historical journey unlike any other. We'll begin by driving straight to the town of Madaba, also known as the 'city of mosaics'. Home to the world's largest mosaic, you'll learn all about this amazing site and town from our local guide. After lunch, we'll continue to Mount Nebo, the place where Moses looked out over the Promised Land. After our visit to Mount Nebo, we'll continue to Wadi Musa, the gateway to magnificent Petra.
After an early breakfast, we'll make our way to one of the New Seven Wonders, city of Petra. With a full-day tour of one of the greatest and most magical archaeological sites in the world, we'll visit the surreal gorges, the famous "Treasury", royal tombs, towering temples, sacrificial locations, and the hilltop monastery. With stops for tea, lunch, and conversations with local bedouins, we'll take our time as we walk through the site. Once our walking tour is over, you'll be able to spend more time exploring the ruins or return to town.
Today will be a free day for you to enjoy as you wish. If you want to return to the site of Petra, that's certainly an option as there is no shortage of areas to explore. Other options include wandering through town, visiting Bedouin villages, going for a hike, or just taking it easy at the hotel.
We'll leave the wonders of Petra to visit the beautiful and mysterious land of the Wadi Rum desert. Only a short 2 hours away, we'll soon meet with our local hosts and switch into 4WD vehicles so that we can head straight into the sands of Wadi Rum. Stopping to soak in the otherworldly landscape, pastel-colored rock formations, and rippling sand dunes, we'll learn about the desert, its inhabitants and their culture. We'll spend the night at a desert camp where we'll sit down for a wonderful evening meal, admire the star-filled skies, and have a chance for a quiet, energizing sleep.
Today, we'll continue exploring Wadi Rum. You'll have a chance to go for a desert hike to a canyon, ride a horse across the desert, take a hot air balloon ride or even go rock climbing. Our staff will be on hand to assist and help you organize any activities you wish to do in this surreal destination.
After breakfast in the desert, switch back to our vans and embark on a drive to the Dead Sea. After checking into our rooms, you'll have time to head down to the beach (which is right on the hotel's property), float in the Dead Sea's incredibly buoyant waters and cover yourself in its therapeutic and infamous mud. After our day by the sea, we'll all meet up in the evening for a farewell dinner.
Today, you'll be picked up at our resort and transferred to the Queen Alia International Airport in Amman in time to catch your departing flight. The airport is only an approximately 50 minutes drive from the Dead Sea.
Tour Essentials
Accommodation
Accommodation on this trip is a mix: we'll be staying in 2 or 3 star hotels and desert camps. All the rooms come with en suite bathrooms.
Transport
During the trip, we'll travel via private bus throughout the country.
Meals
Daily breakfast, three lunches, and four dinners are included. All dietary restrictions can be accommodated with prior notice. Alcohol is not included.
Sustainability
We aim to offer as sustainable an experience as we can. The tap water is safe to drink so we encourage you to bring a water bottle. Trash is recycled whenever possible and we avoid mass tourism activities that cause harm to the environment and/or do not benefit local communities.
Small Groups
This tour requires a minimum of 10 participants and has a maximum of 15 participants in order to ensure the best small group tour experience. With such a small group, you'll be able to enjoy unique, rewarding activities that would not be accessible with more people.
Expert guides
Your tour will be led by a licensed and local expert guide. Our guides are always on hand, every day of the trip, to provide additional information, create spontaneous activities, join the group for non-included activities and meals, and to ensure that the trip is as memorable, fun, and informative as possible.
What's Included
What's Included
Expert tour leader throughout
Accommodation
Transportation within Jordan
Local guides in each destination
All mentioned activities and entrance fees
Included meals listed above
What's Not Included
Flights to/from Jordan
Passport/visa fees
Meals and activities not mentioned
Travel insurance (which is required)
Optional activities and other activities not listed
FAQ
What are your COVID policies?
To ensure we comply with all entry and exit requirements in a simple and easy manner, we require all participants on these tours to be fully vaccinated.
What about COVID testing?
Should COVID testing be required as a condition of entry or exit, we will help you find testing locations, though you are responsible for the cost of the COVID test and for booking your own tests.
Tell me about your guides.
Our expert tour leaders are fully licensed local guides. They'll be responsible for ensuring the smooth operation of the trip, handling all of the local logistics, and dealing with any unforeseen situations that may arise. Our tour leaders are always on hand, every day of the trip, to provide additional information, create spontaneous activities, join the group for non-included activities and meals, and ensure that the trip is as memorable, fun, and informative as possible.
Will I have any time to myself?
Of course! We hate tours that book every minute of your day. While we will be busy, there will also be plenty of time for you to explore on your own. Travel is about adventure and discovery, so we emphasize that on my tours. We want you to see stuff that interests you specifically.
What am I going to do during the listed "free time"?
Our guides will be on hand to give you suggestions, help you decide what to do, and be around. If you want to go off on your own, we get that. We want you to explore and break out of your comfort zone! Our guides are here to help and, after you join the tour, you'll be sent a list of potential activities you can do on your own.
How many spots can I purchase at once?
Reservations on the tour are limited to a maximum of two per person to ensure that everyone who wants to gets a chance to go.
Is airfare provided?
No, you'll be responsible for your own airfare to and from the tour.
Will I need travel insurance?
Yes, all guests will be required to have travel insurance for the duration of the trip. We'll be asking for proof before departure. If you don't have it, you won't be able to continue on the tour.
Is there an age requirement?
You must be at least 18 years old.
Will I need to fill out any release forms?
Yes, you'll be required to fill out and sign a liability waiver releasing Nomadic Matt, Inc. from any and all liability related to the tour.
What about visas?
If you require a visa to enter any of these destinations, you'll need to get that in advance at your own expense. We do not offer any help in this area.
What if I change my mind? What is your refund policy?
We'll cry, but we'll understand. Plans change. The refund policy is as follows: Deposits 100% refundable for 60 days (or until 90 days before the tour starts, whichever comes first). Cancelations made between 90 – 60 days before the tour start date: 100% refund of the balance amount (the deposit is not included in the refund). Cancelations made between 59 – 31 days before the tour start date: 50% refund of the balance amount. Cancelations made from 30-1 days before the tour start date: 0% refund of the balance amount.
When is the balance due?
Payment is due in full 30 days after the date of deposit.
Is there a waiting list?
People sometimes rush to secure a spot but don't always get the time off work and might need to cancel. Therefore, we have a waiting list on a first-come, first-served basis. Click here to join the waitlist.
I still have questions. Can I contact you?
Of course! My email is matt@nomadicmatt.com.
Book Your Spot Now