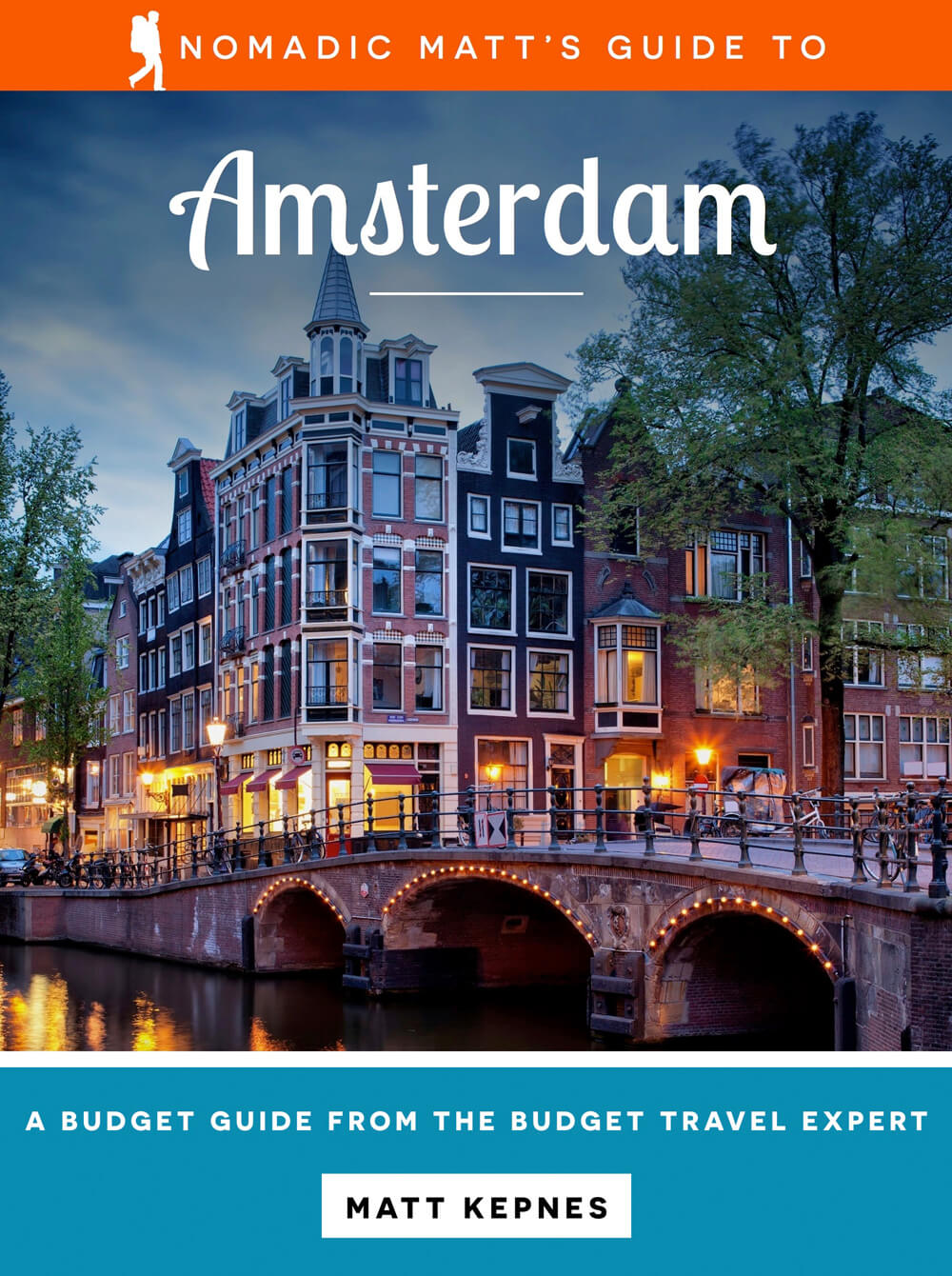 Nomadic Matt's Guide to Amsterdam
$9.99
Last updated: January 2020

Made with love by travelers for travelers!
---
I loved Amsterdam from the moment I first wandered into the city in 2006.
Every year since then, I've returned to this beautiful city. I've lived there, have local friends, and even lead tours there now (fun fact: I was a professional poker player there too).
Amsterdam is one of the most visually stunning cities in the world. Old brick buildings tower over a patchwork of canals that flow past cobblestone streets and alleys. Wandering the streets as you zigzag through the city, you feel as though you might see members of the historic Dutch East India Company around the next corner.
It's a truly magical place and I want you to experience it the way it's meant to be experienced – the Dutch way!
I know the city like the back of my hand and have used my personal experience to write this direct and straightforward guidebook for people who want to be more than just a tourist.
This book shares the hidden secrets of the city and offers an authentic local experience: quaint cafes, beautiful parks, historic architecture, and overlooked sights.
It features insider tips on places to eat, stay, and play. I'll give you local, off-the-beaten-path knowledge to help you move around the city, get away from the tourists, and find places listed in no other guidebook.
How This Guidebook Will Help You
Get suggested budgets and money-saving tips that will help you have the best experience in Amsterdam while not breaking the bank. (This city can get pricey!)
Get two-, three-, and five-day itineraries to make planning your trip and managing your time as easy as possible.
You'll get my extensive list of unique, beautiful, inexpensive, and (often) overlooked sights to make your trip unforgettable.
Get the complete lowdown on getting around Amsterdam – from trams to bikes to ferries to subways! Spend more time enjoying the city and less time being lost!
With this guide, I'll tell you where to drink like a local at the most unique nightlife locales in town.
Amsterdam is full of delicious, cheap food. I'll tell you where my favorite restaurants and places to eat are so you can enjoy the mouthwatering local cuisine – at a wallet-friendly price.
Get the lowdown on all of Amsterdam's best neighborhoods: where to go, when to go, and what to see.
Learn about the local culture and history of Amsterdam so you can better understand the people and their city!
Get a list of accommodation that suits your wallet with my suggested list of affordable and comfortable places to sleep.
Get ALL the essential tips that make guidebooks important: information on tipping, visas, public holidays, embassies, currencies, emergency numbers, business hours, weather, and much, much more.
Get a list of the best books, movies, and music related to Amsterdam so you can get excited about your trip.
Get the Definitive Travel Guide to Amsterdam!
This book cuts out the fluff found in other guidebooks and gets straight to the practical information you need. Learn everything you need to know about Amsterdam — and take the trip of a lifetime!
ebook PDF
Instant Download
$9.99
---
Details: 113 pages of expert budget travel advice
Last updated: January 2020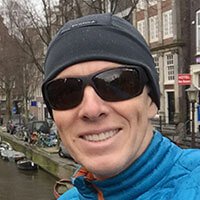 "I spent some time researching where to go and what to do on the internet before my trips but didn't find anything as specific as the Nomadic Matt guides. I really appreciated all of the free information on his website and found the guides to be a great value. Not too expensive, and a good amount of knowledge to digest while traveling. I'll buy another guide in the future when I'm traveling again!" — Jonathan
Frequently Asked Questions
What makes your guide different?
Our books cater to budget travelers and focus on off-the-beaten-path and local destinations other guidebooks skip. Unlike other mainstream guidebooks, we don't try to be everything to everyone. We're here for the people who want to travel, not merely take photos. In addition, all of the information included in this guide is from firsthand experience, not internet research.
What makes you an expert on Amsterdam?
I've been to Amsterdam more times than I can count, lived there for half a year, and ran tours to the city. I know the destination well! All of the recommendations in this guide are my personal favorite places to see, eat, and drink.
What's the difference between this guide and the information on this site?
While this website has a lot of good information on Amsterdam, it doesn't offer specific accommodation, restaurant and bar recommendations; neighborhood information; extensive money-saving tips; or go over important practical information like customs, laws, visas, and emergency information. Simply put, this book goes into way more detail than any one blog post can!
How will this save me money?
This guide was written for budget travelers by a budget traveler. It includes cheaper options for food, activities, and accommodation, as well as tips to save money while still having a high-quality travel experience.
Is this guide available in print?
No, it is only available as an ebook. You'll be able to save this guide to your phone, Kindle, iPad, or computer so can access it on the road. It will work on any device and can be used on as many as you want.
Are there any special coupons inside?
Unfortunately, there are not. However, there are plenty of tips included to help you save money!
If I have any questions or concerns, can I contact you?
Of course! You can contact me via email anytime at matt@nomadicmatt.com.
My advice has been featured in:

| | |
| --- | --- |
| Select Book Format | ebook, Kindle |