Explore the Authentic Side of Thailand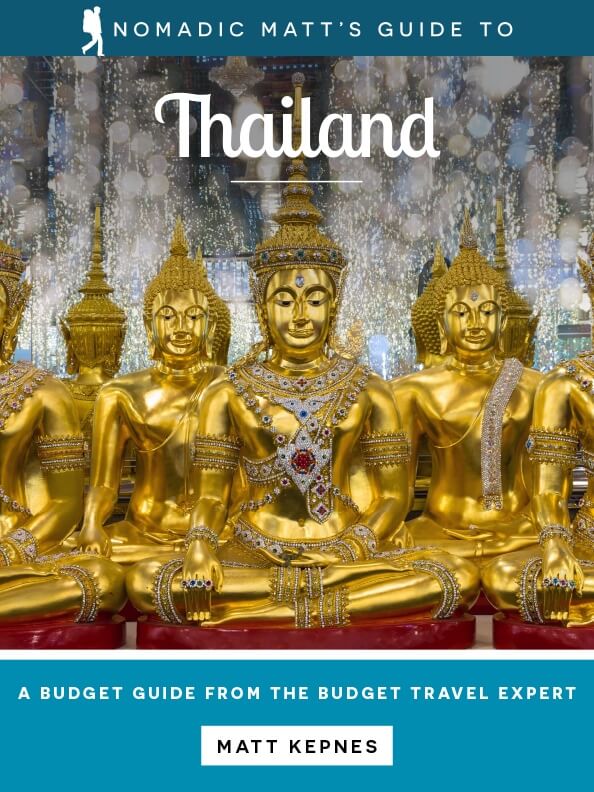 Thailand is one of the most beautiful, colorful, and vibrant countries in the world. I fell in love with Thailand in 2005 when I went on a two-week vacation to escape the Boston winter. It was my first time to Asia, and I found the country chaotic, beautiful, energetic and filled with incredible things to see and do, delicious food, and friendly and happy people. I had never experienced a place so beautiful and fulfilling.
Since that initial visit, I lived in Bangkok for two years teaching English, learned Thai, ran tours throughout the country, and crisscrossed and digested every part of the country on countless trips. There isn't a year that goes by that I don't visit the country – drawn in by its magical powers.
Over the last ten years, I've watched the changes Thailand has undergone. I've seen the tourists come and go, places fall in and out of fashion, hostels boom, the political landscape change, and the food and international cocktail scene exploded. I've seen markets spring up only to be torn down.
I've had a front row seat to what's been going on in the country.
And, in this travel guide, I share all that knowledge with you.
With this guidebook, you'll get a look at Thailand the way it's meant to be seen. This book is for the intrepid traveler who wants to not only see the main sites but also get to know the culture, get off the well-trod tourist travel path, and have a fun time that yields a deeper understanding of the country, its people, and culture.
This guide is for someone who doesn't just want to check off a box but wants to explore. I wrote this guide as the guide I wish I had when I had started out – a no fluff guide that gave me exactly the practical, precise, and insider information I couldn't find elsewhere.
My travel advice has been featured in:

(Me at the Elephant Nature Park in Northern Thailand)
What's in this Thailand Guide?
A history of Thailand – Start off with a historical overview of how the country got to where it is today. Because you can't know a place until you know its' past!
Budgeting advice – Suggested daily budgets (for many travel styles) and money-saving tips that will help you have the best experience possible without breaking the bank.
Suggested itineraries – You'll get one-week, two-week, one-month, and two-month suggested itineraries to help you plan you your trip and discover the hidden gems of the country.
The best things to see and do – Discover unique, beautiful, inexpensive, and overlooked sights to make your trip unforgettable that are also affordable.
Accommodation suggestions – Find the best lodgings for your wallet, with advice from a professional budget traveler.
Food tips – Thailand is full of delicious, cheap food. I'll tell you where my favorite restaurants are so you can enjoy the mouthwatering local cuisine as well as international restaurants without spending a lot of money. (Ones you won't find in mainstream guides!)
Bars and clubs – Drinking and partying abroad is often expensive, but it doesn't have to be. I'll tell you how to drink like a local and save at the most unique nightlife locales.
Transportation advice – When traveling, using public transport to get around is often a stressful and confusing ordeal. I'll show you the simplest, easiest, and cheapest ways to get around.
Practical information – No matter how prepared you think you are, things can go wrong and local customs can get overlooked. You'll always be prepared with this extensive list of important information for travelers.
Related books and movies – Get inspired for your trip by watching some the best movies and reading the most useful and inspiring books about Thailand that I've ever watched and read.
What regions does it cover?
This guide covers the following destinations in Thailand:
Bangkok
Ayutthaya
Chiang Mai
Isaan
Khao Sok
Khao Yai
Ko Chang
Ko Jum
Ko Lanta
Ko Lipe
Ko Tao
Ko Muk
Ko Phangan
Ko Phi Phi
Ko Samet
Ko Samui
Lopburi
Pai
Sukhothai
Phuket
Similan Islands
Thailand is one of the most fascinating countries in the world and the regular guidebooks to the country are often out of date and geared toward mass-market tourism. This guide is for the budget traveler, written by a budget traveler! I've spent years uncovering the country, so you can walk in armed with the best available information!
Plan Your Thailand Adventure Today!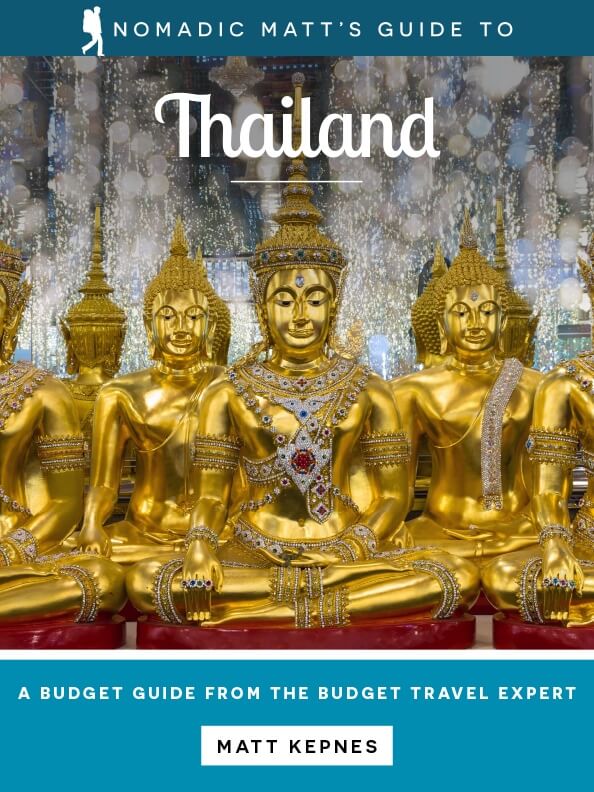 Get this $9.99 guidebook for your Kindle or as a PDF to read on any device AND be able to access it on the road. This book will help you navigate Thailand like a local, avoid the crowds, and save money so you can travel cheaper, better, and smarter!

What Readers Are Saying
Having Matt's guide during our trip to Thailand was so helpful! It meant we could change our plans at a moments notice and it wasn't a problem! We were supposed to head up to Chiang Mai, but we found out on our way to the bus station that it was burning season and my friend has asthma. Instead of having that stress us out, we took a look at Matt's guide and chose Koh Samui instead! The place we stayed there we booked on the ferry over. It was a recommendation of his and we absolutely adored it! It became a bit of a "home base" for us. We loved that he gave budget recommendations for everyone's taste whether you wanted to party, or have a relaxing few days by the beach!" — Kalya
One of the best things about Matt's book is that it avoids all the frivolous details that so many travel guides have nowadays. This book gets straight to the point – and helps you avoid all the tourist traps. I went to Thailand not knowing what to expect and reading this guide eased my fears. It was like a cheat sheet to best the country had to show me. There was never a moment I felt "lost." This was a great guide and I definitely plan to buy more." – Edward
Frequently Asked Questions
What makes your guide different?
It caters to budget travelers and helps those previously discouraged by financial limitations to make their travel dreams come true. In addition, all of the information included in this guide is from first-hand experience by a professional nomad and best-selling author (i.e., me!). It cuts out the fluff and gets right to the point in a way other guidebooks do not.
What makes you an expert on Thailand?
I've been to Thailand more times than I can count, lived there for two years, was there during two political coups, speak Thai, and run tours there. All of the recommendations in this guide are my personal favorite places to see, eat, and drink. I know the country well.
What's the difference between this guide and the information on this site?
While the website has a lot of good information on Thailand, it doesn't offer specific accommodation, restaurant, or bar recommendations; neighborhood information; itineraries; or extensive money-saving tips. It doesn't give any sort of background on the history of Thailand, tell you anything about the culture there, or go over important information like customs, laws, visas, and emergency contacts.
How frequently is this guide updated?
This comprehensive guide is updated yearly to include the most up-to-date information.
How will this save me money?
This guide was written for budget travelers by a budget traveler. It includes cheaper options for food, activities, and accommodation, as well as tips to save money while still having a high-quality travel experience.
Is this guide available in print?
No, it is only available as an e-book (for PDF or Kindle).
Are there any discount coupons inside?
No, there are not. However, there are plenty of tips included to help you save money!
If I have any questions or concerns, can I contact you?
Of course! You can contact me via email any time at
[email protected]
and I'll answer any questions you might have.

Going somewhere else? Check out my other detailed guides to New York City, Hong Kong, Paris, Bangkok, Stockholm, Amsterdam, and the Virgin Islands.