See the local side of Paris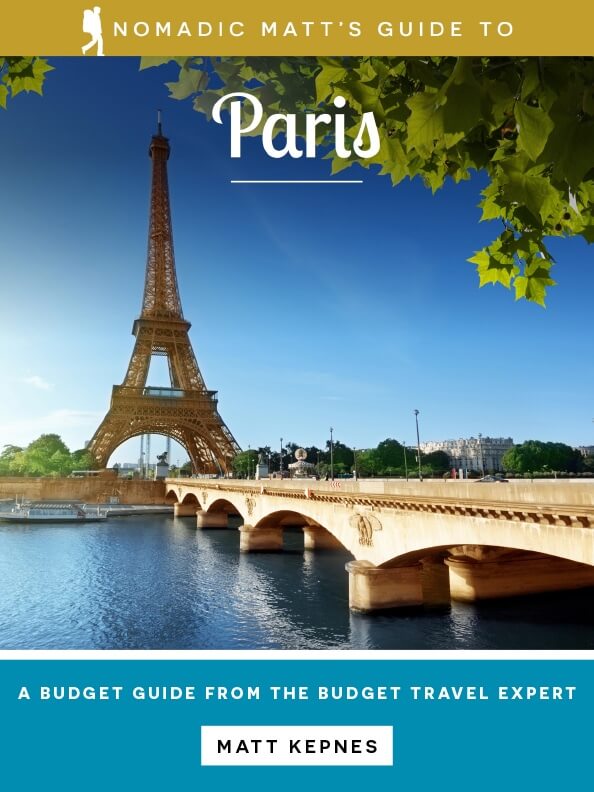 Paris is everything you imagine it to be – cultured, sophisticated, classy, romantic, beautiful, historic, and stylish. It is a destination written about more than any other; a place to fall in love and be in love.
I remember the first time I saw Paris. It was 2008 and I stepped out of the train onto the Champs-Élysées at night. There, before me, was the Arc de Triumph lit up in awe inspiring beauty, down my left was Paris' most famous treelined streets. I could make the Louvre out in the distance. Around me were people coming in going. That energy. That glamour. It was infectious.
In that moment, I fell in love with Paris.
My name is Nomadic Matt and I've been traveling the world since 2005. I love the City of Lights so much, I return at least twice a year and lead tours to the city. I know the city extremely well and have the local friends to constantly show me what is hip and new.
Too many people dream of Paris but think it's too expensive. Or they visit and blow their budget because they end up in the tourist areas, where everything is overpriced. But Paris is not expensive and can be easily done on any budget. I know. I've been there on as little as $20 a day and as much as $200 a day. Now, I used my personal experience to write this straightforward guidebook to one of my favorite cities so you can visit without breaking the bank.
This comprehensive guide features insider tips on places to eat, stay, and play. I'll give you local, insider knowledge to help you get off the beaten path and into the little secret spots free of tourists.
This guide will help you break free from the crowds. From delicious food markets, to beautiful parks and architecture, to overlooked sights, you'll get the best of Paris in one place. I love Paris and this guide will pass this love affair onto you by telling you the best things to see and do in this magical city.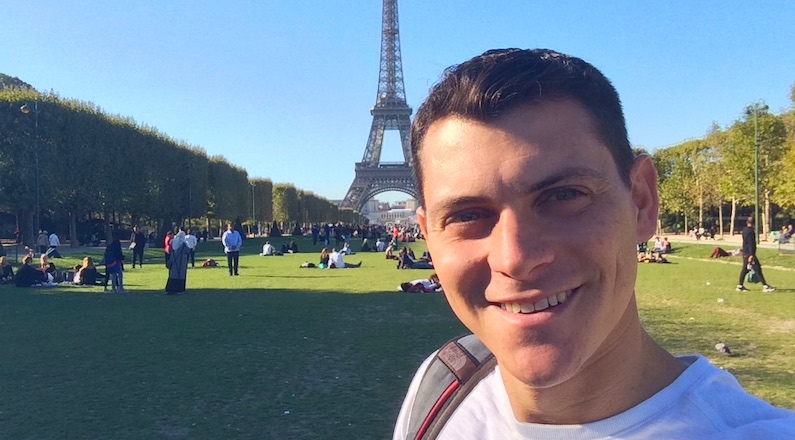 (A very happy me in front of the Eiffel Tower)
What's in this Paris Guide?
A history of Paris – Learn about the history of Paris and how it became the city it is today.
Budget advice – Discover money saving tips and budget suggestions so you'll know how much you need and ways to save for your upcoming trip not found elsewhere.
Suggested itineraries – Two, three, and five day itineraries are included to make planning and navigating your visit as easy as possible.
The best things to see and do – Explore the unique, beautiful, inexpensive, and often-overlooked sights of the city. You'll get on and off the beaten path suggestions to make your visit unique and authentic.
Neighborhood information – Get the low down on all of Paris' best neighborhoods with where to go, what to see, do, and eat.
Accommodation suggestions – Find a list of my favorite, unique budget-friendly places to stay in the city.
Restaurant suggestions – Get a list of the best markets and restaurants in the city. I'm a huge foodie, so I know exactly where to direct your for a good, budget-friendly meal.
Bars and clubs – Get away from all the tourists and hang out with locals and expats with this nightlife list!
Transportation advice – When traveling, using public transport to get around is often a stressful and confusing ordeal. Learn all the cheapest routes and options to get around Paris.
Practical information – Get the essential tips that make guidebooks so useful with information on tipping, visas, public holidays, embassies, currencies, emergency numbers, working hours, weather, and much, much more.
Related books and movies – Get inspired for your trip with these incredible books and movies about the City of Lights!
Plan Your Paris Adventure Today!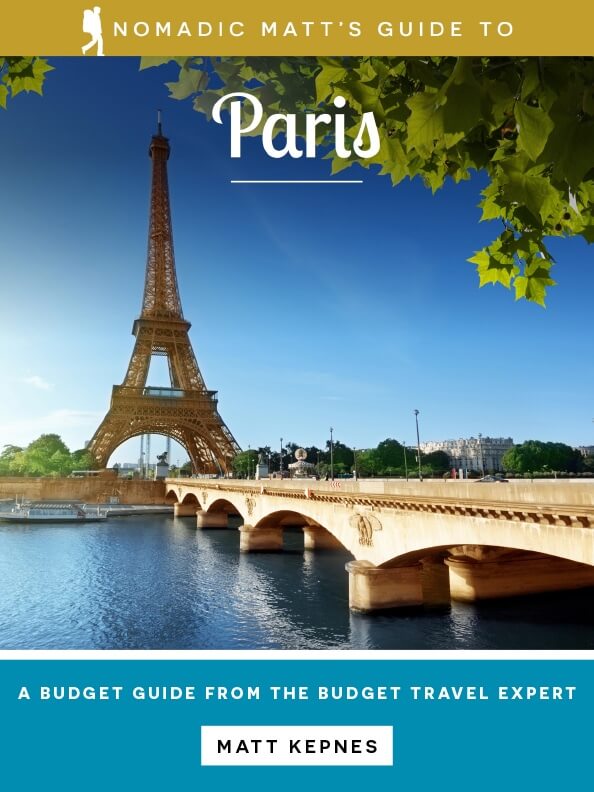 Get this $9.99 guidebook for your Kindle or as a PDF to read on any device AND be able to access it on the road. This book will help you navigate Paris like a local, avoid the crowds, and save money so you can travel cheaper, better, and smarter!

What Readers Are Saying About This Book
"Paris is a deceivingly huge city! I only had five days and I wanted to make each one count. This guide was brilliant in breaking down each arrondissement so I could eat and explore the areas most suited to my travel style and budget. Since I was constantly on the road, I didn't have much time to research the city before I got there, which is why Matt's suggested itineraries and personal recommendations were a huge time saver for me. I will definitely be using more of his guides for my upcoming trips!" – Shannon