See the Authentic Side of Iceland
JUST RELEASED ON KINDLE!
eBook PDF
Instant Download
$9.99
Kindle
Buy from Amazon
$9.99
Updated: July 2018
Return policy: No risk, 30 Day, 100% Money Back Guarantee
Details: 196 pages of expert budget travel advice with maps
Made with love by travelers for travelers!
The purpose of my guides is to let you live large on a budget. I focus on activities that give you insight into the land, people, and culture.
Iceland. Its name conjures images of rugged nature, people, and sheer majesty. It's an exotic, otherworldly place that draws travelers from all over the globe. I'd seen movies and pictures. Of a land with jagged mountain peaks, volcanoes with desolate lava fields, rolling hills with grazing sheep, and glaciers that stretched for miles. From the moment I landed, Iceland was everything I had hoped it would be. I was welcomed and helped by kind strangers.
My love for Iceland became an obsession. I've returned multiple times, drawn back by the people and the raw natural beauty of the terrain. For such a small island, Iceland has a diverse range of landscapes. I've hitchhiked across the country, met locals who've let me stay n their farms, and been all over the island.
Iceland is a place that many travelers want to go – but are all worried about cost. They are worried about the rumors that its expensive, hard to get around, and not filled with great food. Those rumors are not true. I wrote this book to give you the insider's look at Iceland. To take you off the beaten path, away from the crowds (and prices) that swarm the southern region, to help you meet locals, eat delicious food, sit in free hot springs ten times better than the Blue Lagoon, find secret waterfalls and pools, and hike trails where you can be alone with the natural beauty of Iceland under the gaze of the Northern Lights.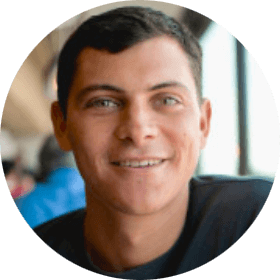 This guide is meant for travelers looking to see the most of Iceland. You'll see the local side of Iceland as I take you off the tourist trail, save you money, and give you tips and tricks not found in mass market guidebooks.
My travel advice has been featured in:

What's in this Iceland Guidebook?
Money saving tips – Traveling in Iceland isn't cheap – but it doesn't have to be a wallet buster either. I have made a career out of budget travel advice and can show you how to avoid tourist traps and get an authentic Iceland experience at a reasonable price.
Suggested itineraries – Find suggested plans for Icelandic adventures that last one weekend, four days, one week, two weeks, and one month.
Regional information – Get the lowdown on all regions of Iceland, where to go and what to see, where to stay, eat, shop, and more! I've been there, done that, so you get the best!
Nightlife tips – Get away from all the tourists and hang out with locals and expats with this nightlife list featuring bars, clubs, outdoor beer gardens, and cocktail lounges. If I know anything, it's where to get a good drink!
Restaurant suggestions – I like to eat. And if you don't know where to eat in Iceland, you'll end up in overpriced touristy places. You'll get a robust list restaurant, cafes, and shops that won't break your budget!
Related books and movies – Game of Thrones wasn't the only Hollywood production in Iceland. You'll get a list of the best books, movies, and music related to Iceland.
The best things to see and do – Explore Iceland's unique, beautiful, inexpensive, and overlooked sights. You'll get unique things to see and do that aren't found in the other mass-produced guides.
A history of Iceland – Learn interesting facts about Iceland. Did you know 80% of the population believes in elves? Well, you do now!
Accommodation suggestions – Check out my succint list of unique budget-friendly places to stay, including hostels, camping, apartments, hotels, and family-friendly accommodations so you can avoid spending hours on TripAdvisor areading reviews.
Transportation advice – Learn the best airlines to get to Iceland, where to find, and how to bus, drive, or hitchhike your way around the island.
Practical information – No matter how prepared you think you are, things can go wrong and customs can get overlooked. Get the essential tips that make guidebooks so useful: information on tipping, visas, public holidays, embassies, currencies, emergency numbers, business hours, weather, and much, much more.
This guide will show you the Iceland visitors rarely see and let you be the adventurous traveler that wanted to come here in the first place. It will save you money by helping you avoid scams and paying the "tourist" price, and teaching you where to find the best-value places. With this guide, you'll master the art of budget travel and take on Iceland like a local.
Start Planning Today
This book cuts out the fluff found in other guidebooks and gets straight to the practical information you need. You can get this guide for your phone, Kindle, iPad, or computer so you can access it on the road. Learn everything you need to know about Iceland for only $9.99 — and save hundreds on your dream trip.
eBook PDF
Instant Download
$9.99
Kindle
Buy from Amazon
$9.99
Updated: July 2018
Return policy: No risk, 30 Day, 100% Money Back Guarantee
Details: 196 pages of expert budget travel advice with maps
Frequently Asked Questions
What makes your guide different?
It caters to budget travelers and helps those previously discouraged by financial budgets to make their travel dreams come true. In addition, all of the information included in this guide is from first-hand experience by a professional nomad and best-selling author.
What makes you an expert on Iceland?
My love for Iceland became an obsession. I've returned multiple times, drawn back by the people and the raw natural beauty of the terrain. All of the recommendations in this guide are my personal favorite places to go, see, eat, and drink.
What's the difference between this guide and the information on this site?
While the website has a lot of good information on Iceland, it doesn't offer specific accommodation, restaurant, bar recommendations, neighborhood information, itineraries, and extensive money saving tips. It doesn't give any sort of background on the history of Iceland, tell you anything about the culture there, or go over important information like customs, laws, visa, and emergency information. This guidebook goes into way more detail than any blog post can!
How will this save me money?
This guide was written for budget travelers by a budget traveler. It includes cheaper options for food, activities, and accommodation, as well as tips to save money while still having a high-quality travel experience.
Is this guide available in print?
No, it is only available as an e-book (for PDF or Kindle).
Are there special coupons inside?
Unfortunately, there are not. However, there are plenty of tips included to help you save money!
If I have any questions or concerns, can I contact you?
Of course! You can contact me via email anytime: matt@nomadicmatt.com.
How frequently is this guide updated?
This guide is brand new for 2018 and we will update it twice a year. However, when we receive updates from readers, we push them live immediately so information is always as up to date as possible.
Going somewhere else? Check out my other detailed guides to New York City, Hong Kong, Paris, Stockholm, Amsterdam, the Virgin Islands, and Thailand.