Stockholm is one of the most beautiful cities in the world. No matter how often I come here, I am always amazed by it. Everything is just so photogenic and picturesque – the parks, the islands, the harbor, the historic colored houses dating back hundreds of year – Stockholm is beautiful. The city spreads itself across fourteen islands and has a ton of museums, attractions, parks, and art to see while getting lost among the historic streets and buildings. I spent three months living here and now come back every year to visit friends and fall in love again with this Scandinavian gem. Stockholm isn't the cheapest place in the world to visit but it's worth every penny coming here and there are many ways to visit on a budget.
Typical Costs
Hostel prices – Dorm rooms begin at 245 SEK per night, and most private rooms are 890 SEK for a double room. There sadly aren't many budget accommodations in Stockholm. Hostels also add a 50 SEK surcharge for bed linen. My favorite is City Backpackers followed by Skanstull Hostel. Interhostel, while one of the cheapest in the city, is not that great.
Budget hotel prices – Double rooms at budget hotels start around 800 SEK and go up to 1,100 SEK per night. After that, the sky is the limit. For a better deal, try Airbnb. You can find a lot of rooms cheaper than hotels!
Average cost of food – Cheap kebabs, pizzas, and outdoor grills (hotdogs, sausages) cost between 55-80 SEK. Groceries cost around 565 SEK for a week. Beer is around 65 SEK, and drinks/wine begin at 120 SEK. You can find cheap hot dog/sausage stands all around the city for around 25 SEK. A meal at a nice sit down restaurant with table service and a drink will run you around 260 SEK. Lunch menus cost around 120 SEK. Herman's offers some of the best value in the city for all you can eat healthy food. For a more robust listing of restaurants, check out my guide at the bottom of the page.
Transportation costs – You need to purchase a reloadable card for 20 SEK for tickets, as they are not for sale on the buses. A week-long pass is the best deal at 300 SEK, but you need to make sure you use it a lot to get value out of it. Transportation passes can be used on buses, ferries, and trains. Most cabs costs around 285 SEK and should be avoided as the trains and buses run all night.
Money Saving Tips
Purchase the Stockholm Card – This pass gives you access to the city's public transportation system and free entrance into 99% of the museums and canal tours. It's is well worth the money and will definitely save you a lot more than it costs you if plan to do a lot of sightseeing.
Stay with locals for free – Accommodation is so expensive in Stockholm, you should consider Couchsurfing.com, a site that connects travelers with locals who offer a free place to stay. If you can cut out your accommodation costs, you will save a lot of money. It's also a great way to get to know the local culture.
Drink beer – If you are going to drink, stick to beer. It costs about half as much money as mixed drinks or wine at the bars and restaurants.
Avoid the big restaurants – Eating out in Stockholm is very expensive. If you want to eat out, try to stick to the outside grills you see on the side of the street. You can find a variety in them and they are only about 200 SEK per meal.
Try the lunch buffets – If you choose to eat out, the lunch buffets are an economical way to do so, costing around 105 SEK. They are a popular option with locals. If you are a vegetarian, try Hermans.
Avoid the clubs – Most clubs have a 240 SEK cover. Don't waste your money.
Get a metro card – If you don't plan to get the Stockholm card, make sure you get a week's metro pass. At 300 SEK for a week's train ride, it is a better deal than the expensive 115 SEK per 24 hours.
Refill your water bottle – Water is about 30 SEK per bottle. Buy one, and just reuse the bottle. Plus, you help save the environment too!
Avoid the taxis – With the subway open all night long, don't take the cabs. A typical ride is 260 SEK or more and not worth the price. Unless you are far from the train and it's snowing out, the price is hard to justify.
Top Things to See and Do to Stockholm
Walk around Gamla Stan – This was the original area of the city and here you'll see centuries old buildings, the Noble museum, the Royal Palace, cobblestone streets, and the ancient homes of the aristocracy. It is one of the most beautiful and historic city centers in Europe. I never tire of visiting it.
Tour the archipelago – Stockholm is surround by beautiful islands and waterways. You haven't really see the city if you haven't explored the neighboring islands. You can find tours from many points in the city. The good tours are the full-day ones that take you out to more secluded islands. Boat tours are only open during the summer.
Spend the day at Djurgarden Island – An island right in the middle of Stockholm, there is a lot to do here. You take a walking tour, eat at a relaxing restaurant, enjoy the amusement park, and visit a historic Swedish village. There are a lot of good walking paths here too and it's a popular spot for a picnic.
Enjoy Stockholm's wild nightlife – Stockholm is known for their nightclubs and bars. It may be expensive but Swedes love to go out and party. Hit the clubs and party with the locals. Watch out for the blackjack tables (they have them at every club!). Fun places are Strand, Anchor, Retro, Underbar, 54, Utecompagniet, Rose, and Soap Bar. The main nightlife area is Strueplan.
Admire the ship at the Vasa Museum – This museum houses the world's only preserved 17th-century ship. The Vasa was a ship built so poorly it sank a mile out of dock. The cold sea preserved the ship and you can see the whole thing here. The museum all does a wonderful job of putting the ship into historical context. If there was one must see in the city, this museum is it.
Tour the Royal Palace – Built between 1697-1754 and located on the east side of the Old Town, the Royal Palace is open to the public. A combined ticket to visit the treasury, reception rooms, and museum costs 150 SEK. The palace is closed when dignitaries are being hosted.
Wander around Skansen – Skansen was the first open-air museum in the world. It's also a zoological garden specializing in Nordic fauna, such as moose, reindeer, bear, wolf, lynx, and wolverine. Located on the island of Djurgården, it features over 150 historic buildings from previous centuries. Hosts and hostesses in historic costumes further enhance this attraction, and domestic occupations such as weaving, spinning, and glass blowing are demonstrated.
Visit the Museum of National Antiquities – If you're interested in Scandinavian history, this museum covers the stone age to the Vikings. In the Gold Room, you'll find gold treasures from the Bronze Age to the 16th century.
See the art at the National Museum – The National Museum contains art by Rembrandt, Rubens, Goya, Renoir, Degas, and Gauguin, as well as well-known Swedish artists such as Carl Larsson, Ernst Josephson, C F Hill and Anders Zorn. The collection is quite good, especially if you like Scandinavian artists.
Explore the Medieval Museum – Located underneath the Royal Palace, this museum is one of the better history museums in the city (most stink). You learn a lot of good detail about medieval Sweden and life in Stockholm. It's an incredible museum that teaches you a lot about how the city grew into what it is today.
Tour city hall – Stockholm's city hall is a historic brick building that has guided tours every day until 2 pm. You can go up to the tower, which provides pretty amazing views of Gamla Stan and the rest of the city.
Walk along Monteliusvägen – This is a mile long walking path that offers fantastic views of Lake Mälaren. It's a romantic place to watch the sunset in case you're with a special someone. And, if you're like me and not, it's a good place to rest after a long day.
Check out some cool photography – Fotografiska is a large photography gallery with numerous expansive exhibits that showcase some of the best works in contemporary photography. There's a bar on the top floor that also offers a great view.
Get the In-Depth Budget Guide to Stockholm!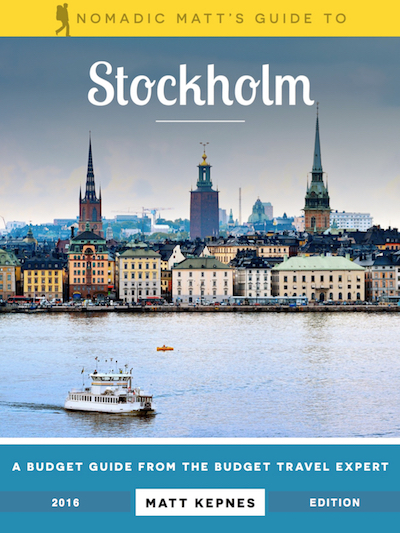 For more in-depth coverage of Stockholm, my 80 page guidebook is perfect for budget travelers like you! It cuts out the fluff found in other guides and gets straight to the practical information you need to travel and save money in one of the most beautiful cities in the world. You'll find suggested itineraries, budgets, ways to save money, on and off the beaten path things to see and do, non-touristy restaurants, markets, and bars, and much more!! Click here to learn more and get started.