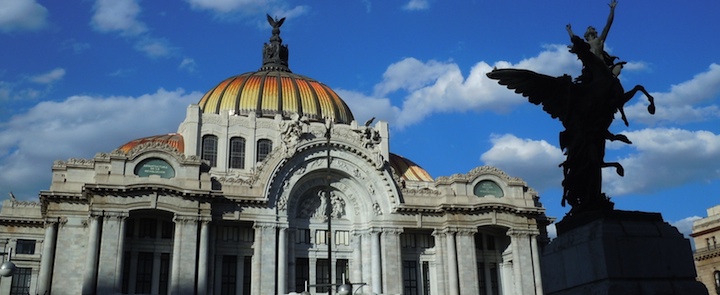 As the second largest city in the world with a vast population of 18 million, Mexico City, Mexico may not be the ideal spot for a moment of calm reflection, but on the other hand, if you are an art or history buff with a keen eye for a bargain, then the world-class museums and sprawling markets may be exactly what you had in mind. Despite Mexico City's huge scale, most of its tourist attractions are all centered round a fairly small geographical area and, better still, they are all inexpensive. Budget options for accommodation, food and transport are all readily available.
Typical Costs
Hostel prices – You can expect to pay around 150-300 MXN for a night in a dorm, or between 500-1,000 MXN for a double private room with shared bathroom. Most hostels offer breakfast and wifi included in the price.
Budget hotel prices – Hotel accommodation is quite inexpensive in Mexico City. On average, prices start from around 400 MXN per night for a single room, and average around 800 MXN for a double room ensuite.
Average cost of food – Food here is generally very affordable – by purchasing food on street stalls or in markets you can expect to spend around 240 NZD per day, with a less restrictive budget coming in at around 480 NZD if you choose to eat at reasonably priced sit-down restaurants.
Transportation costs – Public transport is extremely cheap in Mexico City. The cost of a Microbus (or pesero as it's commonly known) ticket is between 2.50-4 MXN, a Metrobus ticket is around 5 MXN, with a Metro ticket costing 2 MXN. Taxi fares start from around 6 MXN and go to 10 MXN. Cicloestaciones (bicycle rental stations) also offer free rental, you just need to leave your ID.
Money Saving Tips
Cycle – Although inexpensive, the city's public transport can be very crowded – a great alternative is to make use of the free bike rentals available at Cicloestaciones.
Hostels – Hostels are not a great deal cheaper to stay in than a budget hotel in Mexico City. Weigh whether you value the privacy of a hotel more than the social aspects of staying in a hostel.
Eat street food – Save money on food by eating at the big markets or from the vendors on the street. You'll get big, flavorful, and filling meals for only a few dollars.
Top Things to See and Do in Mexico
Relax in Chapultepec Park – As one of the largest city parks in the world, it's no surprise that Chapultepec is packed full of activities. Enclosed within its vast grounds are the Zoo, Atlantis (marine life park) and La Feria amusement park.
Explore Templo Mayor – Mexico City is a hotbed of historical landmarks, particularly those dating back to the Aztec period, and there is no finer example than The Great Temple.
Walk through the Zócalo – Encompassing the Templo Mayor, the Palacio Nacional and the Plaza de la Constitución – one of the largest squares in the world – the Zócalo truly is the heart of Mexico City. Situated just off the Zócalo is La Catedral Metropolitana. This magnificent building is fortified with gold and is a fine example of Spanish colonial architecture.
Eat in the Zona Rosa – One of the most popular areas of the city, Zona Rosa boasts and array of bars, restaurants and nightclubs. This is the best nightlife area in the city. Make sure to dress well here too.
Visit the Museo Nacional de Antropología. Found within Chapultepec Park, this world class anthropology museum houses a vast collection of sculptures, jewels, and artifacts from ancient Mexican civilizations.
Check out the Art and History Museums – Art and history fans will delight at the vast array of museums in Mexico City. From the expansive Museum of Anthropology (Museo Nacional de Antropología) to the National History Museum (Galería de Historia) to the Modern Art Museum (Museo de Arte Moderno) and the National Art Museum (Museo Nacional De Arte), Mexico City can compete with any other culturally-rich city.
Climb the Torre Mayor – At almost 1000 feet, the Torre Mayor is the tallest building in Latin America and offers a unique way to view the skyline.
Visit the Casa de Azulejos – Built in 1596 for the Counts, this building is now host to walking tours, a restaurant, and a courtyard. Beyond the beautiful architecture and fixtures, the tile-adorned walls, and ancient furniture, the main highlight is a mural completed in 1925 by Orozco.
Participate in the Loteria Nacional – Believe it or not, the national lottery is a pretty popular thing here. On the west side of Paseo de la Reforma, in the art deco tower, you can go try your luck and hope the wooden balls with your numbers get picked.
Flock to the Basilica de Guadalupe – Catholicism is alive and thriving throughout Mexico, especially in this city. This particular shrine is world famous, drawing thousands every year, from all over. The yearly celebration is December 12th, which makes this a crazy place to be during that time.
Participate in Dia de los Muertos – Every November, on the 1st and 2nd of the month, the entire country joins in a mass celebration of the dead. Everywhere you go, there are decorated sugar skulls, candy treats, and baked goods (Pan de Muerto). Stop by a cemetery and see what this cultural day is all about.
Attend a lucha libre – Mexican free wrestling is a favorite past time among locals. Extremely entertaining and affordable, this is a unique show and fun experience. Grab a beer and get ready to holler some Spanish jeers.
Visit Frida Kahlo's House – Frida Kahlo and her husband Diego Rivera are two of the biggest names in Mexican art history. Kahlo especially was known for her eccentric appearance, art, and lifestyle. A tour to their old home, the "Casa Azul" is an interesting and worthwhile experience. You can find her house in the colonial Coyoacán district.