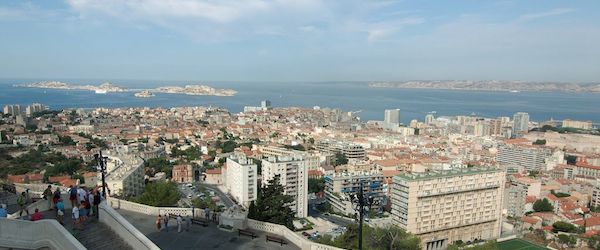 Marseille is located in southeastern France and is one of France's largest cities – the second behind Paris. It is a metropolitan city that also has a rich history. Marseille is filled with nightlife, great restaurants, theaters, museums, and even an international soccer stadium. Many say that Marseille is not the kind of city you will fall in love with as it is too industrial, but, while the city is a bit gritty, it's worth a visit for its beautiful waterfront.
Typical Costs
Hostel prices – Dorm rooms average about 25 EUR per night, while private rooms are around 75 EUR per night.
Budget hotel prices – One or two star hotels cost around 50 EUR per night for a double room.
Average cost of food – There are many bread, cheese, and meat shops around the city and a week of grocery is about 45 EUR. Eating pre-made sandwiches and fast food will cost between 4-7 EUR each sitting. A nice restaurant dinner will cost around 27 EUR including a glass of wine. Overall, food is pretty expensive here compared to the rest of France, so watch what you spend if you're on a budget.
Transportation costs – Taxis cost between 22-45 EUR for a trip around the city. Tickets for bus and the metro can be bought in the cafes, at the subway stations, or on the bus. It is best to buy groups of tickets at 3 EUR (two trips) or 13.40 EUR (10 trips) to save a bit. A daily ticket costs 5.20 EUR.
Money Saving Tips
Pack a picnic lunch – As in the rest of France, restaurant food can be expensive. Fortunately, the country caters to DIY-meals, especially lunches. It's really easy to buy some meat, cheese, and a baguette at local shops for under 7 EUR, and top it off with an inexpensive bottle of wine for 2-5 EUR. Find a park or a quiet spot to enjoy it and watch the world pass by, just like the locals do.
Top Things to See and Do Marseille
Le Vieux Port – This is an old port where you can watch the fisherman sell their stock by auction, have great seafood, or hire a boat for the day. Or if you'd rather, simply sit and gaze at all the expensive yachts in the harbour.
Step inside Notre Dame de la Garde – Known as the big church, this church overlooks the city and is one of the best views to take in or to photograph. Old fisherman used to have their boats blessed in this church.
Le Cours Julien and La Plaine – This is known as the trendy part of Marseille and is full of bookstores, cafes, fountains, and tons of walking space. Every Thursday and Saturday morning, the Plaine market takes place here and offers the best opportunity to shop for bargains.
Borely Park – A beautiful park only about 1,000 feet from the ocean. You can go there to have a nap, meditate, have a picnic, play some sports, or venture down for an afternoon drink in any of the numerous restaurants or bars on the beach.
Le Panier – This is the oldest area in Marseille and in French its name means "the basket." While you are here, be sure to gaze at the Vielle Charite, an old monument that now has museums and exhibitions.
The Château d'If (If Castle) – This small island off the city was a penal colony. It is famous from the novel of Alexandre Dumas, Le Comte de Monte-Cristo. Tourist boats leave from the Old harbor.
La Place Castellane – This roundabout has a magnificent fountain surrounded in columns and sculptures. On the street are excellent cinemas and cafes. This is a pretty neat place to check out.
Mazargues War Cemetry – On the way to Luminy, you'll come across this cemetery, which is dedicated to martyrs from the WWI and WWII Allied nations. This place is very serene — perfect for reflection and some down time.
Palais de Longchamp – This is a quiet, public garden in the center of Marseille that dates back to the mid-19th century. There is a stunning fountain here, and the Durance river is nearby, and everywhere you can see gorgeous symbolic figures.
Vieille Charite – Now host to a museum, this building was originally built in the 17th century as a place for the homeless, sick, and old people. The architecture is amazing—there is a pantheon-like church and a three-story building.
Fort St. Nicolas – Built between 1660-1664, this fort was used to aid in the protection of the port of Marseille. Today it is separated into two parts. Beyond the fort to the northwest is the Park of the Pharo.
Eat in Noailles – This area of the city (around the Noailles subway station) is known for its Arab, Indian and Chinese influence. As such, it has some great places to eat ethnic food for a reasonable price.
Go diving – Diving may not be the first thing that comes to mind when you think of France, but Marseille is trying to make a name for itself as the country's diving capital. If you've been to world-class dive sites, this won't be for you, but it's a great opportunity for beginner divers to gain exposure to the underwater world.