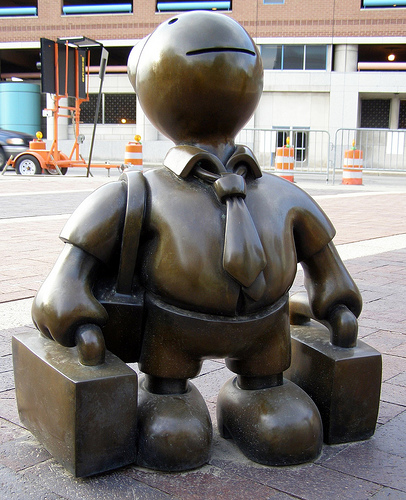 To celebrate my blog turning three, I asked a series of travel-related questions of my readers. It was time for them to share their stories. I was tired of just listening to me talk and I wanted to know what makes my readers tick and what inspires them to travel. Today starts that series, so without further ado, here is what has inspired other people to hit the road:
"It's not that I *believe* the grass is greener on the other side of the fence, but if you never peek over the top, how do you know? I want to know: Is there grass on the other side, what color is it, what's the texture like, how does it smell? So I travel." — Maria
"Primarily, boredom. At 21, I had never left Australia and was desperate to see Europe, so me and a friend set off on a whirlwind tour of the continent for a month. This trip changed my life, and I knew then that I wanted to continue to travel for the rest of my life. Eighteen months later, I moved to London and have been travelling ever since." — Nicole
"Every since my first international trip after college, I have loved exploring new places. The food, the landscapes, the people — it is just so interesting and exciting. Through my travels I met backpackers who were my age or younger and traveling for several weeks, even months at a time. I realized I could do that if I wanted to. I didn't want to wait until I was retired and paid off the mortgage to live my dream." — Stephanie
"I have an insatiable appetite for new experiences — aka, I'm easily bored and have a short attention span. It is not enough for me to see pictures of monuments, natural wonders, and new landscapes. I want to touch, breathe, smell, feel everything there is to experience in the world. I love how it opens my mind and how nothing is ever quite as it looked in the picture. I love new people too, and their stories." — Penny
"I was just a junior in high school when I attended the World Youth Day pilgrimage in Denver, CO, in 1995 to see Pope John Paul II. That was the first time I met people from all over the world. It was then that I knew I wanted to travel. It changed my perspective on life and sparked a life-long curiosity, desire, and passion to connect with people from other countries and learn about other languages and cultures." — Nikki
"My first overseas trip was a big one. My family moved from the United States to England when I was seven years old to live for a year. It's the best thing my parents ever did for me. They took every opportunity we had to travel around Europe and northern Africa. By the time we moved back to the States, I was obsessed with foreign cultures. It was a long time before I made it overseas again, but my obsession remained, and I've been a professional international tour guide and travel writer for more than 15 years now." — David
"I'm lucky that my parents started taking my siblings and me on trips at a very young age, so I never knew what life was like without travel. I also went on a week-long volunteer trip to the slums of Mexico two summers in a row, which changed my life by seeing poverty firsthand and realizing how fortunate I am. Once I graduated college and was making my own money, I decided it was time to see as much of the world as I could. That's when I began going to Europe for two weeks every summer. I got hooked." — Emily
"I grew up pretty sheltered so wanted to see more of the world after I graduated college. After my first backpacking adventure I was hooked! Now I try to go on at least one big trip every year." — Michael
"To reevaluate my direction in life, make a career break, learn about the world, become better global citizens, bond as a family & "roadschool" the kids, and experience a stripped-down nomadic life to greater appreciate our regular non-traveling lives." — Sara Lavender Smith
"I spent the fall of my junior year studying abroad in Copenhagen, Denmark, and it changed my life. I grew up in a small town outside of Boston and went to college about a half hour away, so my universe was pretty centrally concentrated. Being in Europe for four months opened my eyes, and I was able to travel literally all over the continent while I was there. Now I'm addicted to the concept of traveling and can't wait to get out there again." — Allie
"I've always wanted to see the world but was married at an early age. My life fell into the typical marriage, house, school, responsibilities, etc. and there was never time or money to travel. Almost four years ago, my ex-wife left me for someone else and it gave my life freedom. I finally realized traveling the world wasn't some dream the 'other people' did; I could do it myself. I saved hardcore for years after in order to give myself a year of seeing the world." — Mike
"This may sound like an odd one, but debt. Most people use debt as a reason not to travel, but for me, it was my get-up-and-go. My career working for GE Finance in the UK was going well. But every month, all my money was going towards bills, rent, and credit cards. I wasn't saving anything. So, I looked into working abroad and came across teaching in South Korea. Three months later, I was here — and whilst clearing my debt (halfway there!) I've managed to travel to Turkey, Taiwan, and all over Korea in the meantime. Later this year, I'm going to Germany and Morocco. Working in South Korea has meant that my debt is no longer controlling my ability to travel — although I have to use my limited holiday days wisely!" — Tom
I asked my readers a series of six questions about travel. Read their answers to the other five intriguing questions:
What is your greatest travel memory?"
What's the one item you can't travel without?
What's the worst thing that has happened to you?
What advice would you give to new travelers?
What is your greatest regret?