Waitomo's Glow Worm Caves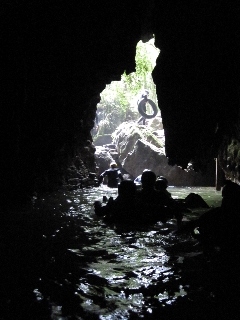 Waitomo, New Zealand is famous for one thing. Every year, heaps upon heaps of travelers come here to see the infamous glow worms that line the ceilings of the nearby caves. The glow worms emit a phosphorescent glow that shines from the inside of the caves like a starry night.
The interesting thing about the glow worms is that they aren't really glow worms. They're fly larvae. And what glows? Well, that's their waste and snot. The larva glow to attract prey into its threads by making the prey believe they are outdoors as the ceiling of a cave looks much like a starry night. Hungry larva glow brighter than ones that have just eaten.
There are a couple of ways to see the glow worms. There's the three hour black water tubing trip, the five hour trip that includes abseiling and climbing, or, if you like it easy, a boat. Despite the darkness involved, my fear of heights is too great so I forwent the five hour cave trip to go with the more grounded 3 hours.
Waking up early in the morning, my group headed out to the cold waters of Ruakuri cave. We wetsuited up and practiced jumping into the inner tubes we would ride through the caves. I wasn't happy that I had to jump off not one, but two small waterfalls. Worst yet this had to be done backwards so I could land in my tube. The waterfalls are only a meter or two high but I really hate heights. Yet, at that moment, realizing a wet suit doesn't keep you dry, it simply keeps you wet was something I hated even more.
After our practice jump, we, a crowd of 12 wet suit wearing, boot wearing, helmet wearing backpackers, marched gingerly towards our destination. After a short walk in the woods, we entered the glow worm's dominion and were given a quick tutorial about how the next few hours would go. Sadly, it feels like the tutorial lasted longer than the trip- away from the light, surrounded by darkness and the rushing chill of the water, the hours seemed to pass by in minutes. Just as I was adjusting to the experience, the end of the tunnel came and we were topside again.
But the experience in between was amazing. After our instructions, we began to descend into the cave. We walked through tight openings and tunnels and waded through quick moving and very cold water. Sometimes the water was ankle deep, other times chest height. Eventually, we came to reach the first milestone- waterfall #1. I met the waterfall with trepidation. My group, knowing my fear, encouraged me to go first but that wasn't going to happen. I went third. My fear is that I'll never jump far enough to clear the rocks. I didn't jump far enough. As my tube landed in the water, my foot lightly touched the bottom rock.
From there, it's an easy cruise through the cave where above you, you begin to see your first set of glow worms. They light up the cave like stars in the sky and seem to be limitless in numbers. It reminded me of my childhood when I used to put those glow in the dark cosmos stickers on my ceiling and stare at them as they lit up my room.
But the day's biggest challenge laid ahead – waterfall #2. This waterfall was much higher than the first but, to me, it might as well have been Niagara Falls. I had to make them count twice before I was ready to jump. Closing my eyes, I jumped and this time I jumped far enough. But I hated every minute of it. I still prefer to have my feet on the ground.
Yet from here until the end it was smooth sailing…or tubing in this case. The rest of the way was all glow worms. Leaning back in my tube, I floated down the river, marveling at the beauty of the light show and the tranquility of my surroundings. But, the tunnel's end came too quickly and I was left wanting to go back and stare upwards just a bit longer.
I can see why the glow worm caves are one of New Zealand's biggest tourist attractions. They're beautiful. The caves are peaceful. Overall, it's an amazing experience. Three hours seemed too short but five hours might have been a bit too long. I'd go back to see the glow worms again and, whether you abseil, tube, or simply cruise in a boat, the glow worms are not to be missed.
There are a lot of companies that can take you into the cave. You can go with Black Water Rafting (the company I went with), Rap, Raft 'n' Rock, Spellbound, Caveworld, and a ton of others. There are a lot of operators here and they all offer similar style tours. The price for a three hour tour is around 100 NZD, the 5 hour tours between 150-210 NZD, and the boat tours around 70 NZD. It's not a cheap activity but one you should make an effort to do.
For more information on seeing and experiencing these caves for yourself, visit my country guide to New Zealand travel.