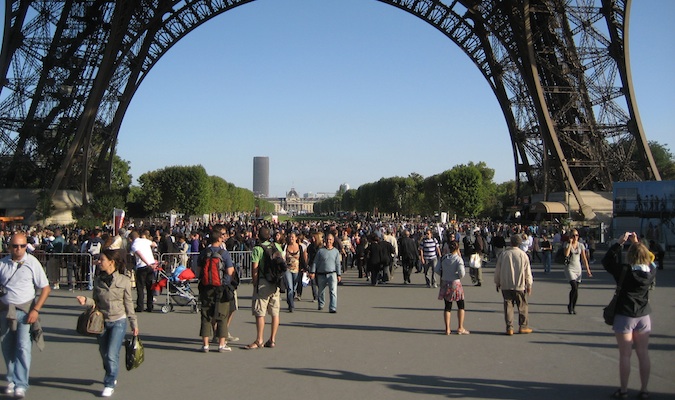 Today is the day. Today I'm flying to Paris. But this time, it's not to lounge by the Seine while drinking wine (OK, there will be some of that). This time it's to lead my first tour for 10 readers and make them even more passionate for travel.
Back in May, I announced that I was leading a tour through Europe, and the response was overwhelming. Now, after months of planning, I'm leaving to meet the 10 participants on Sunday before we enjoy a two-week journey through Paris, Amsterdam, Copenhagen, and Stockholm.
I can't believe how quickly this has come. It seems like yesterday I was telling a friend, "I'm going to organize a tour to Europe. Maybe a few people will come."
Well, now it's here, and it's time to go.
I'm used to playing tour guide for my friends, but now I'm doing it for 10 people I've never met. So many thoughts are racing through my head, the biggest one being, "I hope I don't fuck this up."
But all joking aside, I'm really excited about this. A few of the people joining me have never been to Europe before, and I can't wait to show them my Europe. I'll be taking them to my favorite attractions (both on and off the beaten path), restaurants, bars, and everything in between.
I'll also be highlighting some of my favorite travel companies (including Rail Europe and Context Travel) and hostels (St. Christopher's, Generator, and City Backpackers), so that's also exciting, as I love spreading the word of good travel companies.
This is going to be incredibly fun.
I've spent the last few weeks reading up in even more detail about each destination, planning my walking tours, making reservations for restaurants, and much more.
Even after all the trips I've taken and helped with, I never realized so much work could go into planning a group tour. There are a lot of i's to dot and t's to cross.
So, as I board my flight to Paris, I'm double- and triple-checking I have all the itinerary copies, rail passes, train reservations, and booking numbers. I'm — in part — a nervous wreck.
But I know this is going to be a good time because the people who read this site are amazing, and for two weeks I get to talk about what I love: travel.
I'll be updating as we go and will most likely have a long post after the fact on what I learned being a tour guide. You can follow along with all our antics on Instagram, Facebook, and Twitter.
So let the good times, wine, and food flow!
See you in Europe!
P.S. – I'm running group tours again! In 2017, I'll be running tours in Europe and the US. You can check them out through that link and sign up to come travel with me! They'll be super fun, a good way to get a peek into how I travel, and you'll learn firsthand how to travel on a budget.