This is a guest post by Laura, our resident expert on female travel.
I always seem to learn things the hard way, and packing for long-term travel is no exception. I used to pack for every possible situation, for the "what if" moments. Of course, if you backpack for a few weeks with all of these unnecessary items, you end up discarding many things along the way that you don't need. After living in Africa with minimal facilities (like no running water) in the summer of 2008, I quickly realized that there were some items that I was grateful to have with me and some that were really essential to have with me when I travel. Everyone has their own packing list. But as a woman, there are some extra things we tend to pack that our male counterparts don't. Here's what I like to keep with me beyond the basic travel gear:
Toilet Paper: In non-Western countries, toilet paper is not commonly provided in public restrooms. Make sure to bring your own, and don't forget to keep it in your purse or backpack for day trips. It's hard enough getting accustomed to squat toilets, so you don't want to be stuck without toilet paper, too.
Hand Sanitizer: Like toilet paper, soap isn't always readily available when traveling. I'm always happy to have it on me after playing with kids, riding on public transport, or to use before I eat.
Wet Wipes: Because I tend to travel in what I would describe as "less luxurious" locations, Wet Wipes have become my new best friend. In Kenya, I heavily relied on them to scrub off the red clay on my feet before going to bed. I've also used them for a shower substitute when camping, to clean my hands off after eating, to wipe dust off of my face, and to clean a cut when I haven't had a first aid kit on me. Wet Wipes are extremely handy!
Packing Cubes: Packing cubes are also one of my favorite items that I purchased for my current trip. I use two of them to organize my clothes and a smaller one to hold cords and small electronics. These packing aids make living out of a backpack much easier. Rather than tugging out every item I own to get to something and making a huge mess, I can easily pull these packing cubes out of my bag and repack them easily.
Pocket Mirror: Let's face it, ladies. You can leave behind a hair dryer, your huge makeup bag, and most of your accessories, but having a little mirror comes in handy, even if it's just to put in contact lenses.
Resealable Bags: I always pack a few Ziploc bags when I travel. You never know when you might need them to store toiletries, protect your passport from the rain, or store odds and ends.
Pillowcase: Maybe it's not always necessary, but I find a pillowcase comes in handy when I travel. I fill it with clothes or a packing cube of clothes to act as a pillow when I don't have one. I've also used it to separate dirty clothes on occasion.
Tampons: Sanitary pads can be purchased in most countries, but good luck finding tampons. It's best to bring them from home, so you don't spend your vacation time searching for them.
Nail Clippers: I always forget to pack nail clippers and end up borrowing them from other travelers I meet. With that in mind, you should put them on your packing list. (That way, if I meet you along the way you can lend them to me!)
Solid Shampoo: If you're traveling for an extended period of time and don't wish to lug heavy bottles of shampoo or you don't want to worry about refilling them on the way, check out Lush shampoo bars. They last up to six months.
Makeup Basics: I don't think a full bag of makeup is necessary or practical in many destinations, but I always bring lip gloss and mascara with me. It's tough traveling long term and constantly feeling scrubby; every once and a while, I just want to look and feel like a girl again.


Jeans: Although highly debatable, I always recommend taking one pair of jeans with you. It's an item that you can dress up a bit, and for me, jeans are a comfort item. I don't wear them very often, but I like to put them on for an evening out or for a nice dinner.
Obviously, what you pack will depend on your destination and travel plans. It's important to keep in mind which items you may be able to purchase or replenish abroad and which essential items you need to bring with you. However, these are the items that I never leave home without.
Laura Walker runs the website A Wandering Sole. She's been backpacking around the world for seven months by herself and isn't afraid just because she's a girl. You can get more travel tips from her website or check back here every other Thursday for more stories by her.
Conquering Mountains: The Guide to Solo Female Travel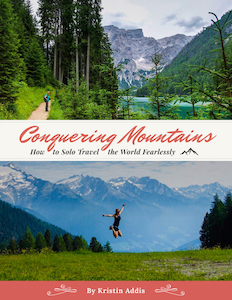 For a complete A to Z guide on solo female travel, check out Kristin's new book, Conquering Mountains. Besides discussing many of the practical tips of preparing and planning your trip, the book addresses the fears, safety, and emotional concerns women have about traveling alone. It features over twenty interviews with other female travel writers and travelers. Click here to learn more about the book, how it can help you, and you can start reading it today!