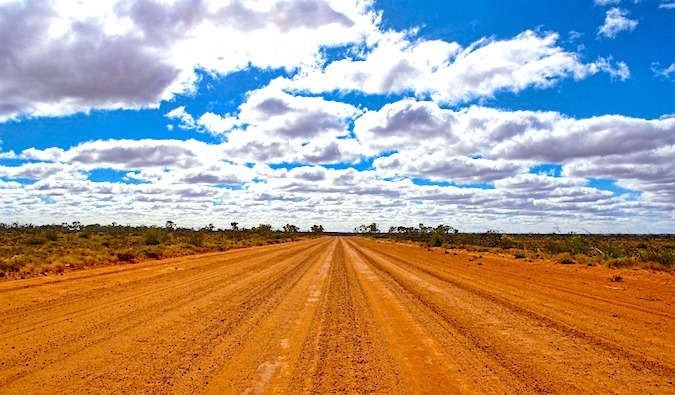 With Australia being over seven million square kilometers, it takes a long time to get around the country. Considering the large distances, it's no wonder few people end up traveling the whole country—there's just too much ground to cover on a short trip. These large distances can lead to high transportation costs, and it can often be hard to travel around the country cheaply. Here's a look at how to travel around Australia cheaply:
Flying


By far, this is the most expensive but easiest way to get around Australia. Limited competition among airlines means that flights stay very expensive. While there are some minor airlines that serve out-of-the-way destinations, Qantas (and its subsidiary Jetstar) and Virgin are the big airlines that service most of the country's destinations. With so few carriers servicing the major cities, the high ticket prices come as no surprise. If you book early, though, you can save on fares, and Virgin often offers some good promotions.
Backpacker Buses


There are two big backpacker buses in Australia: Oz Experience and Easyrider Tours. Oz Experience mostly operates along the east coast and the center of the country, while Easyrider Tours operates on the west coast. I like Easyrider Tours. They're very cost competitive with the bus system, have cool drivers, and provide a lot of activities. It's good value for your money. The Oz Experience is a different story. Unlike the Kiwi Experience, I didn't really like them, despite both companies trying to do the same thing. While the Kiwi Experience took a lot of time to introduce people to each other and offer free activities, the Oz experience didn't. Granted, Australia is a lot bigger than New Zealand, but if the Oz Experience is just a more expensive Greyhound (and a few drivers told me this too!), then what's the point of taking them? Not once on my journey did any driver make an attempt to get people to talk to each other. We didn't have any free stops or walks. I didn't like the Oz experience. Just as many, if not more, travelers take the Greyhound bus. I say take the Greyhound, save some money, and learn to say "hi" to strangers on buses.
Public Buses


On the east coast, this will be your cheapest option. On the west coast, buses are surprisingly expensive. There's not many people moving up and down that coast, and there's limited competition. It's often easier and cheaper to fly out in Western Australia. However, on the east coast, you can find really cheap bus tickets, especially if you book in advance. Greyhound Australia is the biggest company in Australia, though there's also Premier and McCafferty. All three companies sometimes offer $1 fares but, for the most part, the buses ticket prices are around $30 (night buses are usually around $60–70 dollars). From Melbourne to Cairns, a Greyhound pass will cost you $500 AUD.
Trains


Trains cover much of Australia, but their use isn't that widespread. In fact, most trains are very expensive. There are very scenic routes through Queensland and the Outback, though, that make for beautiful rides. But outside the very scenic Ghan train ride through the outback (I highly recommend taking this trip!), it's really not worth the cost. There are cheaper ways to get around Australia.
Car Share


If you really want to save money and travel cheap, find some other friends, rent a car or campervan, and drive around the country. This will allow you to share the costs with others (and if you rent a campervan, give you a place to sleep). It will be much, much cheaper than any other travel option. You can look on hostel bulletin boards to see who's looking for people to join their roadtrip. You'll always find someone, and it's a great way to make new friends.
When you plan to travel Australia, make sure you budget for transportation wisely. Outside the busy eastern corridor between Melbourne and Brisbane, travel is expensive. You'll pay a lot more than you think you will. In sum, if you want to save a lot of money, car share. Otherwise, your best bet is bus travel on the east coast and backpacking or flying in the middle or west coast.
For more information on Australia, visit my guide to Australia travel.
Disclaimer: OzExperience gave me 50% off my Brisbane to Cairns bus pass.