New York City can take a big bite out of your budget. It's notorious for being an expensive place to visit, even if you try to stay in hostels and do "local things." Most tourists who come here end up spending hundreds per day on hotel, food, and attractions. However, a city this big is bound to have some great deals. There are plenty of things to do in New York City that won't cost you a few months of your savings—you just have to look. Here are just some of the cheap and free things to do in the Big Apple:
Free Tours
New York is a great place to walk around, but seeing New York from outside only gives you half the story. Take some free tours to see the other half. Trinity Church offers free daily tours when there are not services. The Brooklyn Brewery offers free tours on Saturdays and Sundays. Finally, Big Apple Greeter will pair you with a local New Yorker to show you around for a day with advance notice.
Take the Staten Island Ferry
That two-hour long line to see the Statue of Liberty not appealing? Well, walk a few blocks to the Staten Island ferry. The free ferry will take you across the harbor and give you a good view of both the Statue of Liberty and the city skyline. The ride takes about 20 minutes.
Get Cheap Accommodation
New York hotels are not cheap. Most run $150 or higher per night if you want something decent. A good cheap option is to stay in a hostel. For a single room with TV, Wi-Fi, and private bathroom, I spent $90 per night. Considering the closest hotel to that price was a one-star Econolodge, staying in a hostel is a good alternative. You can find free accommodation via Couchsurfing or try your luck with last-minute hotels on Priceline.
Walk the Brooklyn Bridge
Walk across the Brooklyn Bridge to experience an interesting view of the New York skyline and harbor. It's a long walk, but good food and drinks (like the brewery) await you on the other side.
Get Cheap Theater Tickets
One of the best things to do in New York is to see the theater. Tickets can run hundreds of dollars, especially for the new and popular shows, but there's a way to get discount tickets. The TKTS stand in Times Square, a product of the Theatre Development Fund, offers 40–50% off select shows. You need to arrive at the counter the same day to see what they have, but it's usually a good selection. Be prepared to wait in line for about an hour. TKTS also have ticket booths at the South Street Seaport and in Brooklyn.
Central Park for a Day
A great way to relax in the city and leave the crowds behind is to spend the day in Central Park. It's free, there are lots of little paths to walk, and since it covers over 40 blocks, it's easy to spend hours upon hours wandering around. During the summer months, there are often free concerts and theater productions in the park too.
Free Museums
NYC is littered with some of the best museums in the world, from the Met to the MOMA to the Guggenheim. Many museums offer free entry certain days of the week. The Whitney Museum of American Art is free on Fridays, the Solomon R. Guggenheim has "suggested" donations after 5pm on Fridays, the Museum of American Folk Art is free, the Cooper-Hewitt National Museum of Design is free on Tuesday evenings, the Steuben Gallery is free, the Met is free (suggested donation is $20), and the Museum of Modern Art is free after 4pm on Fridays.
New York has a lot of budget activities—this is only a sample. Ask around, and you're bound to find even more free and cheap activities in this expensive city.
Get the In-Depth Budget Guide to New York City!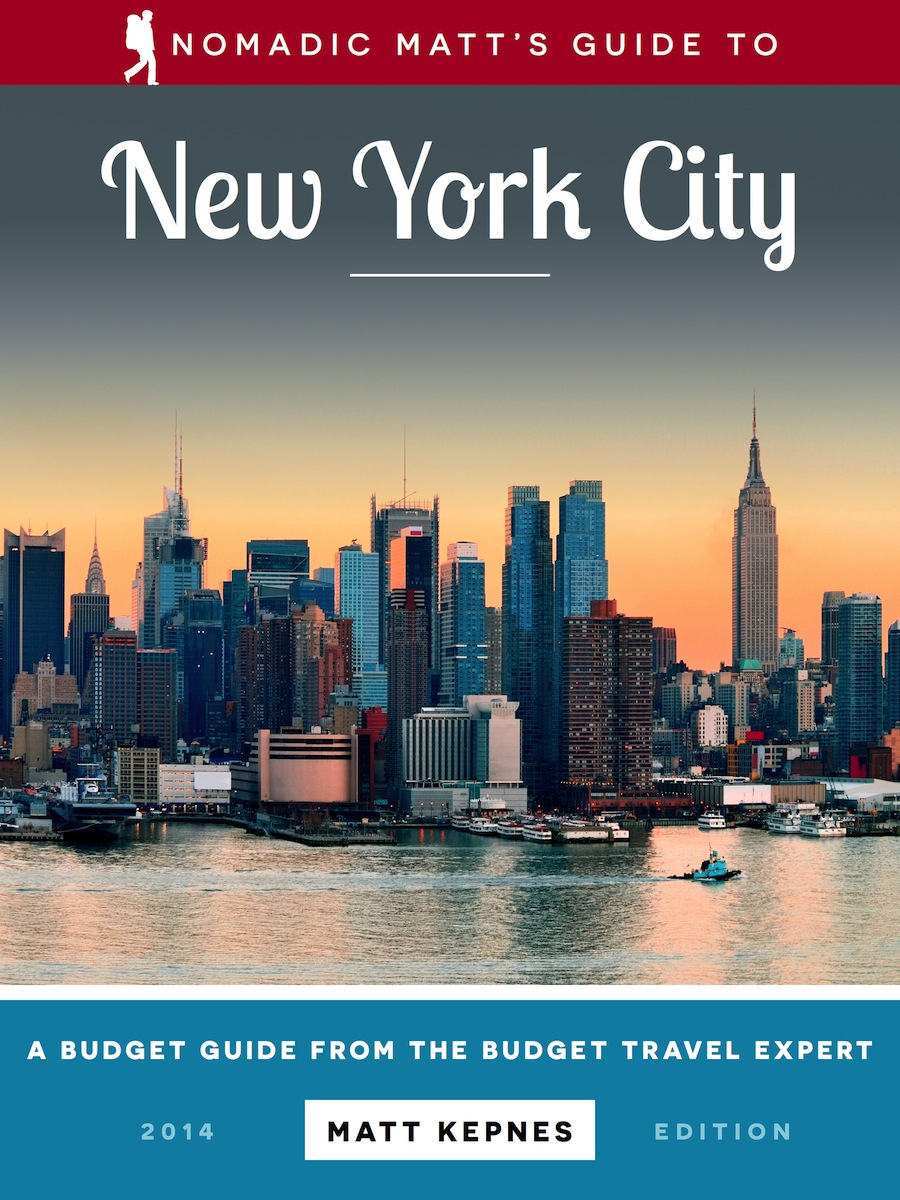 For more in-depth information and tips on NYC, check out my 100+ page guidebook written for budget travelers like yourself! It cuts out the fluff found in other guides and gets straight to the practical information you need to travel and save money the city that never sleeps. You'll find suggested itineraries, budgets, ways to save money, on and off the beaten path things to see and do, non-touristy restaurants, markets, and bars, and much more!! Click here to learn more and purchase the book.