This article was last updated in December 2011.
It seems that everyone is going to Thailand right now. I have friends thinking about going, friends going, and friends here already. I figured now would be a good time to post about its capital, Bangkok, which is one of my favorite cities in the world. Bangkok, one of Asia's largest cities, usually leaves travelers unimpressed. The pollution, the traffic, the lack of tourist attractions. I recently played tour guide to a few friends and while they enjoyed the food and nightlife, they didn't think there was much to do. And they're right—there isn't much to do here in the traditional tourist sense, and most people can't wait to get out.
I used to feel that way until I lived here and saw that Bangkok has a lot to offer. It just reveals its secrets slowly to those with the time to explore the hidden gems of this mega city. It requires you to leave the tourist ghettos of Khao San and Silom to find a city full of things to do, places to eat, bars, clubs, and sites to visit.
What to do in Bangkok
Bangkok has a million malls, but if shopping isn't your thing, don't worry, malls in Bangkok are more than malls—they're entertainment complexes. You can see a movie, go bowling, ice skate, dance, and eat at great restaurants. Malls often have shows and concerts on the weekend where you can watch live bands, beauty shows, and even dog shows. Guidebooks will say that for high fashion you should head to Emporium and Siam Paragon, and for cheap electronics head to MBK or Pantip Plaza. But what they won't tell you is that the top of Central World has a great bar, you can ice skate at the Esplanade Mall, go bowling in Paragon, and watch royalty shop in Emporium. Moreover, the third floor in Pantip is best for bootleg games, MBK will give you great clothes, and all malls offer 30–60% off at the end and beginning of each month in hopes that people will spend their monthly paychecks.
If you're looking to escape the nightlife of Patpong and Khao San Rd, head down to Sukhimvit Soi 11 for the world's best expat bar, Cheap Charlie's, and the best clubs in Bangkok, Bed and Q Bar. Cheap Charlie's is an expat institution, and you'll find people there every night of the week. Visit Thong Lor or RCA to hang out with the local Thais and get down to Thai bands and Thai whiskey. For after-hours fun, you can visit Khao San Road, Spicy, or Climax, where the clubs stay open until dawn. While Khao San Rd mostly caters to tourists, you'll find a great Thai punk, rock, and ska club at the end near the Burger King. It's called Brick Bar and if you go, you'll be one of a handful of tourists there. It's a great hidden gem in a sea of backpackers.
Let's not forget the food. Thai food is famous around the world, and there's no better place to eat it than in the country itself. Bangkok has a market or stall on every corner and in every alley of the city. As long as you have ten baht, you can never go hungry in the city. But more than great local food, Bangkok has great international food. With so many foreigners passing through each day, it was bound to happen. Check out Limoncello or Bella Napoli for Italian, Isao and Maru for sushi, Senor Pico's for Mexican, and Coyote's for great nachos. (Coyote's also has free margaritas for ladies on Wednesday nights).
If you're looking for good Thai food, be sure to eat on the corner of Sukhimvit Soi 33. Outside the 7-11 is a great soup place, Pad Thai stall, and noodle shop. I eat there frequently, and even my Thai friends are impressed with the Pad Thai. You'll also find amazing food on Thong Lor Soi 38, the end of Soi Rambuttri near Khao San Road, and at night in Chinatown.
A guide book will list a ton of things for you to see and do while you're in Bangkok. In fact, my guide gives you the basics for just that. But Bangkok isn't a good sightseeing place. It's not beautiful, charming, and filled with sights like London, Paris, New York, or Tokyo. It's a city you need to experience to love. The daily life is what Bangkok is about.
Once you peel away the layers, you find a vibrant city that is more than just temples, tourists, and touts. You find great international cuisines, world-class bars and clubs, an assortment of activities, great places to shop, interesting neighborhoods, and much more. If you get off the Lonely Planet trail and out of the main areas, you'll find a city where no one calls you over for a taxi or gives you a special "foreigner" price. You might even find a new home.
Get the In-Depth Budget Guide to Bangkok!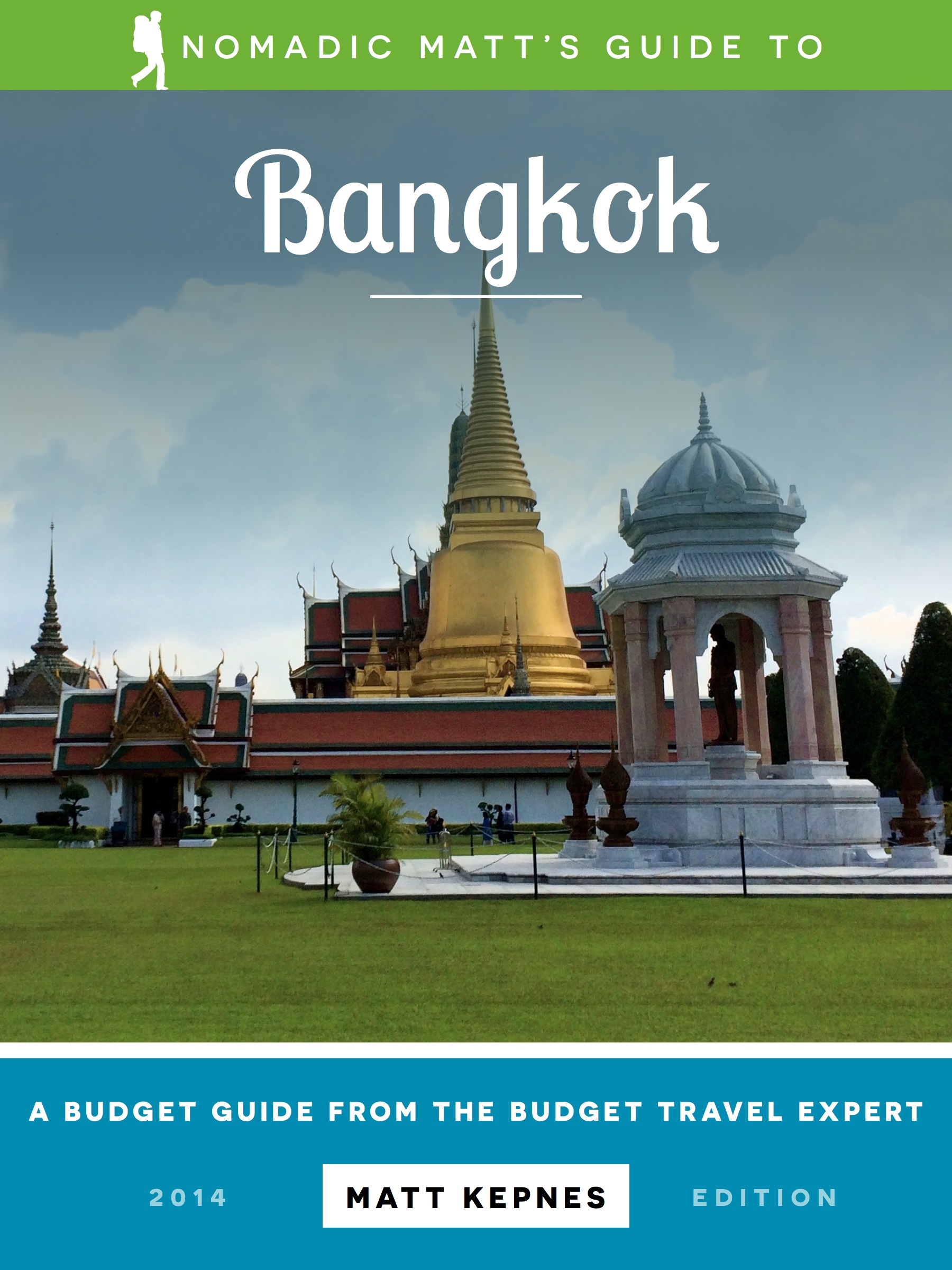 My detailed, 80 page guidebook is made for budget travelers like you! It cuts out the fluff found in other guidebooks and gets straight to the practical information you need to travel and save money while in Bangkok, a city I used to call home (so I know it really well!). You'll find suggested itineraries, budgets, ways to save money, on and off the beaten path things to see and do, non-touristy restaurants, markets, and bars, and much more!!
Click here to learn more and purchase the book.