Become a fearless adventuress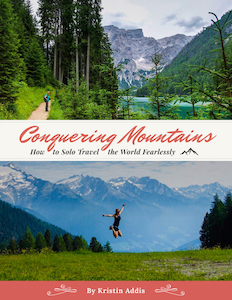 Do you dream of traveling the world? Do you worry about your safety? Are you unsure you have what it takes to do it solo? Does all the violence in the world make you second guess yourself?
When I first decided to travel the world alone several years ago, I was just like you — nervous, scared, and unsure if I was going to make it out alive. People worried I would end up like characters in the movie Taken, raped, or worse.
"It's a dangerous world. Haven't you seen the news?" my friends and family would say.
Their fears and doubts were infectious and I began to second guess myself.
I know what it's like to want to travel more but worry that doing it solo is too risky or unsafe – because I've been there.
Hi! I'm Kristin Addis and I write the monthly column on solo female travel for Matt's website. I've covered WWOOFing in South Africa, hitchhiking in China, addressed safety tips, packing advice, getting over the naysayers, and so much more.
BUT I always wished there was an all-inclusive guide that could answer every travel, safety, savings, and packing question I had – because I had many before I left. I was looking for reassurance that everything was going to be OK, and wanted someone to make the planning process simple for me!
Since traveling leaving for the road, I've hitchhiked around China, driven a car across South Africa, trekked for weeks in Nepal without a guide, learned how to say "thank you" in nearly 40 languages, and met countless amazing people along the way, all while traveling on my own.
So (together with Matt), I wrote the book I wish I had – and that I know everyone woman needs before they go away. It is the ultimate guide for solo female travelers because it gives you the information you need as a woman to travel.
Whether you're going away for two weeks, two months, on a girl's trip, or want to backpack solo, it's easier – and safer – than you think!
HOW THIS BOOK HELPED OTHER TRAVELERS
Talia: "Kristin writes as if she were talking just to you, and offers practical advice. The inspiring anecdotes from her and other bloggers instills a sense of confidence. Anyone who is considering traveling alone but questions their ability to do it should read this book. It makes the daunting process of saving up money, planning and actually getting to where you want to go seem more realistic than ever."
McKinlee: "I absolutely loved Conquering Mountains. It helped me battle my fears of just going, not take the negativity to heart, and instead listen to those closest to me who supported me. No matter where you are in life, this book covers every internal struggle you have about traveling – no matter how big or small. I have recommended it to likeminded friends. Kristin really gives you no other choice than to just go."
Jenna: When I first started researching solo traveling, I found great resources, but much of it from the male perspective. Solo travel is different for a female. Kristin discusses in-depth many of the anxieties that come up when planning your trip and offers great tips and advice on how to overcome them. Not only does she discuss her experiences, but also includes interviews with many other female travelers, giving readers even more insight on the female travel experience. "
introducing:
Conquering Mountains: A Guide to Solo Female Travel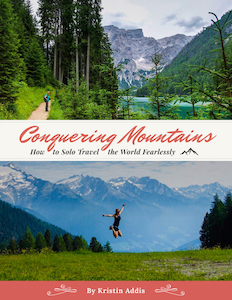 After years of solo traveling, writing a widely read solo female travel blog (named one of the Top 10 Vagabonding Blogs by USA Today), and serving as an expert on solo female travel for sites like this, BBC, Trip Advisor, Wise Bread, BuzzFeed, and many others, I realized that something more was needed. Most of the budget travel guides are written by men. They are too general and didn't relate to the concerns female travelers like yourself had before they went away.
I wrote Conquering Mountains to be your definitive guide to travel. There is a world out there in which you are carefree, traveling the world, eating incredible food, making lifelong friends, and being the confident solo traveler you know you can be.
This book is the bridge that takes you from the novice at home to becoming one of the increasing number of women who decide to live life on their own terms and have their own adventure.
It gives practical tips about how to head off the beaten path, meet locals, and have unique, authentic experience and will help to kill your fears so that you can be the architect of your own adventure.
what's in this book
learn to get over the fear of traveling alone
learn how to build the self confidence to travel
learn how to deal with – and respond to – naysayers
master the art of saving money for your trips
learn secrets to scoring free hotels and flights
get financial tips for stretching dollars on the road
learn how to earn money on the road
get advice on how to make you travels an asset on your resume
get expert advice on how to plan your trips

discover how to over come barriers and make friends on the road
learn stay safe & avoid being a target when you're alone
get tips on how to stay connected to friends & family
get in-depth resources to save time and money when you plan
organise the trip of a lifetime
learn to pack your bag efficiently
The information in this book was compiled using my own firsthand experience after years of successful solo travel, but I didn't stop there. I also asked 15 other well-established solo traveling women to give me their best advice – and they are extensively quoted throughout the book. I feature dozens of stories from other women so you can gain from their experience and knowledge as well.
START TODAY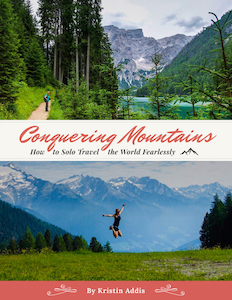 This guide delves deeply into safety, features packing lists created especially for women, and helps you to have the most enriching solo travel experience possible. Conquering Mountains will save you the hours upon hours you'd otherwise spend researching online, looking at advice that may not even be trustworthy. This book is only $14.99.
Download the PDF file to get lifetime access
Get lifetime updates and always stay ahead of the curve!
Read the book on your phone, computer, or Kindle.
Our 14 Day Guarantee
If you aren't 100% satisfied with this book or find it helpful, email me within 14 days of purchasing and I will refund your money. I am that confident you will love this book but if you don't and it doesn't meet your needs, I'll happily and quickly refund your money.